Essence Denim Wanted! polishes are finally mine. 
And since the luck would have it, I found almost intact stand … and bought all five polishes.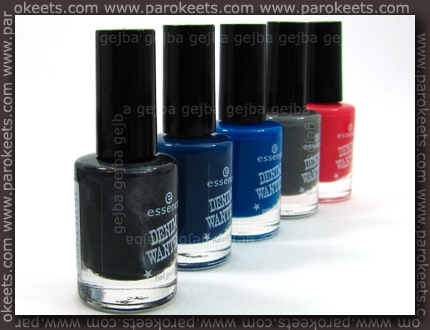 I've been anxious to get my hand on blue shades for months now and if I missed them … it would be the end of the world. OK – maybe not that, but close enough. My boyfriend probably thought I lost my mind after I started jumping up and down when I saw Denim Wanted! stand.
Enough chatter, let's take a look at polishes.
The same tip Maestra gave you about gray shade application, goes for all the polishes from this TE – brush must be loaded with polish to get problem free application. I used 2 layers + top coat in all the photos.
The lightest shade is called High Waist Pink. It's quite interesting to watch this shade change it's undertone – it goes from coral, to bubble gum pink and finally light pink. But it is always very wearable pink shade.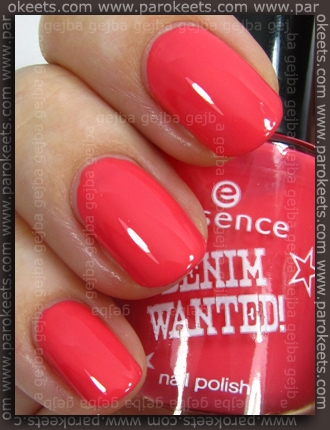 Gray shade goes by the name Fivepocket Grey. Maestra already showed you this one in her Denim Wanted TE post. I agree with her that there is slightly greenish undertone to this shade. And please ignore the shades seen on the polish. I promise you, the surface is completely smooth as seen on the little finger.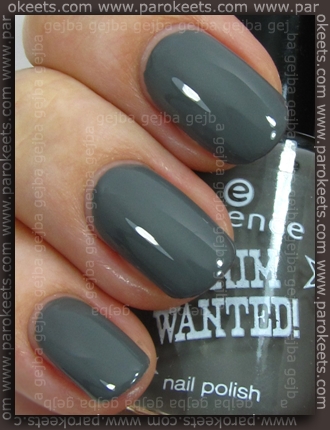 Even-though My Boyfriend's Jeans polish was my favorite after I saw promo pics, Forever Mine almost won the battle after I held them both in my hands. I don't think I ever saw this perfect cyan and very pigmented to boot.
Polish is a bit to blue on the photo. Imagine a little bit of green splash in there.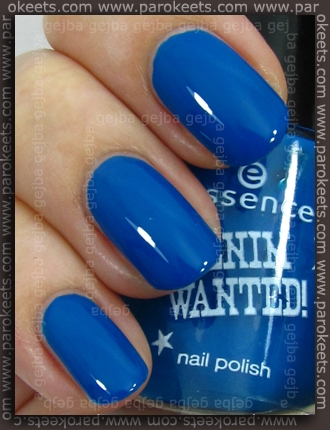 My Boyfriend's Jeans completely met my expectations. Muted blue with gray undertone.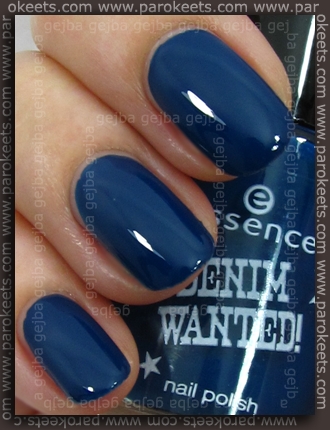 I was intrigued with I Love My Jeans after Goga said that it looks like silver poured in black base.  This is the only shimmer polish in this collection. Shimmer is composed of many colors, but silver one prevails.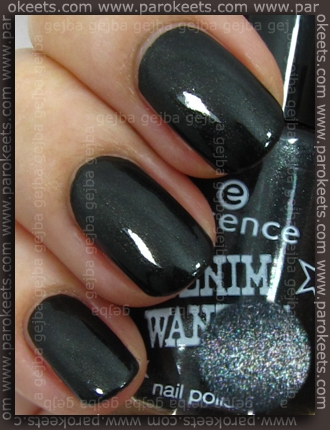 All of the polishes can be used for konading. Here you can see the konadicure I did with I Love My Jeans + fauxnad IP H7 over Fivepocket Grey shade.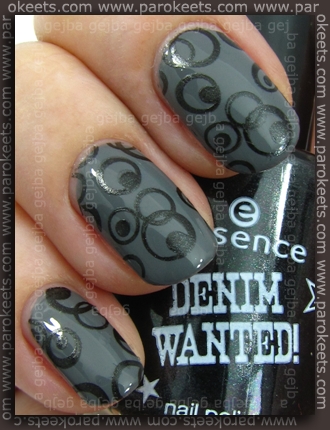 It's Maestra's fault that I spend more than half and hour playing with matte top coats as konad polishes.  :D
I found out that you need light speed to transfer image if made with Essie MAY top coat, but supersonic is enough for z Essence Matte Top Coat. And I just barely reach supersonic speed.
Forever Mine + konadicure with Essence Matte Top Coat + fauxnad H7 image plate: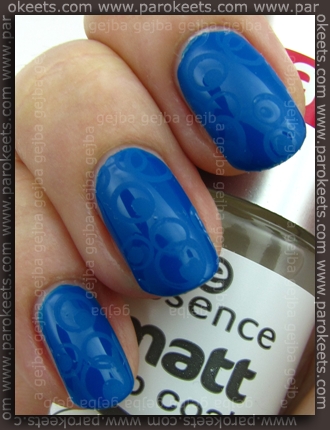 Price for 9ml bottle is 1,99 EUR.
Now quickly – tell me which one is your favorite and if you already own any of these shades.