Today I'm going to show you the new Essence make up products that we got for review. Here is again a video Gejba prepared. It shows all the new stuff that we got. Today's stuff is at the end of the video (from 1:53 onwards).
Smokey Eyes Set – Show Off is a set of a grey powder eyeshadow, grey cream eyeliner and an applicator. I already wrote about the other smokey eyes sets by Essence and Show Off is similar than the other two. The powder eyeshadow is very pigmented and it has a metallic finish. It's not very dark. The cream eyeliner is as the other two not very pigmented. I wouldn't use it as an eyeliner. It's better as a cream eyeshadow. I compared the Show Off set with the black So What?! You can see the comparison below.
Eyeshadow Party All Night has a strong metallic finish. It's very pigmented. See swatches below.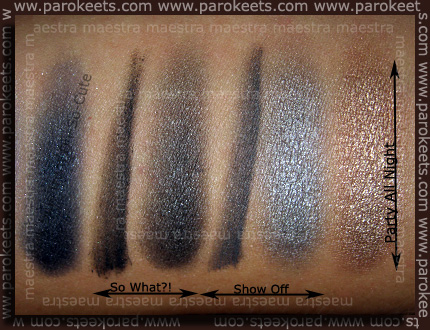 Next is a make up I did with Show Off and So What?! smokey eyes sets. For highlighting I used a white eyeshadow I'll show you shortly.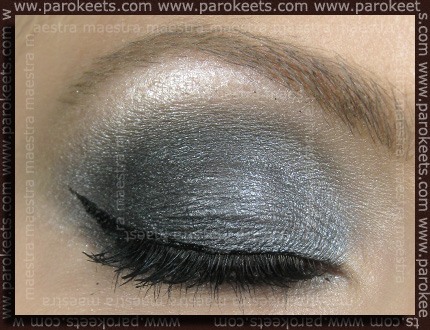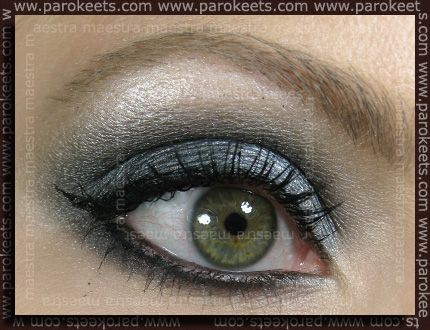 Quattro Eyeshadow – Oh-So-Cute is a palette of four eyeshadows. I don't think the shades in this particular palette work together well. The other thing that bothers me is the large silver shimmer. I just don't like shimmer like that. Otherwise it's a nice palette, just not what I would buy for myself. Here's the white I used for highlighting in the make up above. The white is actually nice, but I rarely use a plain white.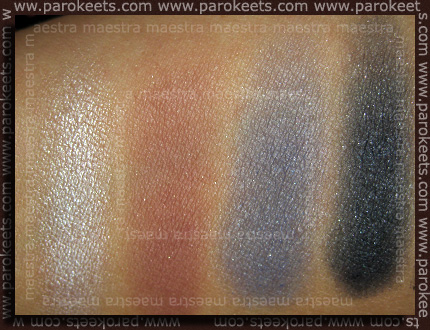 Another make up. I used the Oh-So-Cute palette for this one.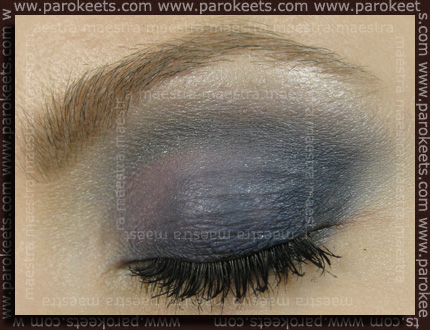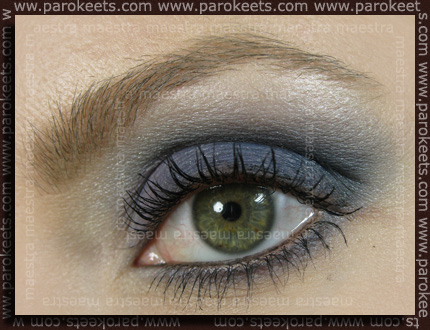 Multi Colour Blush – Fashionista is a very nice looking blush. It consists of five different shades ranging from light pink to brown. It looks really really nice and the shimmer is tiny. If it would have been more pigmented, it would have been a great blush. Unfortunately it's rather sheer and too light for my skin tone. The blush shows up on me only if I pick up a lot of product (and layer it) and only if I pick the darker three shades. But for "blush shy" people with lighter complexion it would be probably great. Here are the swathes (applied over a base) of all the different shades in the blush.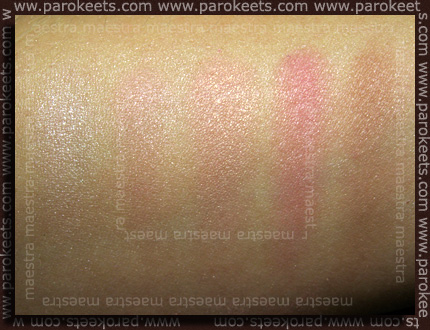 These were the things I got to review. My conclusion is:
the eyeshadows crumble a bit
my favourite product is Show Off smokey eyes set
blush is for "blush shy" people with lighter complexion
Next are some products that were tested by Gejba and Goga.
---
Goga tested the bronzer Love To Be Matt.
It was the first time I tested a matte bronzer. I only tested it twice as it's a bit too dark for my not very tanned skin. Despite the fact that it's a bit too dark for me at the moment, it isn't a bad bronzer. I would say it's worth the money. It doesn't crumble a lot. The transfer to the brush is just right. I blended it a little more than I usually blend my bronzers. I touched it up with a bit of a highlighter and the end effect was perfect. The down side is that the bronzer will hit the stores in the fall. I mean, who needs a dark bronzer in the winter? Well, I guess it'll have to wait until next year, right?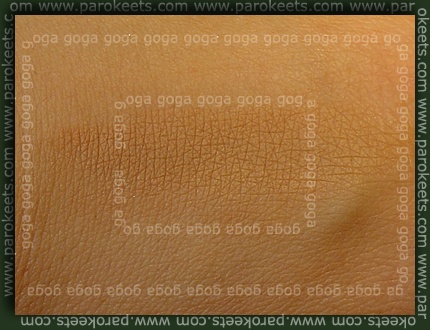 ---
Gejba tested the Stays On and On! volume mascara.
The mascara is black. It has a rather narrow brush, which does a good job. It separates the lashes well. The mascara extends the lashes and it gives them a little bit of volume. It doesn't crumble, the removal is easy.
I swatched mascara on a "naked" eye wit a purpose – I wanted the eyelashes to be in the spot light. The mascara is applied only on the top lashes.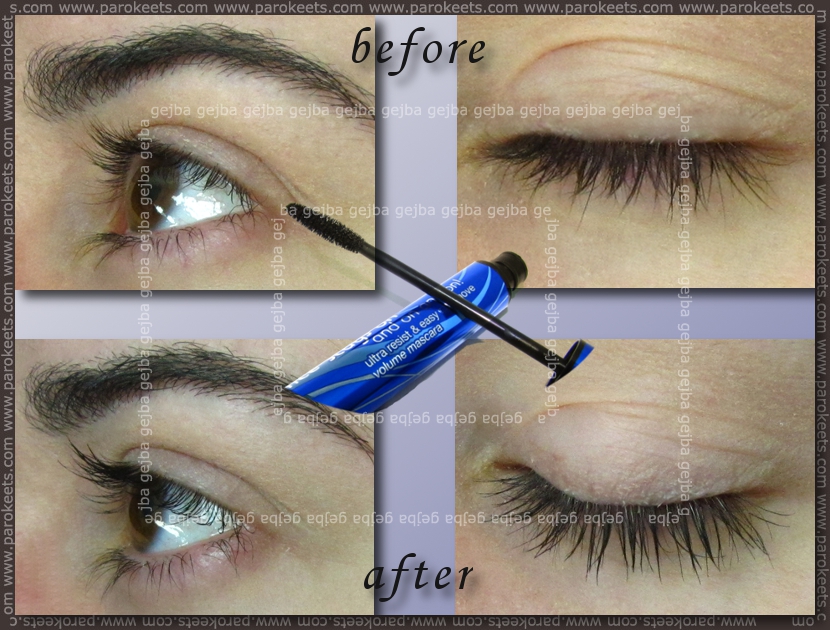 ---
If you missed our previous reviews on the new products, CLICK HERE.
Please, let us know in the comments, what do you think about the new products. Is there anything, that caught your attention? Are you going to buy anything?