I got my Barry M crackle polish on Wednesday and I've been playing with it ever since. One of the combinations I've tried is my today's manicure. It's two coats of OPI – Glow Up Already from the Burlesque collection, which is a wonderful sparkly light green glitter polish. I topped it with one medium thick coat of Barry M – Instant Nail Effects, which is a black crackle polish. I love the end effect. There's not top coat in the photo below.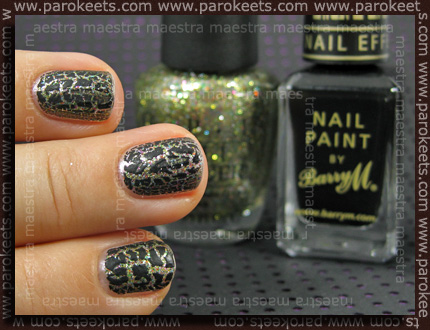 I think that the crackle polishes look best on top of glittery polishes. What do you think?
I got the Glow Up Already! polish from Za piko na i store where they sell the whole Burlesque collection. I got the Barry M crackle polish for review from the Licila.si.