You know what? There is a true gem on my nails at the moment. It's called Freakin' Violet and yes, it's freaking awesome! I found this beauty in a local salon that sells Magnetic polishes. We already swatched some of their polishes and I have to say that I'm more than satisfied with the quality of Magnetic polishes. Really, these are nice to apply and they wear pretty well. The last time I wore their black holographic polish, it stayed on my nails for four days. Even after four days I had only some minor tip wear but no chips. Amazing!
I discover this beauty only a few days ago and it was love at first sight! It has a indigo jelly base with blue flakies and green shimmer. Everything in one little bottle of polish. I'm in polish heaven! Just look at this beauty …
It changes it's appearance depending on the light. Sometimes it's more on the purple side and sometimes it's just blue. It's dark but it's not too dark. Of course it's best under stronger light or in the sun, but I haven't seen the sunshine in days (or maybe even weeks) and despite all that I'm more than happy with Freakin' Violet. The next photo isn't really pretty. My nails are shorter than ever. A "pro" in a salon filed them like that. And the polish was applied way too thick for my taste, but OK, I'll show it to you anyway. Believe me, the polish looks better IRL.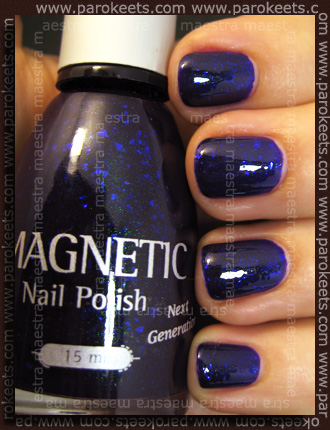 I'm testing the wear time of Magnetic polishes right now. I used their base and top coat. Now I'm at day two and I have some tip wear, but no chips. If you are interested, I'll let you know, how my "experiment" went.
What do you think of the Freakin' Violet polish? Do you like it, love it or hate it?