I promised you a comparison between Essence, Bundle Monster and Konad image plates. Actually not the plates are important, but the all-over images that are on the plates, right? Here is the comparison photo.
Approximate size of the all-over images:
Essence: 1,2cm x 1,6cm
Konad: 1,2 cm x 1,6cm (some 1,5cm)
Bundle Monster: 1cm x 1,5cm
Essence all-over images are the same size as the Konad all-over images, while the Bundle Monster images are smaller. Here is a comparison photo of images stamped on a sheet of paper.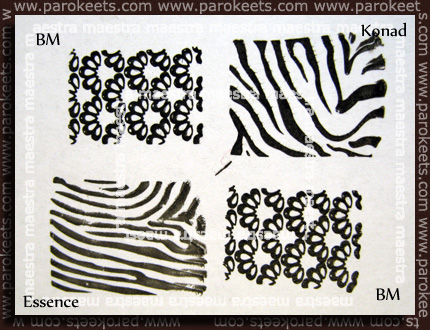 I think people at Essence did a wonderful job with these new image plates, don't you think!?!