Beige, light turquoise, grey and green colors are the ones that play the main role in the Make Up Factory's collection for spring and summer 2011. The collection is called Trend Colors. The name isn't very creative. I can think of at least five better suited names for such a nice collection. Luckily the collection itself is much better than the name.
Here's what I bought …
Automatic Eyeliner – 12 Cool Green – nice dark metallic green eyeliner. It's long lasting, it's easy to apply, isn't hard. I like it a lot! It has a sharpener and a sponge hidden in the back, which is another plus for me. Especially the sharpener. Good job Make Up Factory!
Long Lasting Lip Gloss – 35 Bali Red – nice creme brownish red lip gloss. I'd say it's a brick red shade. It's a lovely shade. The pigmentation is very good. The application is easy. The lip gloss isn't sticky. No complaints from my side about this lip gloss.
Nail Color No. 530 – wonderful light green creme. Maybe even greyed-out mint green? I'm not sure how to describe this color. It's unique in my stash. I've compared it to my other mint greens and none came very close. I didn't have any problems with the application. Two coats and that's it.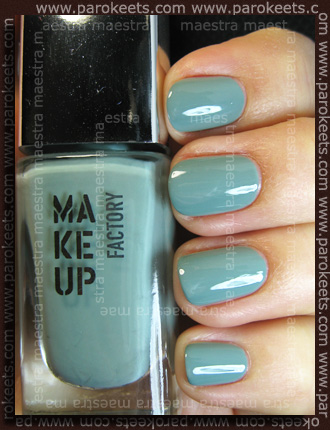 Comparison photo … I think the photo below shows MUF – 530 more true to live. In the photo above it's a bit too vivid.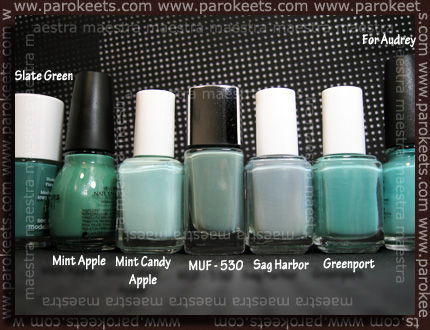 Gejba bought the grey nail polish, with the name 335. Her description of the polish:
Light gray creme shade with cooler undertones. I like the bottle and color, but would wish for a little bit thicker formula. There is nothing special about this polish but curiosity got the better of me and I just had to know which brand did a better job with this shade – Make Up Factory or BeYu. :D
I used 2 layers + top coat.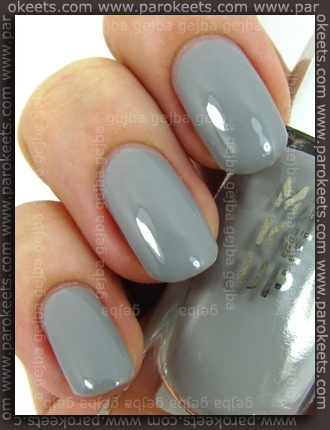 What are your thoughts about the collection? Which product shown here or in the whole collection is your favourite?