Today we'll leave the "floor" to 13 ladies with original ideas and steady hand. They will introduce us their country through nail art and make-up masterpieces.
The winner of the Show us your country challenge will receive this prize: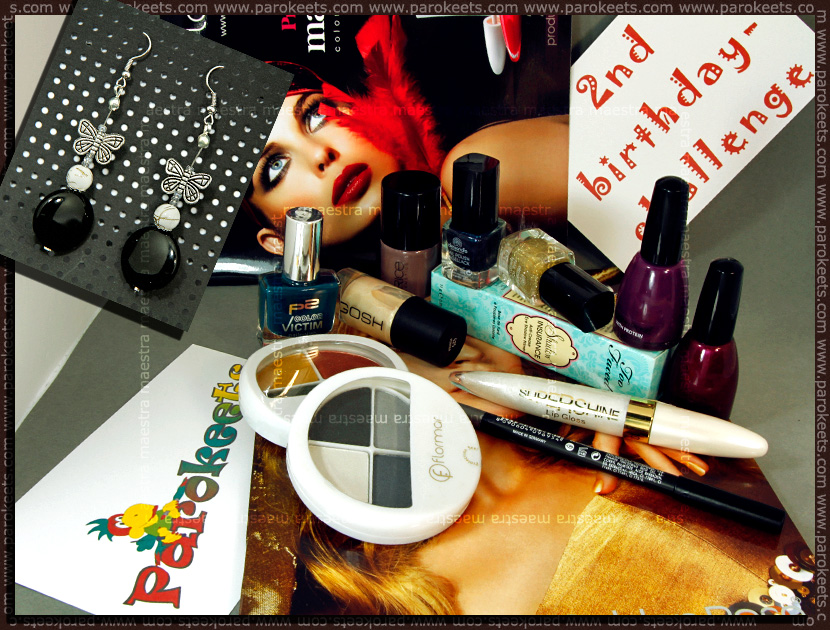 Let's take a look at photos and descriptions.
---
1. 21stCenturyHippy (Canada)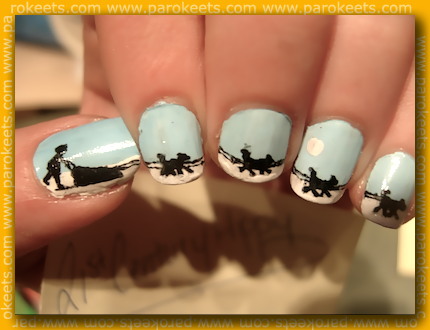 I live in Canada, but since it is such a big and diverse country I chose to just focus on my favourite part, the North! I decorated my nails with a dogsled team, one of the most famous tourist attractions here.
Although cars have pretty much taken away the need for dogsleds they are still popular for use in sport; there are dozens of dogsled races held annually. The dogsled is also a symbol of Inuit culture, one of the many Aboriginal groups in Canada, and one of the most unique.
---
2. Rins (Philippines)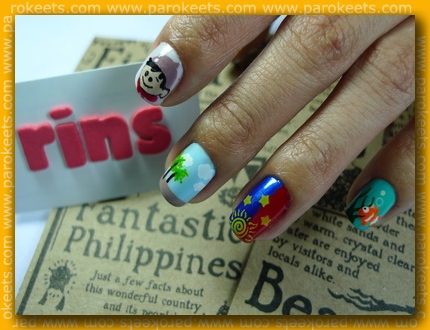 My inspiration for this nail art comes from the fact that the Philippines is rich in culture and attractions. We have some of the most beautiful tropical beaches in the world. Our country is also a diver's paradise as we house an abundant marine life is many of our islands. But most importantly, we take pride in our people. Filipinos are known to be one of the friendliest and happiest people in the world. We can find joy in the simplest things.
---
3. Diana (Netherlands)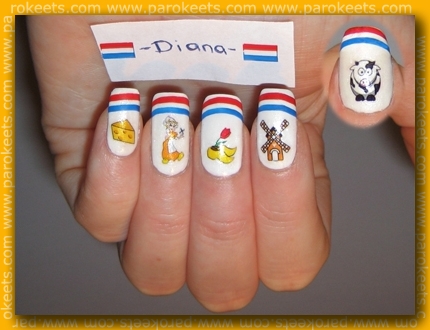 My country is well known for their cheese so I have a piece of cheese on my pinkie. On my ring finger I have a farmer girl in traditional clothing on wooden shoes holding a mill. A lot of foreign people think that everyone in my country walks on wooden shoes (clogs) but it is just part of the old fashioned traditional clothing of course there are still people who walk on wooden shoes, but that is mostly in the country life. My country is also famous for their tulips, so I have wooden shoes and a red tulip on my middle finger. On my index finger I have a mill, that is also something that can't be missing. My thumb has a black and white cow on it. You can identify my country by these five things, they all have a connection. You often see them together on photo's or postcard…then you see a scenery of tulips with cows, mills and farmer people on wooden shoes. And the milk from the cows is used to make cheese. On the tip of my nails I've stamped (Konad M44) the colors of my country's flag.
I'm from Holland (The Netherlands), can you tell?
---
4. Sabbatha (Poland)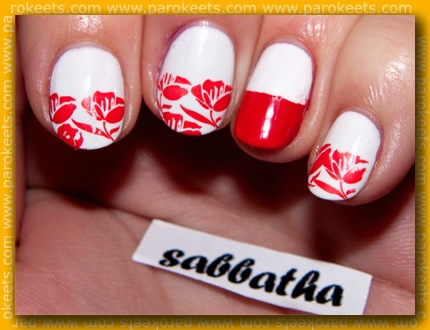 I'm from Poland. My inspiration was colors from our national flag – white and red. On my ring nail is our flag. On the other nails I stamped a pattern with our national flower – corn poppy. Our national colors are very important for evere Polish citizen.
---
5. Ulmiel (Slovenia)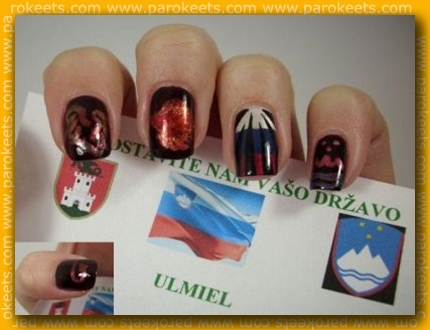 For the challenge I decided to combine our national symbols with the symbol of my home-town, Ljubljana. In Ljubljana's coat-of-arms a green dragon is painted, and since dragon is one of my favourite fantasy creatures, my Chinese year symbol and one of my favourite marks of Ljubljana is the Dragon Bridge, it seemed obvious I try to do a sketch of a dragon on my nails. The torso being on my index finger, the tail on my thumb and the fire it breathed on my middle finger. For accent finger I used the scotch tape design with inspiration from Chloe's Nails, under the rays are our flags colours and on the little finger is our national coat-of-arms. I used 14 different colours for all of this, everything, with the exception of my accent finger's rays, is drawn by hand. I paid attention to all of the colours (except the base wine red) being holographic or metallic, but sadly there was no Sun to prove that on the picture, so I guess you're going to have to take my word for that. :)
---
6. Orlica (Poland)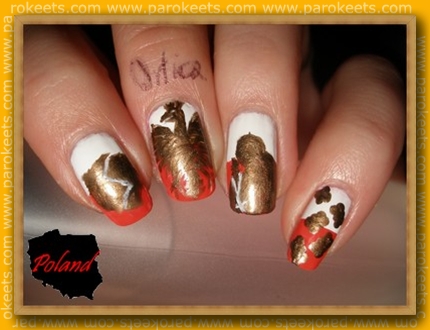 "I'm proud of being Polish, so making this mani was a real fun for me. At first I've made a Polish flag on each nails – that's a background. On my index finger I placed Poland's shape with Wisła, our the longest river. On my middle finger you can see an eagle with a crown, Polish symbol from our national emblem. I think you know who is on my ring finger – it's one of the greatest Poles in the history – yes, John Paul II. And these "things" on my pinkie are something more local – my town, Toruń, is famous because of gingerbreads what are produced here, I'm pretty sure that you know "Kopernik" – it's a Polish brand of the best gingerbreads under the sun. "
---
7. Andayn (Romania)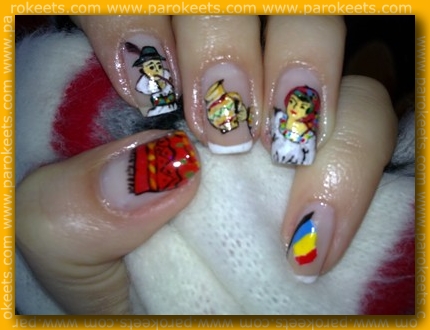 Romania is a country with talented people, who love everything that is beautiful, people full of life and proud of their traditions. I drew the little nails Romania flag, I tried to the other nails reprezin people dressed in national costume, and this country specific art: panpipes – a musical instrument, hand painted vases and rugs woven by hand.
---
8. Helena (Slovenia)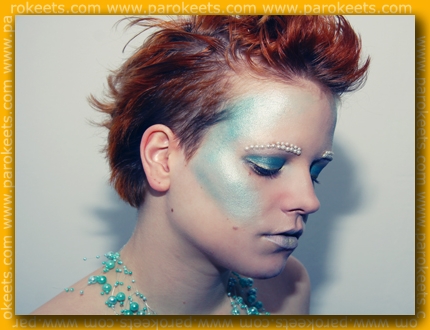 My theme is the sea with all the different colors we can find within:
blue, green, white, yellow, even gold, orange and red. I have chosen
it as my theme, because I come from a region in Slovenia that is the
only one with sea. So it is also the first thing that comes to my mind
when I think of my region. And since my presentation had to look
pretty I did a mermaid(ish) interpretation of the sea.
---
9. Akuma Kanji (Portugal)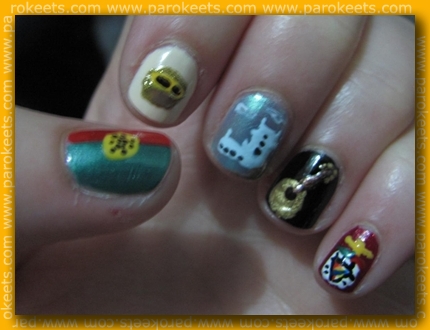 I am from Portugal. A very good country if you are a tourist, a very bad one if you are living here. In Portugal everything is about football (soccer), beer and heavy food and caloric sweets.
My manicure was inspired by some typical Portuguese things, the flag (thumb nail), a pastry specialty called "pastel de nata" also known as "pastel de Belém" (index nail), a Portuguese monument by the sea which is "Torre de Belém" (middle nail), a Portuguese guitar which is the main instrument played in Fado (Portuguese style of music… usually very melancohlic) (ring finger nail) and the symbol/logo of the most famous Portuguese football (soccer) team which is SLB – Sport Lisboa e Benfica (commonly known as Benfica…. it is also my football (soccer) team ) (pinki nail).
---
10. Prescillia (France)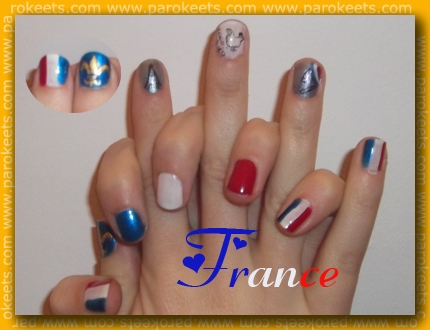 My country is France your can see the effeil Tour, a braid "french baguette", a bottle of vin, and a lys flower which is the symbole of french history!
---
12. Kory (Romania)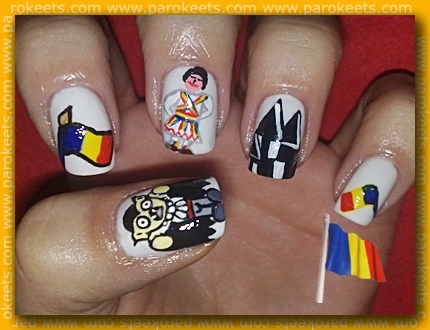 I live in Romania a country located in Europe! The inspiration for this design came from 4 things:
-our national flag which has a combination of three colours (red, yellow and blue)
-the Bran Castle also known as Dacula Castel.This castle is a national monument and landmark in Romania
-another important character that was a inspiration is Dracula known as Vlad Tepes!Bram Stocker named him Dracula because he used to kill peolple in his own way!the nickname of Vlad is related with the fact that he was a bloodthristy because he like killing people..here the resemblance to a vampir!
-our national port is unique because it made by hand with different colours and some of them are with the flag colours.
---
13. Cris Junque (Brazil)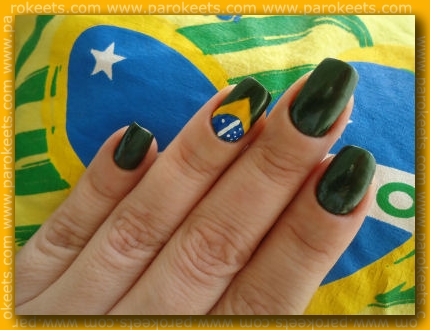 ---
14. Nailgloss (Netherlands): Orange is the colour of the Netherlands and red-white-blue are the colours of the flag.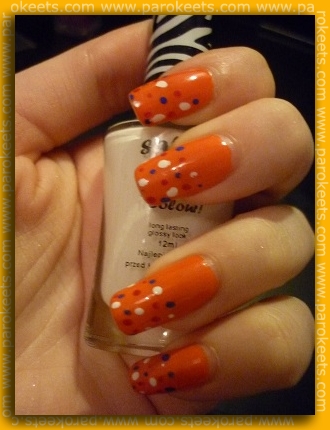 ---
Voting will be same as last time. Poll is placed on the right side of the blog, but to be able to vote, you'll have to be logged in with your Google account (at the bottom of the right widget in Meta section click Log In).
Here you can find detailed instructions: https://www.parokeets.com/en/2010/10/voting-with-google-account/
In case you get Unable to sign in error read this: https://www.parokeets.com/en/2010/10/voting-with-google-account-error/
Voting will end on 6.2.2011 at 12pm (GMT+1).
This time we encountered a lot of language barriers, misunderstandings and technical problems with analog signature … Generally at least one photo has to have analog signature, but author of the photo can decide which one will be publishes. But there are other ways to authenticate the authorship so we allowed entries without analog watermark who could prove that they are the authors of the photo.