Midnight Minx nail gift set by Beauty UK is a set of six nail polishes. The polishes are mini versions of regular sized best sellers by Beauty UK. But actually these aren't that mini. They contain 8ml of product. For me I think this is like the perfect size for a nail polish. Not too much and not too little. Unfortunately the polishes in the set don't have names. The photos below show all of them with two coats without a top coat.
First one is a simple black creme. With the first coat I thought it was a bit streaky, but it evened out with the second coat.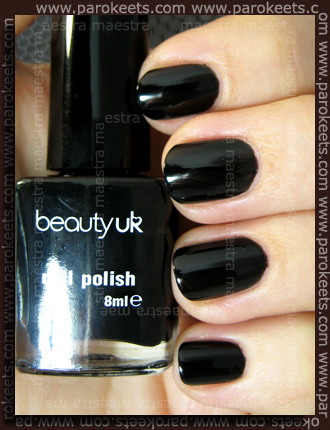 Next one is a brown shade with a strong red undertone. Maybe I could call it a light maroon shade.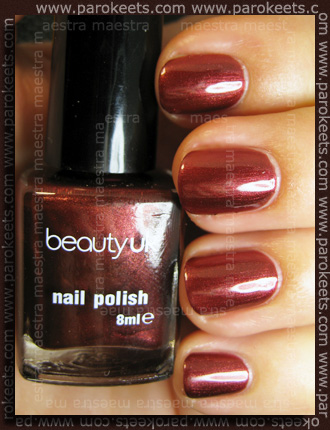 Black base with silver shimmer. Nice and simple. And the shimmer is actually visible, which isn't always the case with such shades.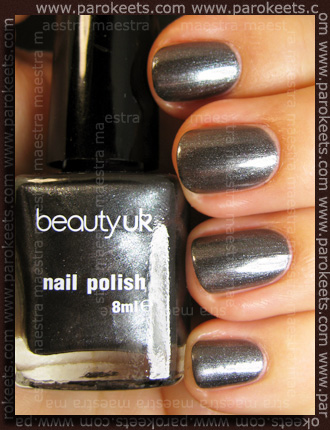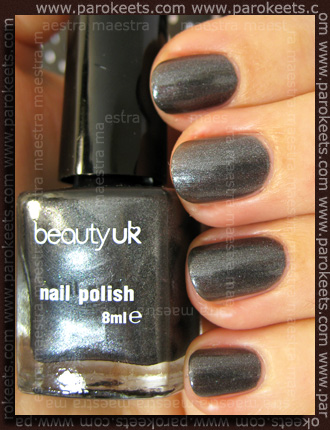 Next one is my favourite. It's a shimmery green shade with yellow undertones.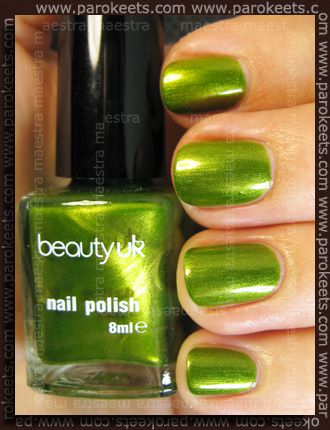 Purple with blue shimmer. We've seen it a million times, but it's still nice.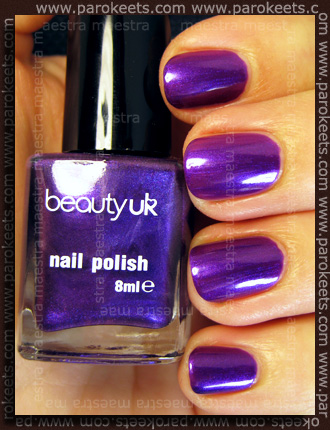 The blue shade in the set is a nice blue. It's not too dark or too light. It reminds me of electric blue shades, but it's not that bright. It's a nice shade but it could have had more depth. Maybe it would look more dramatic if I would layer it over black.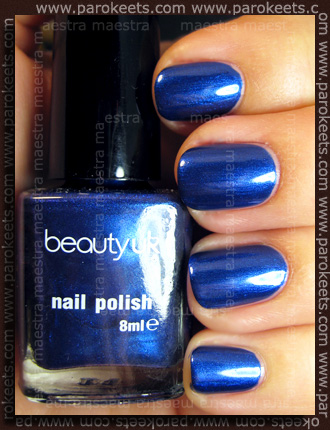 Price in Slovenia: 8,25€ for 6 x 8ml.
Price in the UK: £4.99 for 6 x 8ml.
Midnight Minx is a very nice set of nail polishes. It's a nice composition of very nice basic shades, that are not boring. And there's also a basic black creme in the set, which you can wear on your own or you can use it as a base for layering. That way the polishes may get more depth.
The consistency on all is thin but not watery. They all need (at least) two coats to be completely opaque. The brush is a regular round one. I didn't have any problems with it. It worked very well for me. I was very surprised how fast these polishes dry. With a bit of patience you actually don't need a fast drying top coat with these. All I can say about the wear time is, that I wore the black creme one for three days and I didn't get any big chips. Only a few very small ones on my weak nails. But you know that wear time varies from person to person.
All in all I think it's a nice set of minis for a good price.
Are you familiar with the brand Beauty UK? Have you already tried their any of their products? What do you think of them?
*Product was sent to me for review.