I bought three polishes from Zoya Intimate LE: Dannii, Dove and Jules, while Maestra picked up Gemma.
I was really looking forward to Intimate collection, but in the end it left me cold. I made swatches ages ago, but I was simply not in the mood to write this post. That is why this post consists mostly of swatches and as little text as possible.
Zoya Jules is interesting gold-greenish-beige color with pretty shimmer/glitter but it does not look good on me. I thought I could use this shade when on the run, but it needs 3 coats so drying time is not good and it shrinks if I use Poshe fast drying top coat.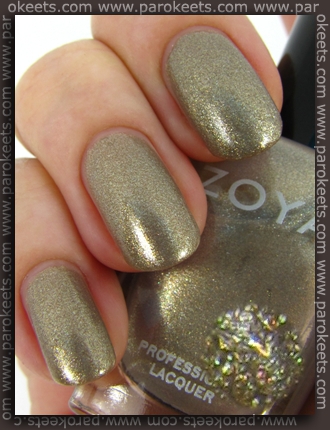 After I applied Dannii I saw why this collection is not hit in my book – almost foil like finish. Violet polish is pretty and so is shimmer/glitter, but I do not like combination of two.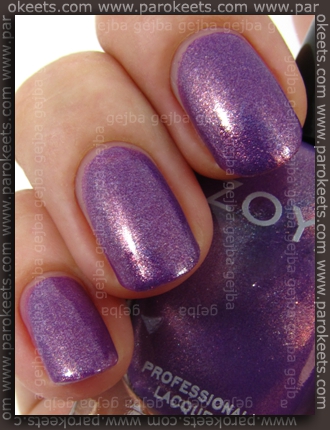 The only creme polish I bought was Dove. I like gray polishes and I liked this one too, but I have few very similar polishes with better formula (no.324 BeYu) so I did not fell in love with Dove.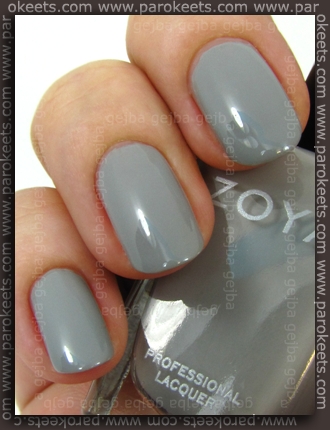 Removing Dannii and Jules was a little bit more difficult because of the glitter.
---
Maestra tried out Zoya Gemma.
Gemma has green base with blue shimmer. Shimmer is what makes this polish special … and the one responsible for my lack of love for this polish. Application was not problematic.