Spring is in the air and I have slowly stared to reach for more lively eyeshadow shades.
Remember the testers we received from Sweetscents a while ago? Today I have for you next 6 swatches:
Lovers Moon: light green-yellow shade I mostly use for highlighting;
Green Pearl: is mainly gray eyeshadow with just a hint of green;
Daze Nearly Matte: doubles as matte blush;
Saguaro Cactus: is lovely eyeshadow that I use to brighten up the make-up. Color is combination of brow and green that lites up in the sun;
Possibilities: useful and pretty violet shade;
Bright Red: is more hot pink than red, but is one of those shades that adds the edge to your make-up.
All swatches are made over the eyeshadow base. Shade:
Sun:
Maestra prepared for us make-up where she used Bright Red eyeshadow (middle of the eyelid).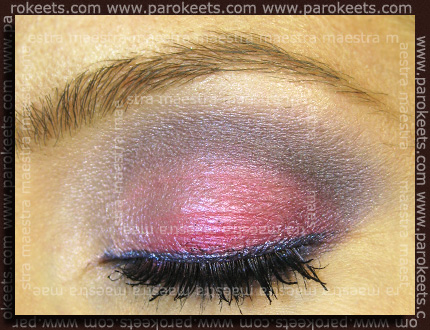 Which eyeshadow from the bunch is your favorite one?