I almost didn't post this one. I edited the photos, started writing the post and then I deleted everything, because I wasn't happy with the photos. And today, when I look at the photos … Not perfect, but OK. I decided that I'll show them to you anyway.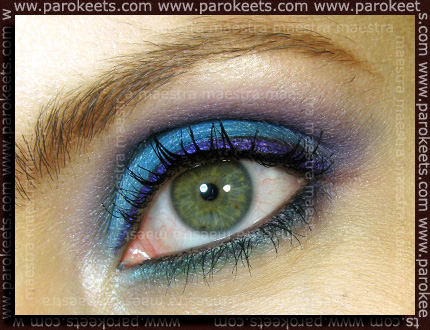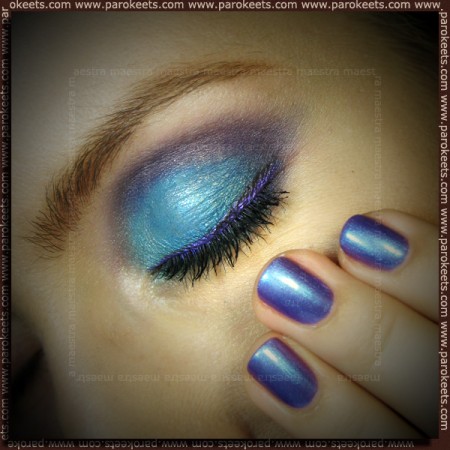 Products used:
– Pupa Triple-Purpose Eye Pencil in 03 (as e/s base on the lid)
– Essence Eye Souffle in Grand Plie in Black from the Ballerina Backstage TE (as e/s base in the crease)
– Sleek i-Divine Curacao make up palette from the Caribbean collection
– Essence purple 03 Berlin Rocks gel eyeliner (the dark one in the photos above)
– Urban Decay Ecstasy liquid liner (the vivid purple in the photos above)
For all of those who haven't read my post on Typhoon Lagoon nail polish. This was my inspiration for the make up. Brucci – Typhoon Lagoon in it's full glory.
Make up was done in like 10 minutes. So, very fast and with not a lot of effort. I just wanted to see how it would turn out. I'm not satisfied with it or maybe I'm just not satisfied with the photos. I was very tired when I did the make up and the photos which shows on my eyes. And the eyelashes look so funny and short. Well, the main idea was the blue/turquoise and purple together, preferably with a duochrome illusion. I think it's an mediocre make up and not as I imagined it would be. Maybe I'll give it another try sometime in the future.
See what happens when I love a nail polish? It becomes my inspiration. :D
p.s. I finally managed to post a non-green make up and to top that, it's also purple. Now, if that's not something to be happy about!