New goodies from Alessandro. Look at the drool for Born To be Wild collection.
What I like most in this collection of 10 minis (4 shades will also be available in standard 10ml bottles) is that they covered a very wide range of fall colors. From greenish browns, dark red, berry to teal shade.
Sweet Poison is definitively my favorite, but I would choose at least half of this collection faster than you can day nail polish.
And look – they shrunk original Alessandro bottles!
Alessandro Go Magic! Moon Manicure LE is something brand new in nail polish sphere. You get one color polish, stencils and one activating polish. Depending on which stencil you use, you can get instant half moon, bubbles or stripes in different color than base polish.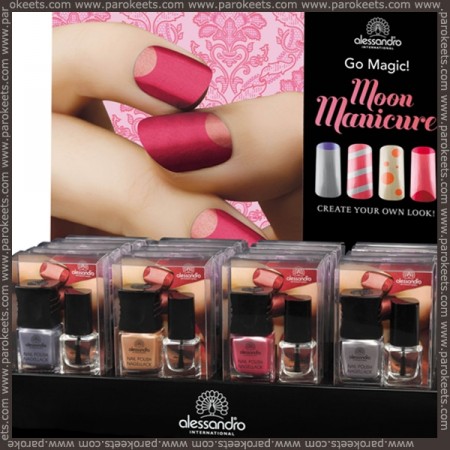 There are 4 color combos available: Gold-Orange, Red-Dark Red, Silver-Blue, Silver-Red.
What would you pick from new limited editions if you had money for only one thing?
*photos used in collages are courtesy of Alessandro