I started a little series of posts yesterday about eye pencils. If you'd like to read, why I started it, you are welcome to read my previous post. KLICK HERE
I'd like to thank you all who took the time and wrote great and very helpful comments. They mean a lot to me!
I'd like to explain one thing about eye pencils before I get to the Metallic eye pencils by Essence.
I know some (or a lot) of you use eye pencils as an eyeliner on the upper lid. I rarely do that. You wonder why? Well, because I can't do a straight line with an eye pencil. As I line my upper eyelid, the lid wrinkles and I get a weird line. I just can't do it. The line with an eye pencil is never precise enough for my taste. And if I do a "smudged line" look, I use eyeshadow instead of an eye pencil. It's easier for me. On rare occasions, when I do use an eye pencil on my upper eyelid I smudge it and use an eyeshadow on top of it.
I prefer liquid and gel eyeliners over eye pencils (for upper lid).
Why do I use eye pencils?
I use them on the waterline and (my favourite) I use them to line my lower lash line. I apply eye pencil with short strokes or even dots near and even between the lower lashes. Smudge it onto the lash line and lastly apply an eyeshadow on top of it. That's my preferred technique. I use it practically with all my make ups.
Moving on to the Metallic eye pencils by Essence. I've discovered them recently. I've always been disappointed by Essence eye pencils. Most of the time they were just to hard for my taste and I hate hard eye pencils. Another thing that bothers me is the lack of testers. I have hard time buying things if there's no testers. I bought these mainly because I read some good reviews on them. Here are the swatches.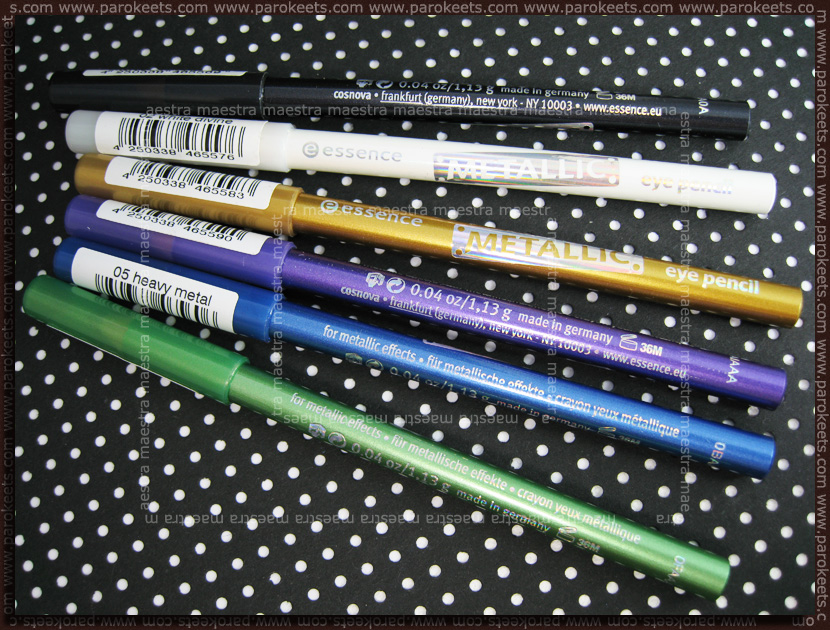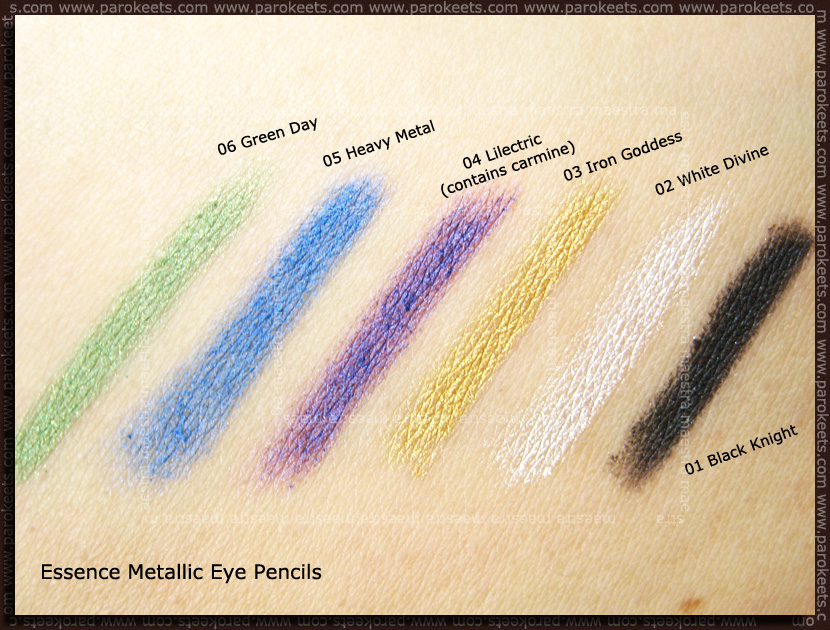 I'm very happy that I bought them. The consistency is nice and soft but not too soft (and not as soft as the Sun Club pencils). They glide on the skin nicely and the colos are nice. They aren't smudge proof. They do not last very long on the waterline. The Lilectric shade contains carmine. When I applied it on the waterline, it irritated my eyes almost immediately.
Even if these have some flaws I still think these are good eye pencils especially for the price. I forgot the exact price, but I think these are around 2€. Please correct me, if I'm wrong.
My favourite shades are Green Day (it's green – how could I not love it?!?) and Heavy Metal (it's such a nice vivid shade!).
Have you tried these yet? What do you think of them?