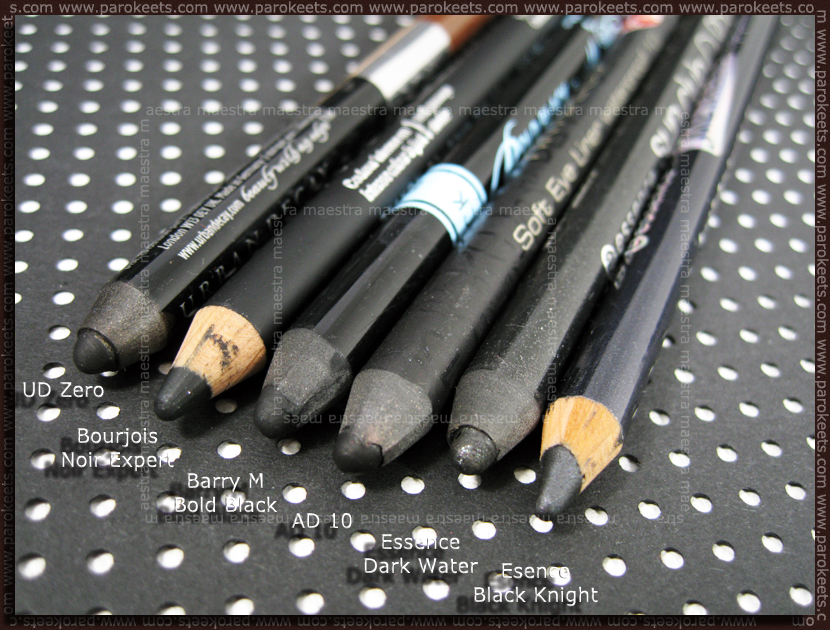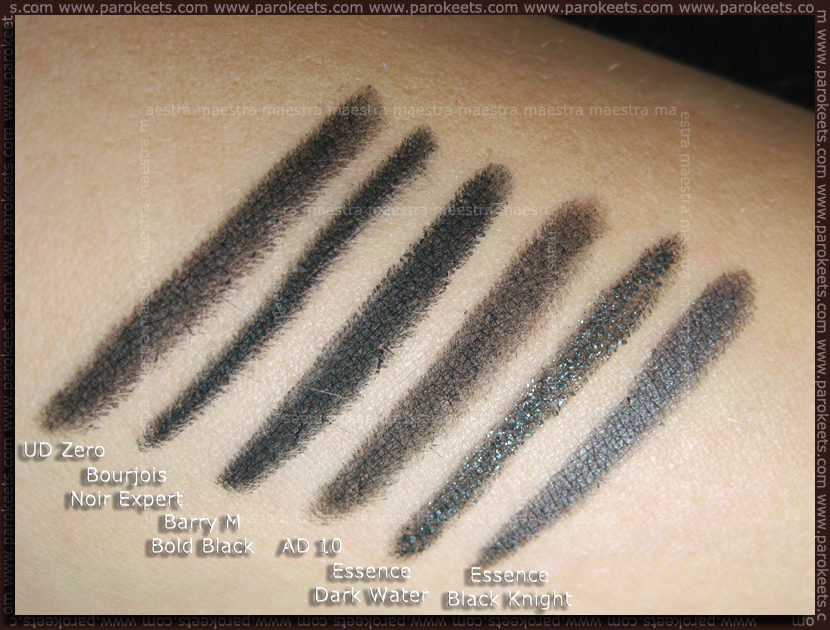 Urban Decay – Zero is a very nice black pencil. The tip isn't very thin. It's soft but not too soft. It's long lasting. I like it a lot.
Bourjois – Noir Expert is my latest acquisition. It was a gift in a set that I bought. I didn't expect much of it and to my surprise it's a fantastic eyepencil. The tip is thin and quite precise. It's not very soft, but it's not hard either. It's very pigmented. Just one swipe and you get a crisp black line. It's not smudge proof, but it stays very long on my waterline. So far my favourite black pencil. I've been using it almost everyday since I got it.
Barry M – Bold Black is another very good black pencil. It's truly black. But my problem with this pencil is that it's too soft. When I'm lining my eyes with it, it melts like crazy and it gets stuck between the lashes. It's long lasting. It stays on the waterline quite long as well.
Artdeco – Soft Kajal 10 is the least black from the bunch. It's similar to UD Zero if you ask me. A very good eye pencil and it was one of my favourite black for a long time, but now the Bourjois has taken it's place at the top.
Essence – Sun Club Dark Water and Essence – Metallic Black Knight are my least favourites from the bunch. The Dark Water one is a bit too soft and it has silver shimer. Black Knight is not long lasting on me.
To sum it up: My favourite is the Bourjois one. It's easy to use. One swipe is enough for a crisp black line. It works very well on the waterline. It doesn't "upset" my eyes. My least favourite or the least used are the Essence ones. I don't know. They are just not my cup of tea. One is too soft and has too much silver shimmer and the other one isn't long lasting enough for my liking.
And finally the Bourjois eyepencil "in action".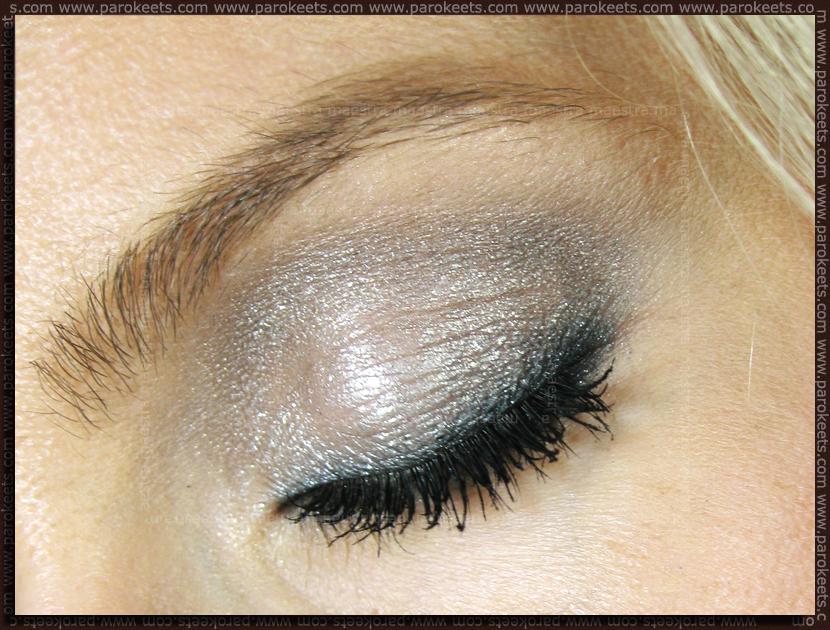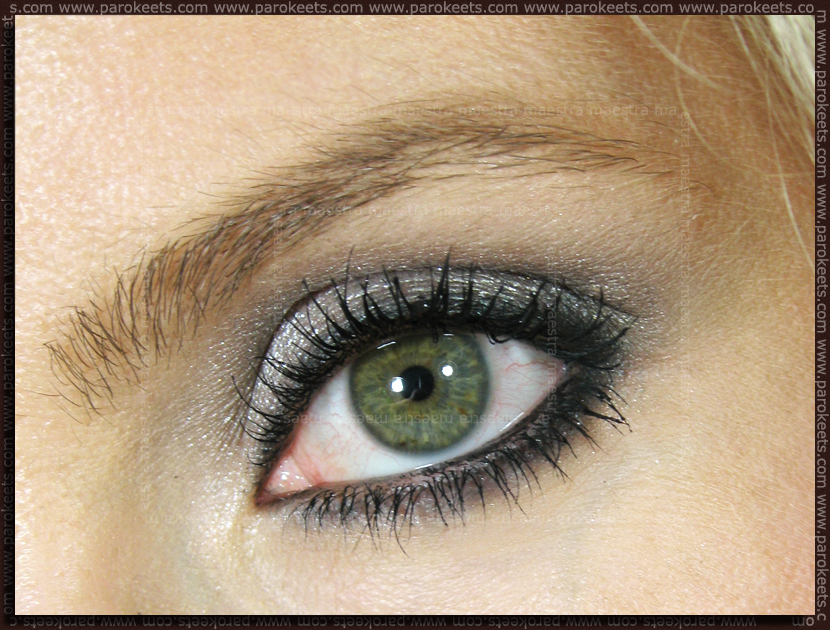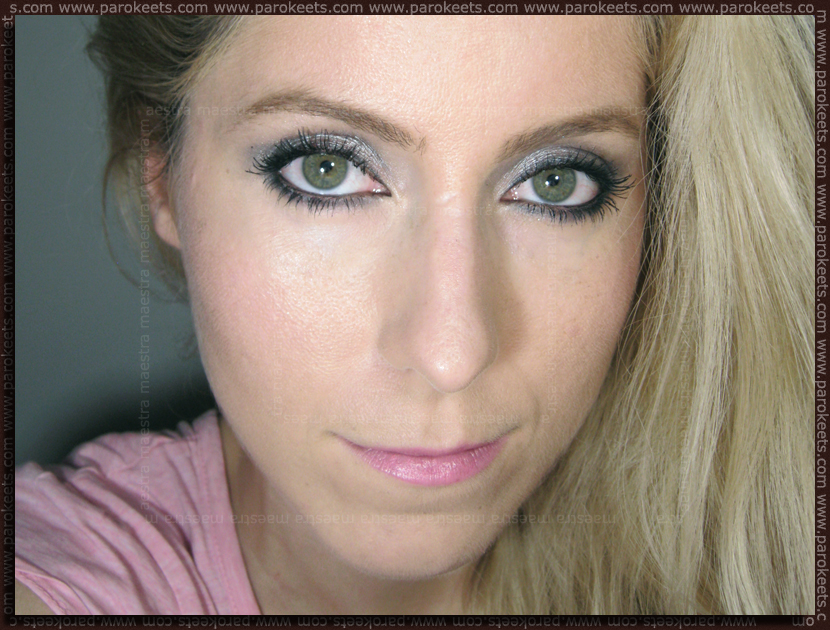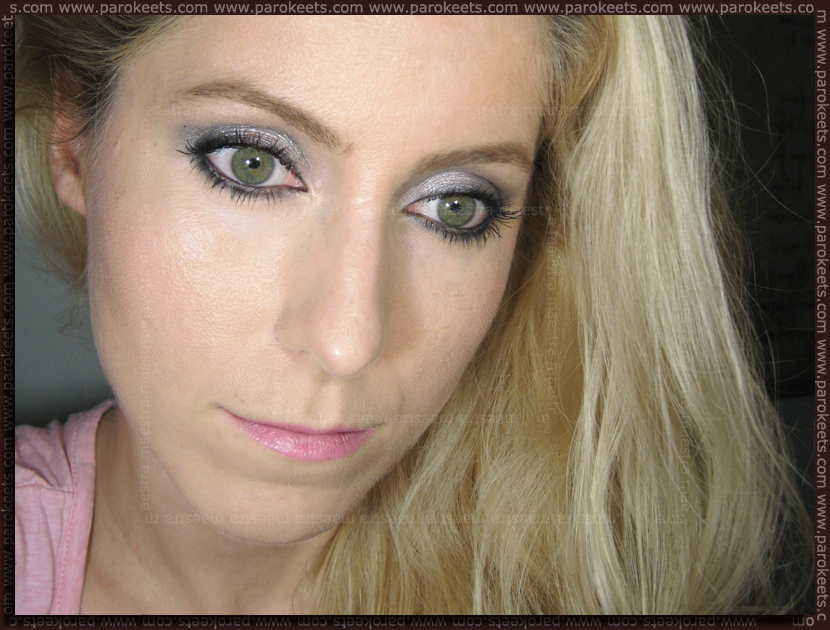 Essence eyeshadows Stay All Day
Essence – I love Extreme mascara
Bourjois – Noir Expert eyepencil
MAC – Speed Dial lipstick
So, these were my black pencils. What are your favourites?