Nude nail polishes are not my favorite color group so I usually completely overlook them. Which means that I don't have anything appropriate to use when manicure calls for this kind of color. During their spring assortment change, Essence came out with the whole line of nude nail polishes. They called it Nude Glam. I have for you swatches of 4 out of 7 nail polishes in this line.
I started out with the thought of making comparison swatch … and save the time for swatches of new Catrice nail polishes. Well, Nude Glam polishes had different kind of idea. Can you believe that all four of them suck at showing their true color to my camera? So I had no choice but to make individual swatches. :D
Essence Nude Glam Iced Latte (no. 04) is little bit to light for my taste. Application was passable – not easy or hard, but you need to take your time. This it the only creme polish from the bunch. Color is pretty hard to describe as they added some kind of pinkish undertone to light beige shade. But less "pinkish" than in the photo.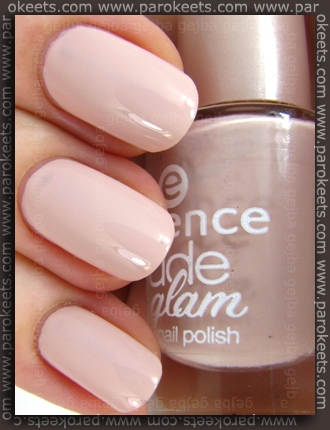 Essence Nude Glam Toffee To Go (no. 05) is brownish beige shade with tiny, tiny shimmer and slight yellow undertone. Application of 3 shimmery shades was a little bit better that with Iced Latte.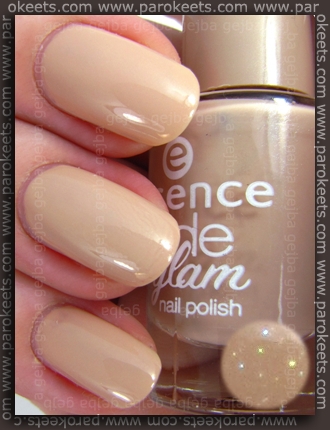 Essence Nude Glam Hazelnut Cream Pie (no. 6) is loaded with dust like shimmer in cooler pinkish color.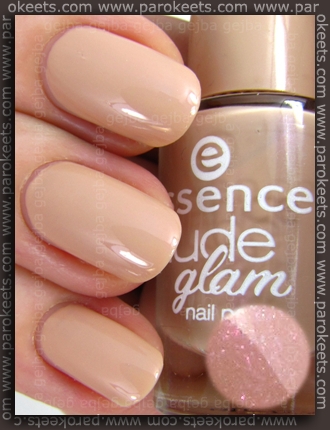 Essence Nude Glam Cafe Ole (no. 7) is cooler gray-brown shade with shimmer.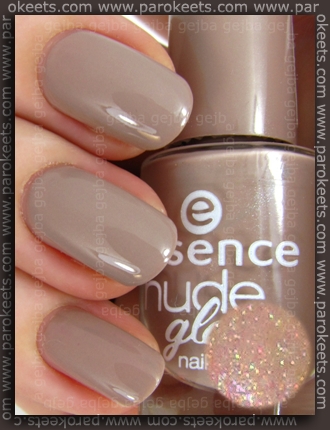 Nude Glam nail polishes cost around 1,5 EUR and are in the minis category with 5ml of product.
Quite a while ago Maestra posted photo of lace konadicure. I wanted to do something similar ever since, but was waiting for THE nude nail polish to make it with. All I can say is – total fail. I would need different kind of flower motive (tried 2, but neither worked), shorter nails, base polish to show it's true colors …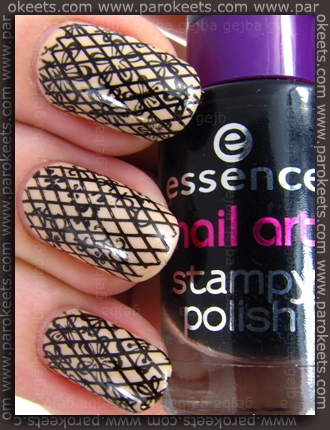 Now I'll have to buy the rest of this collection in my search to find the ultimate nude nail polish for me. :D
How do you like Essence Nude Glam polishes? Which one is your favorite?
I used 2 coats of polish + top coat for all the swatches in this post. Shimmer details were taken in strong sunlight.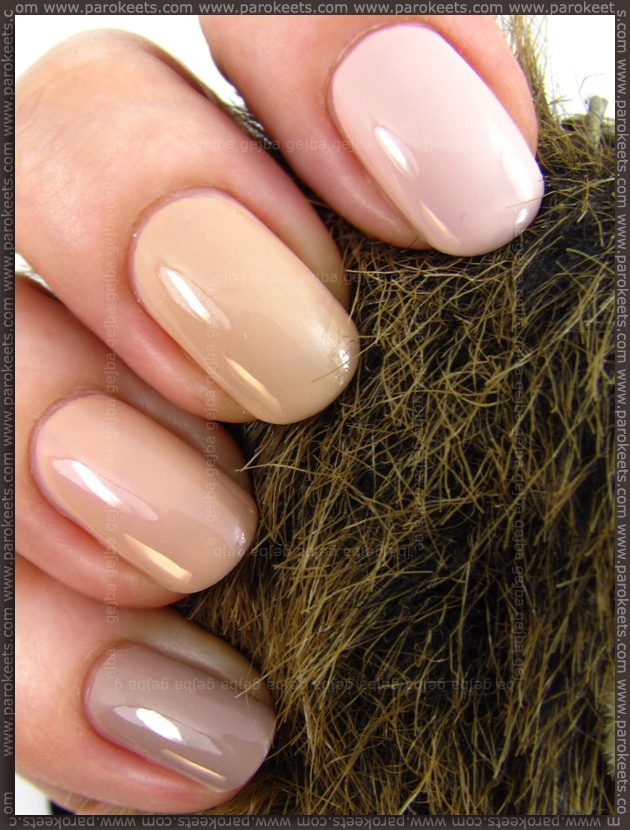 *we received 2 shades for review purposes