Almost everything is ready to start reviewing different foundations (mainly liquid ones). Before we start though I'd like to talk to you about different foundation brushes and of course about my favorite ones. Here we go …
There are various kinds of brushes that are specially made for application of liquid foundations. Today I'd like to talk about the ones that I have at home. This post is going to be a short overview and review of most of my foundation brushes.
First some very basic things about (some) different types of foundation brushes.
---
Foundation brush is flat and almost always has synthetic bristles. With a foundation brush you apply the foundation with short strokes and pat it on your skin. The application with this brush gives you very good coverage, but can also look a bit mask-like. Also the brush strokes can remain visible and need to be blended with fingers, a sponge or some other brush.

Buffing brush is usually domed shaped brush (can also be flat top), with densely packed bristles. The bristles can be animal hair or synthetic. With these types of brushes you buff the foundation with circular motions into the skin. Buffing brushes give good coverage. It depends on the buffing brush and also on the foundation, but sometimes these type of brushes push the foundation into the pores of the skin and because of that the pores can be emphasized (and not hidden).

Stippling brush is a duo fiber brush. Stippling brushes give nice airbrushed finish and lighter coverage. Because the brush is made with two types and two different lengths of bristles (usually but not always there are shorter goat bristles and longer synthetic bristles combined), you can easily control the amount of product applied. With these types of brushes you stipple product onto your skin and then blend it with circular motions.
---
I'd say these are the main types of foundation brushes. There are also some I didn't mention, like kabuki brush or flat top, but I would count these two under buffing brushes. Of course you can use these brushes also for application of blush or bronzer or whatever. In the past there used to be a rule that with liquid and creme products you had to use synthetic brushes (because the animal / real hair brushes soaked a lot more product). They say that today you can use whatever is right for you, because the bristles today are way different (better ?). I don't know about that. As you'll see, I only use synthetic brushes for application of liquid foundation. Maybe that is a coincidence. I don't know, that's just how it is. Let's move to my foundation brushes.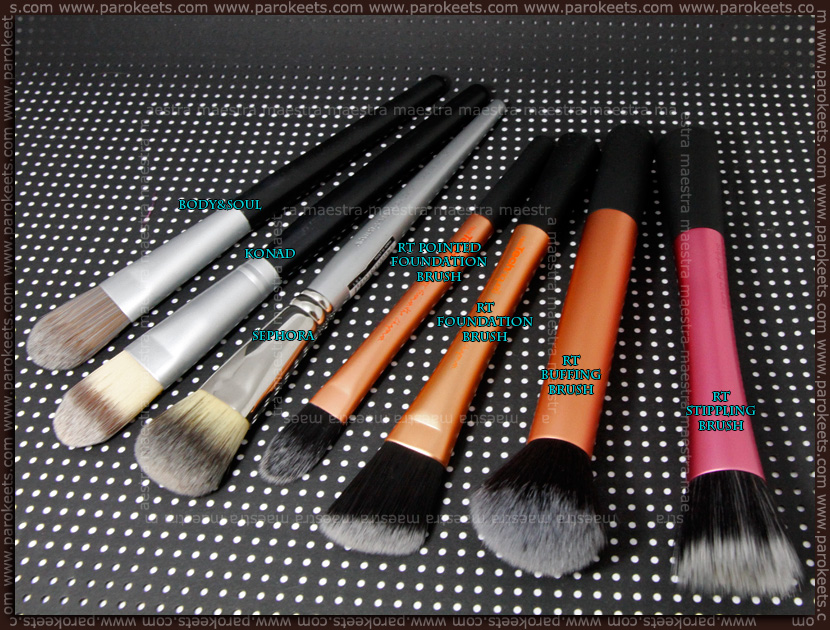 ---
Konad Foundation Brush
Soft hair, no shedding. The hair is dense ad firm. The resistance of the hair is nice. The brush stays in shape when you use it, wash it … Application with this brush is nice and almost without streaks.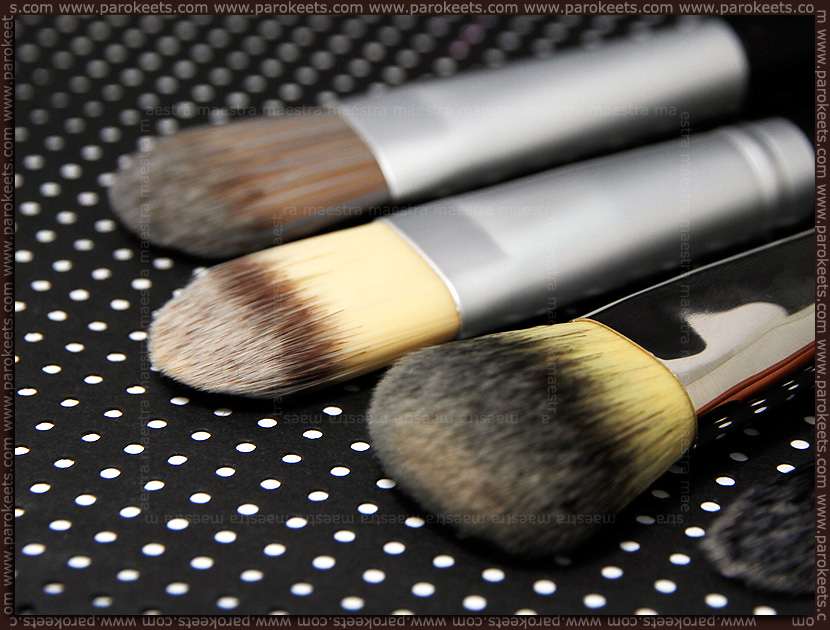 Body and Soul (Muller brand) Foundation Brush
It's a bit wider than the Konad brush. The resistance of the hair is not as good as with the Konad brush. No shedding. Be careful with application – streaks.
Real Techniques Pointed Foundation Brush
Very small foundation brush. It's a bit too small for my taste (it takes to much time to complete my whole face) and a bit too big to use it as an concealer brush. Otherwise very good foundation brush that applies foundation nicely.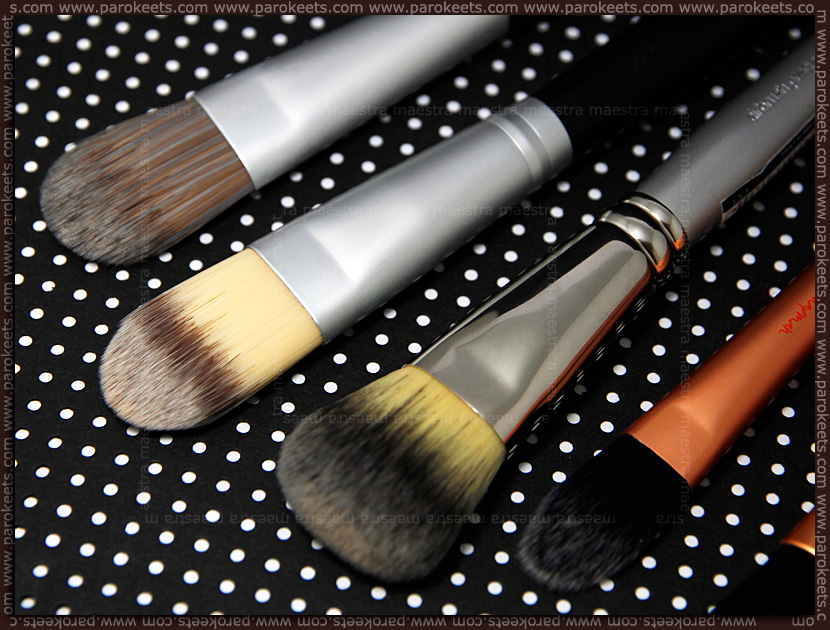 Real Techniques Foundation Brush
Soft hair, no shedding. The hair is dense and firm. The resistance of the hair is very good. It applies foundations nicely. The shape is special – angled.
Real Technique Stippling Brush
It's a duo fiber brush with quite short and densely packed synthetic hair. I haven't tried a lot of duo fiber brushes, but most of them I didn't like because they didn't allow me enough control over the application. I think the main reason was that the hair was too long and not dense enough. Real Teachnique Stippling Brush is just what I like. It allows me a lot of control over my application of products. You can achieve a nice flawless almost airbrushed finish with this brush.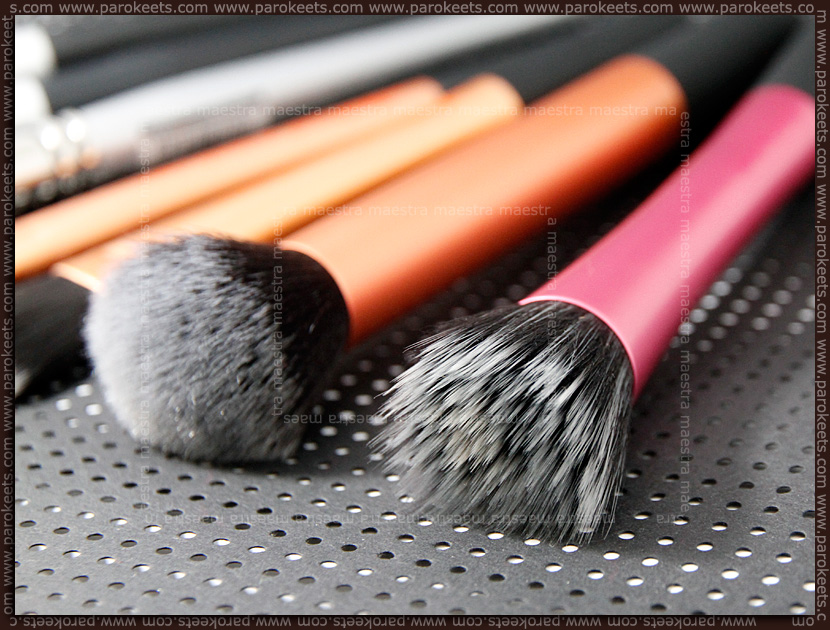 Real Technique Buffing Brush
You can buff the foundation nicely into your skin with this brush. It gives a bit more coverage than the stippling brush. I love this brush. It's very soft, but the resistance of the bristles is very good.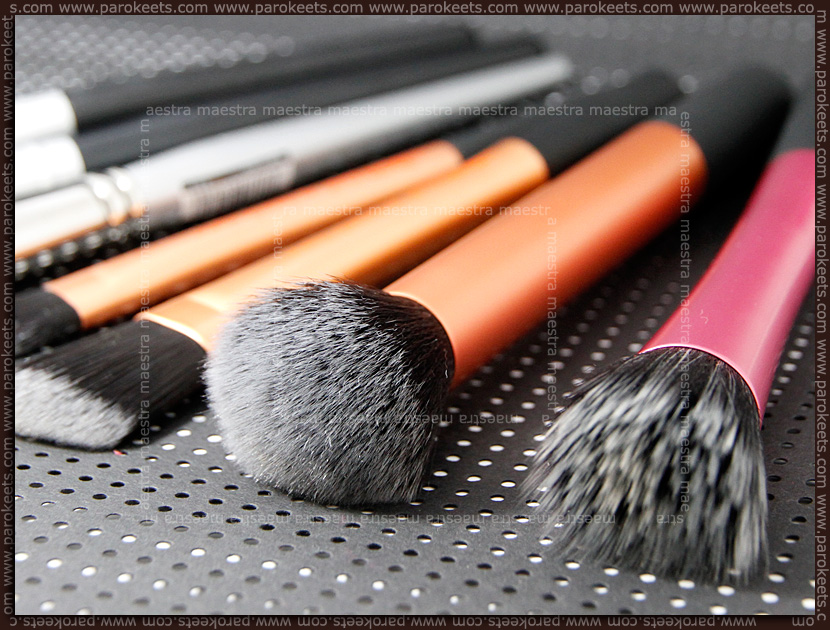 Sephora Professionnel Collection Airbrush Precision Foundation Brush #56
I saved the best (and my newest addition) for last. After daily using and loving the Real Technique brushes for a couple of months I didn't think that there's a better foundation brush out there. I mean, I loved how the Real Technique brushes apply foundation. I thought that I found my perfect foundation brushes already. BUT I still ordered the Airbrush Precision Foundation Brush #56 by Sephora, because I was intrigued by all the good reviews and by its shape. The brush looked very interesting to me. So I ordered it blindly. And I think it's my best brush buy in a long time. I would describe this brush as a hybrid between the classical foundation brush and a buffing brush. Are you curious what do I mean with that? It just means that the shape roughly remind of the foundation brush (because it's flat) and at the same time it performs like the buffing brush, because it is not pointed as the foundation brushes and you can easily buff foundation into your skin with it. Shorter explanation: You can first apply the foundation as you would with the basic foundation brush and than you can buff the foundation into your skin as you would with a buffing brush. The bristles are synthetic and extremely soft. Out of all the foundation brushes that I have (or tried), this one gives me the most airbrushed finish. Although it's the most expensive brush I would buy it all over again.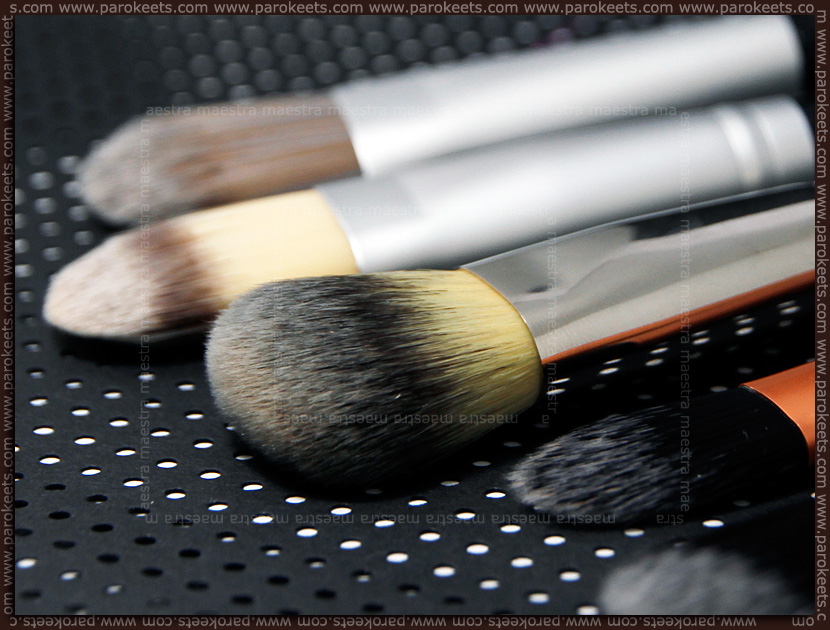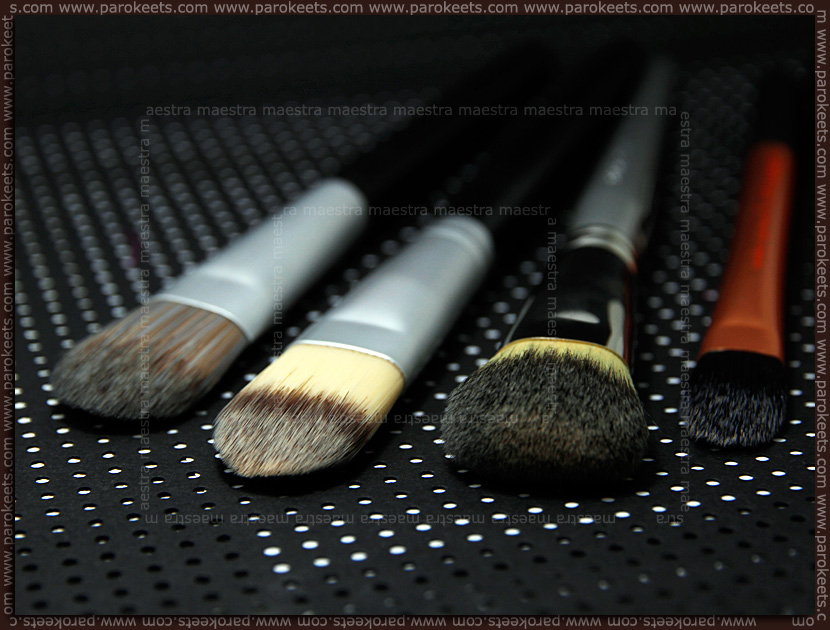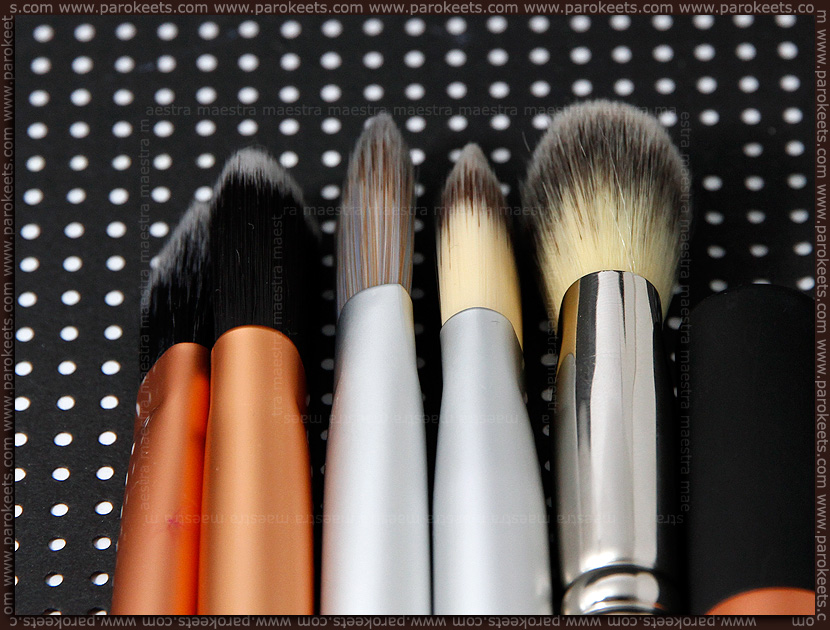 (My dear American friend, thank you for bringing me this fantastic brush!)
---
There are also flat top and kabuki brushes that are very common for applying foundation. I forgot to photograph my Everyday Minerals flat top brush, which is also very good for applying liquid (or mineral) foundation. I can't say anything about kabuki brushes though because I've never been a fan of them and never actually really used them.
How do I apply liquid foundation?
For application of liquid foundation I almost always use brushes. I prefer buffing and stippling brushes over classic foundation brushes. I never use sponges. Sometimes I use my fingers to apply foundation but I never get the foundation to look as nice on my skin as it does when I apply it with a brush.
How do you apply foundation? Do you use brushes? Which brushes do you use?