Aaahhhh – my darling Maestra found full Essence Snow White trend edition stand so I have ALL Snow White nail polishes! I was scared that Snow White would be left without one of her dwarfs … or prince charming or evil queen … :D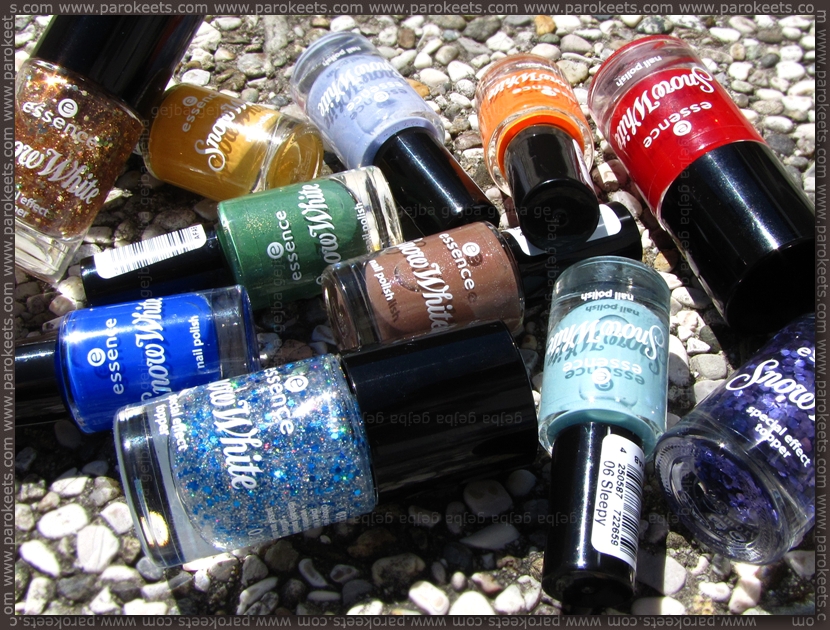 I wanted this trend edition because of the theme, after all Snow White is one of the rare fairy tales where main character is not blond. But in the end I was pleasantly surprised by quite a few of the shades. Let's start with my favorites.
Essence Snow White is one of those reds that you immediately identify as something special. This is first red nail polish after Illamasqua Throb that I can say it was crush at first sight. It's more to the cool side, but for some reason becomes slightly warmer in strong light. Formula was great, possibly one-coater if you don't mind visible nail line … which is slightly seen even after second coat.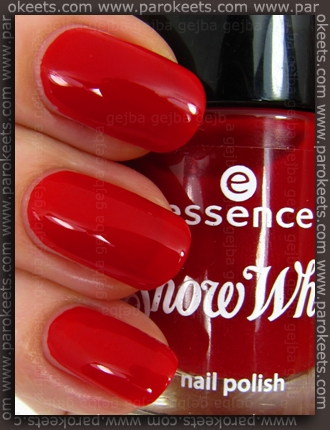 My second love is Essence Grumpy. What can I tell you except it's perfect electric blue shade with good formula. As this belongs into category of slightly thicker and highly pigmented nail polishes, you can use only one coat for full coverage … if you're careful that is. 2 coats + top coat.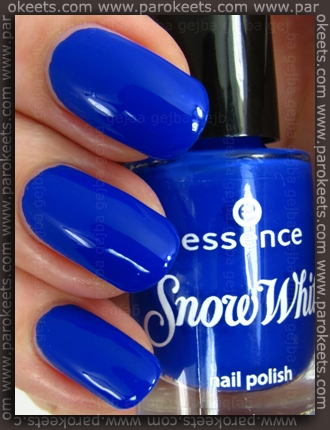 Pair Grumpy with Essence Prince Charming and you get drop dead gorgeous combo of electric blue base with 2 coats of blue and holographic glitter.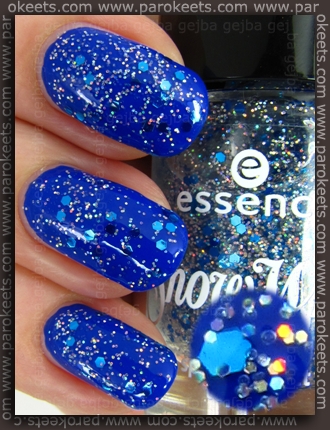 Essence Sleepy doesn't look really sleepy to me, more like great spring/summer base. Color is on of those tricky shades that look more greenish one moment as bluish the next. Essence added as fine as dust shimmer, but it doesn't really translate onto the nails. 2 coats.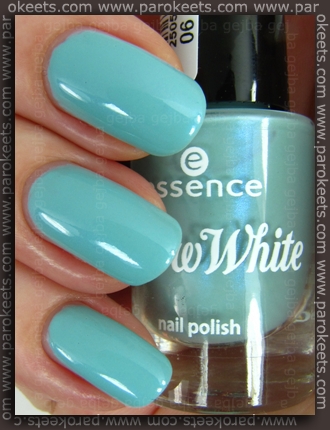 Essence Dopey is another almost pastel like shade and this one is also "moody" – it can be more purple or blue. Formula was sheer, so I used 2 thicker layers + top coat.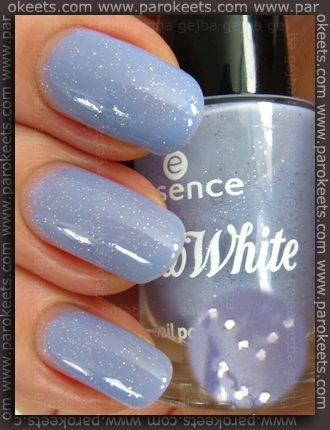 Essence Bashful is another Snow White TE polishes with identity crisis. :D Only this time it's how green is the base. Sometimes it looks like somebody put grayed out layer over it and sometimes it look a lot more rich green. Shimmer is lovely – I just with those tiny tiny flakes were larger.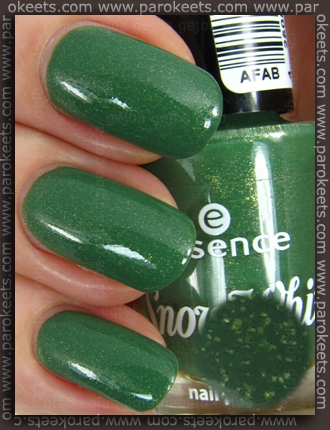 I found all toppers to be slightly problematic … with Prince Charming being the best one. I think it's the clear base they used to suspend glitter in + lots of huge chunks of glitter. I had hard time placing the glitter onto the nails as majority got stuck on the brush. I had to pat the glitter on and then arrange it by toothpick.
Essence The Huntsman topper is not special to me because of it's gold hexagons. What cough my eye were strange glitter particles that looked like plastic duochromes(?). I wish Essence would shred those paricles in smaller pieces and mad topper just with those beauties. 2 coats over Snow White.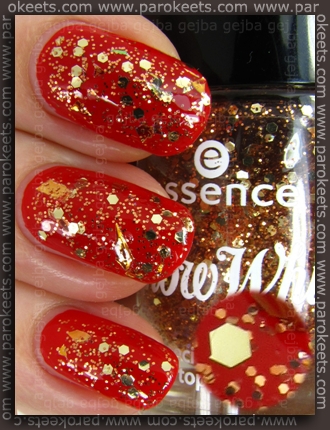 Essence Evil Queen was my least favorite topper. I simply did not like anything about it – glitter was too big, application not easy … 2 coats over Dopey.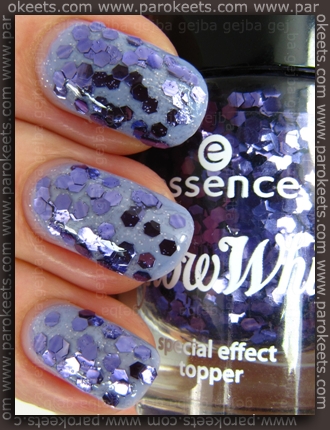 Essence Doc is nice orange shade. Not too orange and not too overpowering. I quite liked it. Thick and pigmented formula allows for one coat for full coverage. 2 coats + top coat.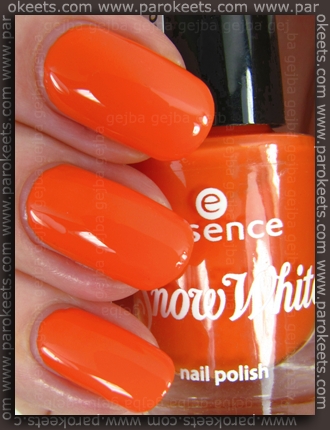 Essence Sneezy and Happy did not make it to my honor roll – I didn't like either one. Happy leans to much to ocher side and Sneezy is not my kind of brown.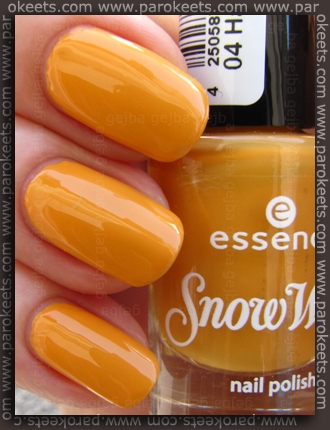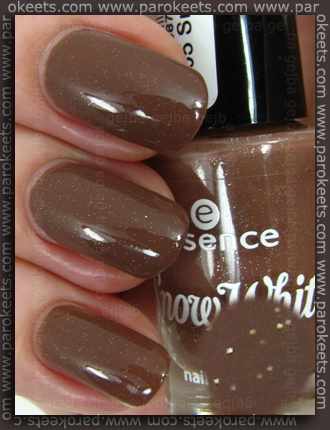 Price:
1,69 EUR for 5ml (0.16 fl.oz.) bottle
2,19 EUR for 10ml (0.33 fl.oz.) Special Effect topper
Snow White – 1,89 EUR
Video review:

Which one is your favorite from Essence Snow White trend edition … and does anybody actually like last two nail polishes?
GIVEAWAY IS NOW CLOSED.