First Illamasqua's collection for this year is already here! They launched it in celebration of Saint Valentine and named it Throb.
Collection is already available on their web site and consists of:
nail polishes: Throb, Scorn, Load (~16 EUR);
lipstick: Sangers (~18 EUR);
intense lipgloss: Succubus (~15,5 EUR).
I do not care much about Valentine's Day, but red color … still my favorite shade.
When Maestra and I saw the promo photos we couldn't stop admiring the make-up on the model in below picture. But when Parokeets ladies got Throb polish and Sangers for review, our jaws drooped to the floor … at least mine did. :D
Did anybody else drool over this artsy and imaginative piece of make-up work?
Of course I had to try out the polish first. As you probably already figured out, I'm quite picky person. I do not even have to try to find little mistakes in a products or put nicer – see what can be improved. :D But Throb gets perfect score in my book. It's almost like they made this polish with my dream specifications in mind: fantastic coverage (you can use only one layer), thick (but not too thick), "bloody" red shade … But even-though I like the color, it's the formula I fell in love with.
Do not ask me about undertone of this polish. I honestly have no clue whether it is cool or warm shade of red. I saw everything from lighter red to darker, almost brownish red in this polish. I told Maestra that I was becoming color blind. She comforted me me then it must be neutral shade. Maybe that is it … and not me becoming color blind.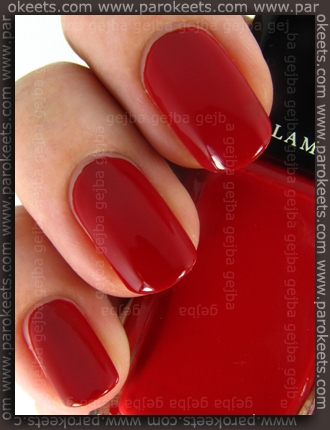 Her is the how Throb looked the next day in cloudy weather. See the almost non existent tip wear? Don't worry if you do not see it … it is really minimal.
I used 2 layers + top coat.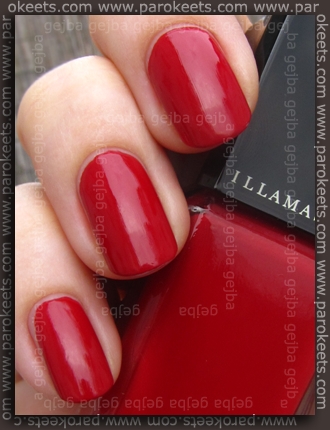 Finish is glossy creme, but I worked hard at capturing the realistic shade of this polish (if there is such a thing) that capturing "glossines" had to take backseat.
Sangers has the honor to be the first lipstick I swatched on my lips (so please be kind in your comments :D ). I did not use lip liner in the swatch because I wanted to show you only the lipstick without distracting factors.
Finish is really funky – almost matte, but with slight sheen. It applies beautifully, stays where you put it and has quite good staying power. I wore it for couple of hours and it still looked fine. It is not nurishing or moisturising but it does not dry out lips either. Smell is not overpowering.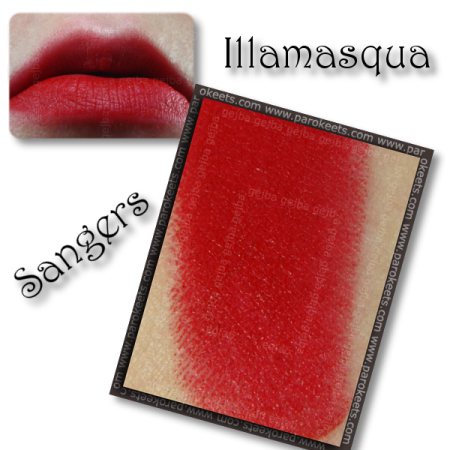 I do not wear red lipstick a lot (like almost never), but I love this formula. I'm already browsing through their store and adding more "me" shades on WL. 
It's time to wrap up this post or you'll start to glaze over.  :D
Now it's your turn – do you love the collection? Which product is your biggest lemming?
The Throb collection is available from January 17th 2011 in Illamasqua's Flagship Store, Selfridges London, Manchester, Birmingham, Fenwick Newcastle, Debenhams Glasgow, Belfast, Cardiff and online at http://www.illamasqua.com