First of – I'm nuts so this post will be live and updated few times as I'm determined to post it today, but there is no way I can actually do everything needed in the hour or so I have left.
Soooo – even though Twillight movies ended, Essence once again launched dark and mystical limited edition that would go well with the saga. I must admit I fell in love with Dark Romance limited edition on the spot and really put effort into getting everything I wanted … and it was a while since I was so exited.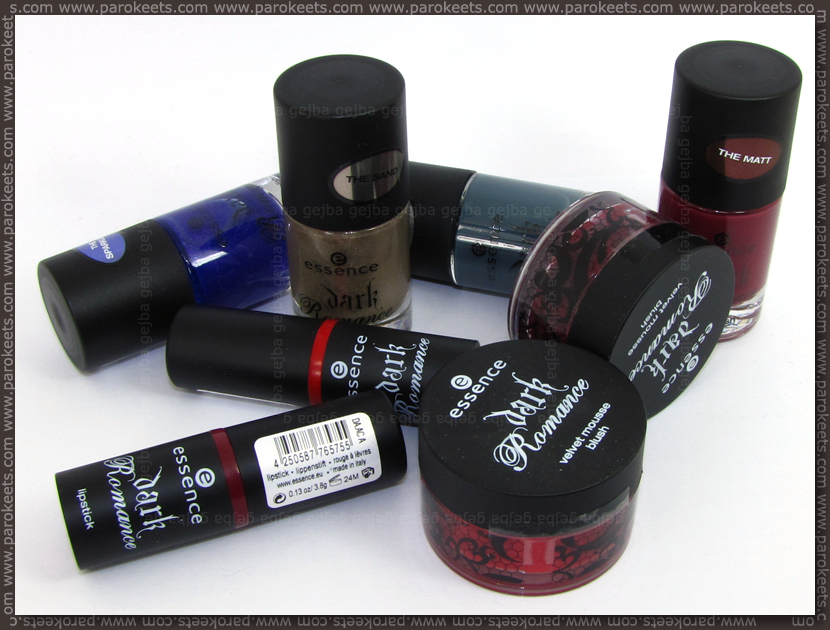 There are 4 nail polishes in this LE – all with different kind of finish … at least in theory. As far as I'm concerned suede finish in Moonless Night is matte. To be suede it would have to have mattified shimmer and not just be matte creme shade. Bu still – I do like the nail polish.
The star of Essence Dark Romance LE is for majority of us nail polish freaks is The Sand aka Gothic Gold. I'm not such a huge fan of gold or sand nail polishes, but for some reason I loved this one from the first time I imagined how it would look on me. And it did not fail me – this darling feels at home on my nails. Only downside is slow drying time … but that seems to be recurring problem with Essence sand nail polishes. 2 layers are all you need for full coverage … and for obvious reasons, no top coat for special finishes.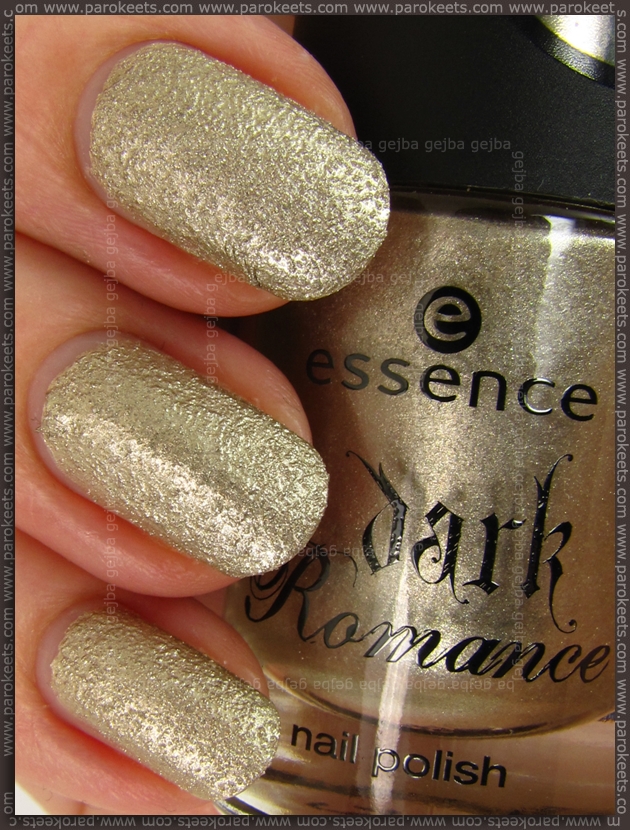 Essence Red Romance is dark and red and matte – of course I love it. :D This one had the best formula for me – rich but not too thick and it would be dream to apply if it weren't for the matte part … or me forgetting how careful you have to be with this finish.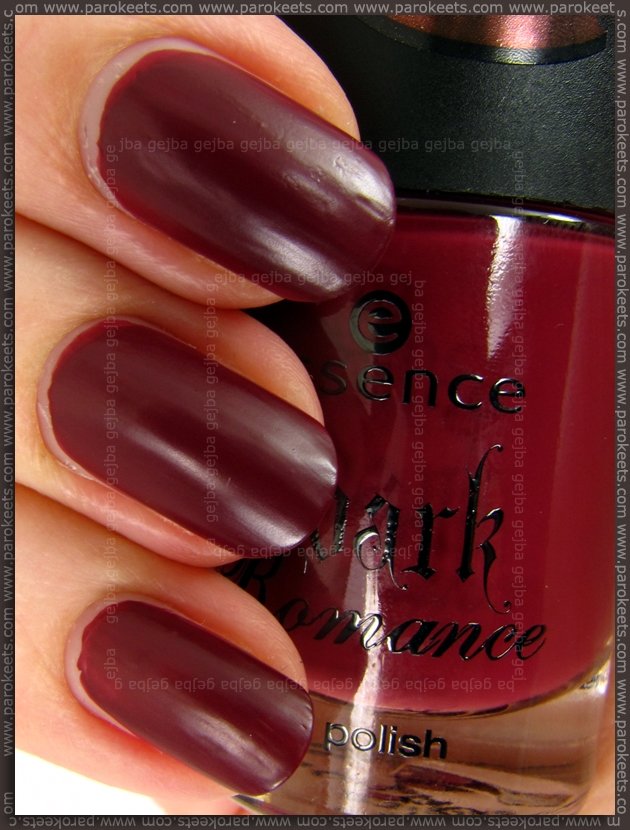 Now "The Suede" is I said matte but this time in dark smoky gray brown. Niiice – I love the shade so I'll overlook the fact that it's not really suede in my book.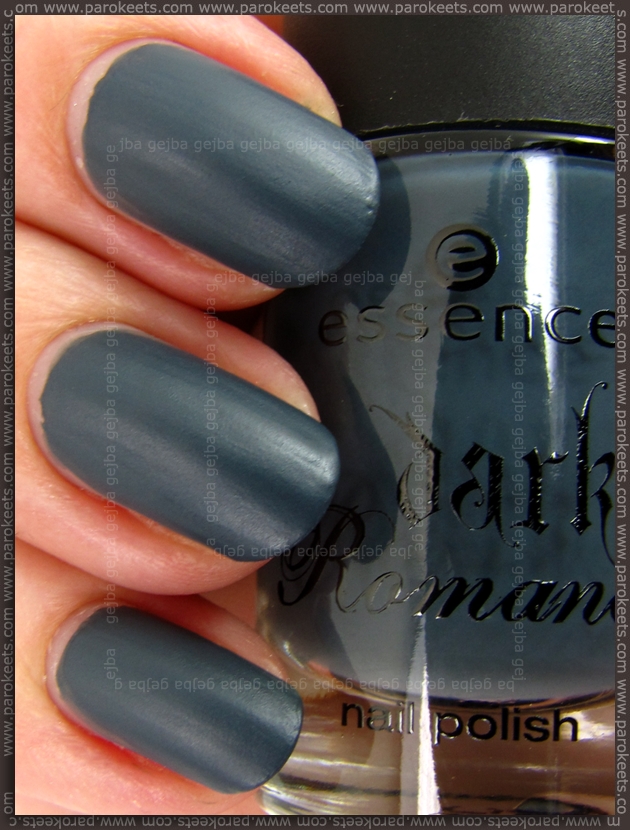 Last one I expected more from finish wise, but it is still pretty purple color. Of course I'm talking about Dark Night Starlight. It applies little bit too sheer for my taste, but nothing 2 coats can not fix. This is the only one I used top coat with. I just wish they put in bigger flakies – then it could really be stunning nail polish.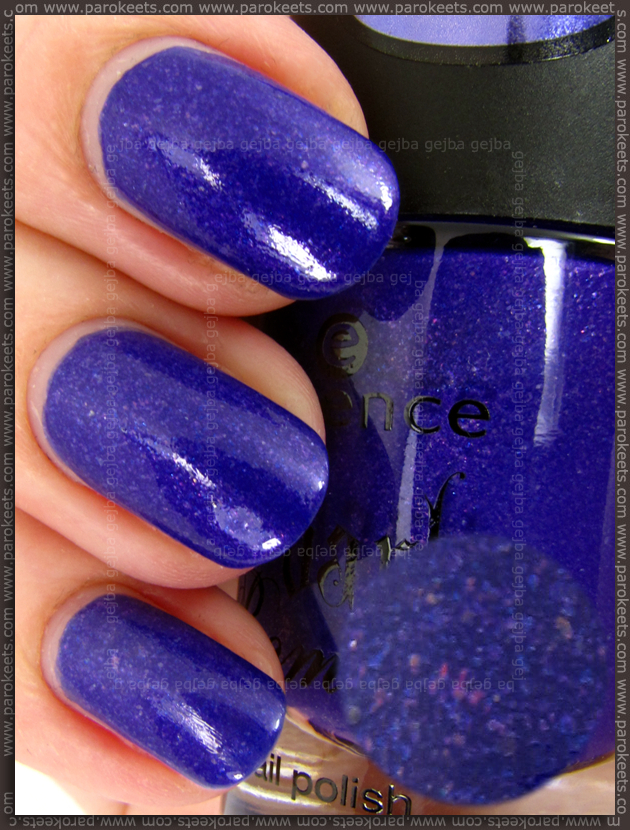 Now – I don't have swatches or review of lipsticks and blushes. Simple reason is – I still don't know if I should keep them all for myself or be little bit more generous and add one lipstick and one blush to the giveaway. It is December after all right? Right? :D I'll add this part of the review after I decide if I want dark or light set.
Video review with nail polish application and Painted Love blush and lipstics swatches:
http://www.youtube.com/watch?v=Fu1xGYMrlg0