This years Halloween manicure is something special. 100th video on Parokeets YouTube channel is the tutorial of The Rocky Horror Picture Show inspired manicure I made in collaboration with Petra Kozina aka Petja who did the makeup video. Quite frankly, I'm not sure which of these facts amazes me more. :D
Petja is one of those talented make up artists that continue to grow and explore new techniques. I really respect people like her so it was great honor to do this collaboration.
The Rocky Horror Picture Show is apparently one of those cult movies that everyone knows about … except me of course. I guess I should have been more of a MAC fan as they did a whole collection about it, but no, first time I heard about this movies was when Petra suggested it as an inspiration.
Dr. Frank-N-Furter was the "source" for me. Quite frankly, the thing that got stuck most in my mind was his corset from the beginning of the movie. It was all shiny and sparkly and I wanted nail polish like that right now. I dedicated my accent finger to the corset.
https://www.youtube.com/watch?v=xIoFo8WXhj0
What did I use:
Catrice Black To The Routes – base (1 coat). Loved the nail polish, but the brush is still one huge disaster.
Poshe fast drying top coat
sponged on Essence Icy Fairy effect nail polish
it was not enough bling-bling, so I added mixture of TKB cosmetic glitter (red, blue)
What would tie up this "look" would be hand drawn corset strings. I'll probably be adding white ones on the actual Halloween manicure. It just seems as a nice touch.
Rest of the nails were pure fun … splatter manicure. What better to describe the carnage than red splatters on white base? :D
Catrice Brightening Base Coat – On Top of the Alps – 2 coats
Poshe fast drying top coat
splatter: straw, Makeup Revolution Find True Love nail polish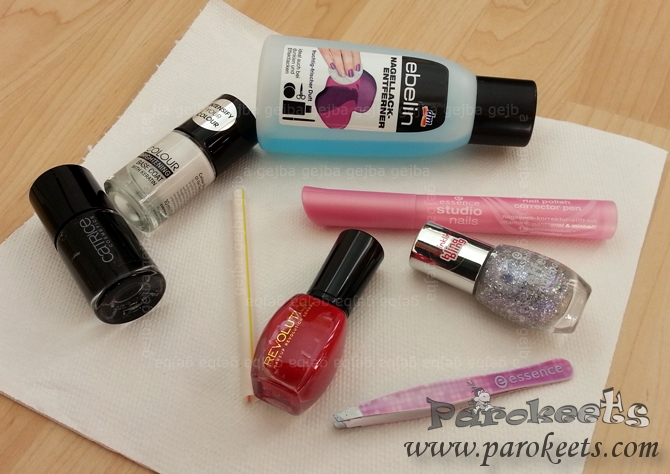 And then … let the nail polish remover do its magic.  I protected the skin with oils on the first day and experimented on take 2, but cleanup was not as horrible as I feared.
What would be my recommendations about splatter manicure so far:
Straw must not be too long or short. Thicker worked better for me.
Dipping straw in nail polish was my preferred method, but I had to tap excess onto the paper towel.
Even if splatter didn't cover whole nail … leave it. I just made things worse with going in second time.
Wait for very long time before you apply top coat.
This time I leave you with Petja's makeup and hair tutorial. You can find all the details in her Rocky Horror Picture Show – Magenta Makeup & Hair post.