I always have mixed feelings about doing "haul" type posts or videos, but as they are one of the most requested ones, I decided to do one as "I'm sorry for being bad blogger" post.
For few months I simply did not have time to take any time for myself. Suddenly I got overwhelmed by long working days, bureaucratic crap we have to go through just to start building house, long and sleepless nights as my little one is getting to know nightmares, is teething, ill … I declared time out and took a day off for necessary shopping + brows the stores and buy something for my soul … make up of course.
Müller had 20% discount on all makeup, so I bought few things. Like Essie Garden Variety nail polish, Diorshow Iconic Overcurl and Maybelline Sensational (I can see why everyone raves about it) mascaras, Kiss file was repurchase, IsaDora sets are my obsession so of course I had to take one with red nail polish, lipstick and lipliner.
I stayed away from Catrice stand as there was too much of a crowd for my taste and I plan to take my time and slowly check out what is new and interesting. So I went to Essence stand and rediscovered my love for the brand. New nail polishes are such a cuties – great base white nail polish, jelly red shade (I need MORE shades Essence!), satin matte topper, denim blue matte shade and electric blue jelly cream for my blue nail polish addiction … I meant collection.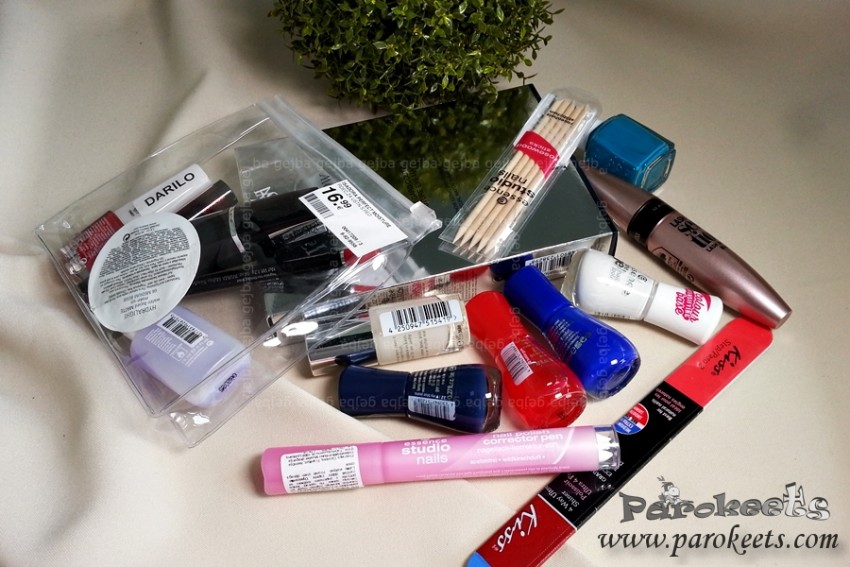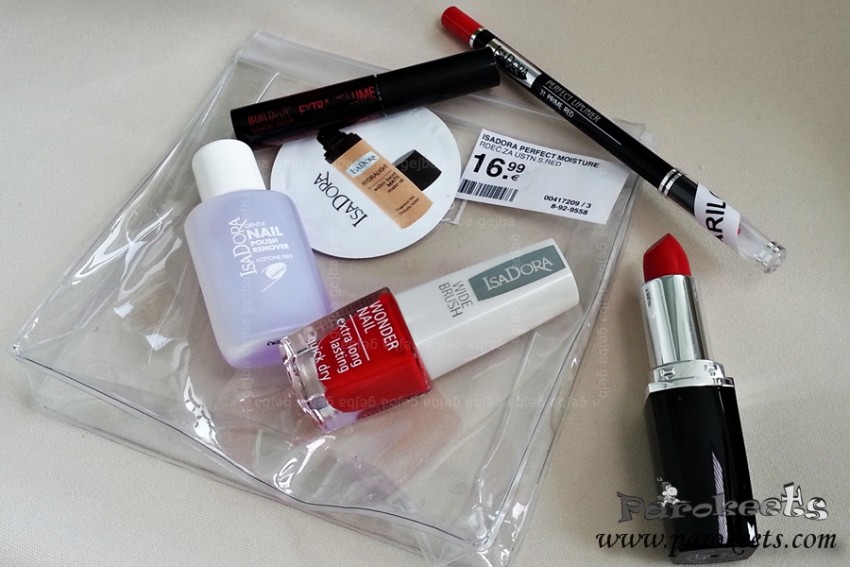 Remember the "lila" socks I bough not so long ago? I finally found green (yes, they're green in real life) in my size! I love Essence lipliners so I'm slowly purchasing more interesting colors. La Roche Posay Cicaplast for lips is another repurchase – only thing that keeps my lip corners whole as they tend to crack. And I simply could not resist the cutest ever box of tissues.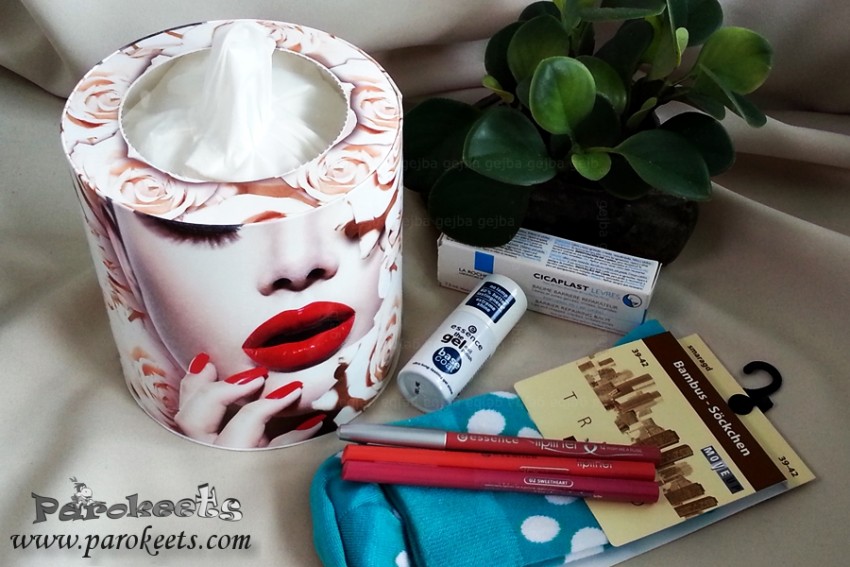 Thanks to my darling Maestra I repurchased Real Techniques Expert face brush which I absolutely adore and Zoeva 234 which is my favorite eyeshadow packing brush. I also asked her is she could find RT Miracle complexion sponge as I was curious if this is truly Beauty Blender dupe or just another "dupe".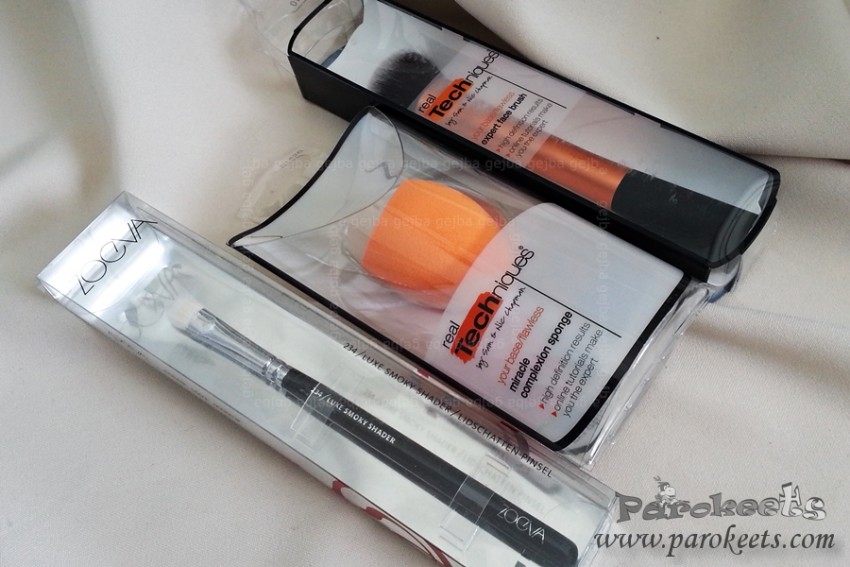 Hofer/Aldi nail polish remover with sponge is currently available in Hofer stores in Slovenia so I picked one up. I'm obviously collecting them as this is the fourth sponge remover I own … not counting Bourjois one I managed to lose. This is pretty good one and I'll buy few extra if I manage to find them.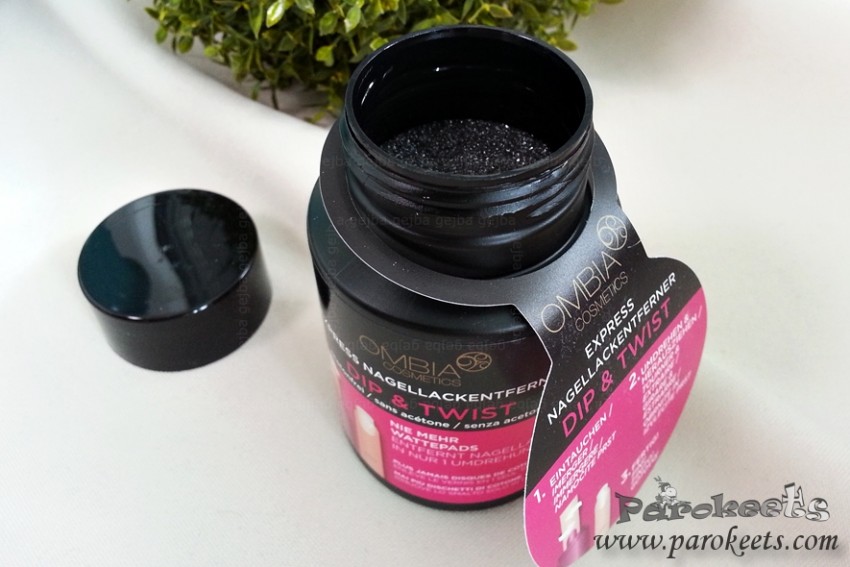 Next are few of the products I received for testing. I know you are always curious about those and as I tend to forget which shades I got and which bought, we will all have detailed list this way.
John Frieda is one of those brands that I heard good reviews about and am slowly discovering their products. Frizz is my bane of existence, so these 2 products are just what my hair needs. I started to test heat activated spray and liked it. Then I forgot to put on conditioner, remembered about John Frieda leave in conditioner one and realized I like this one even more. :D I still have couple of weeks of testing to see if everything checks out, so hopefully review will be out this month.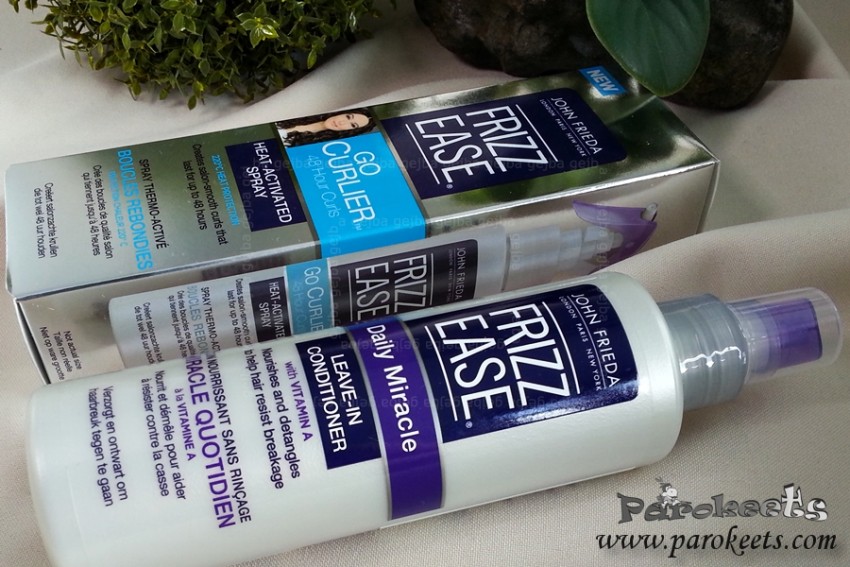 Bourjois launched new hybrid lipsticks called Aqua Laque. I received 2 shades – 05 Rose on Rocks and 02 Red My Lips. So far I love red one more … what a surprise. Plan is to publish this review next week.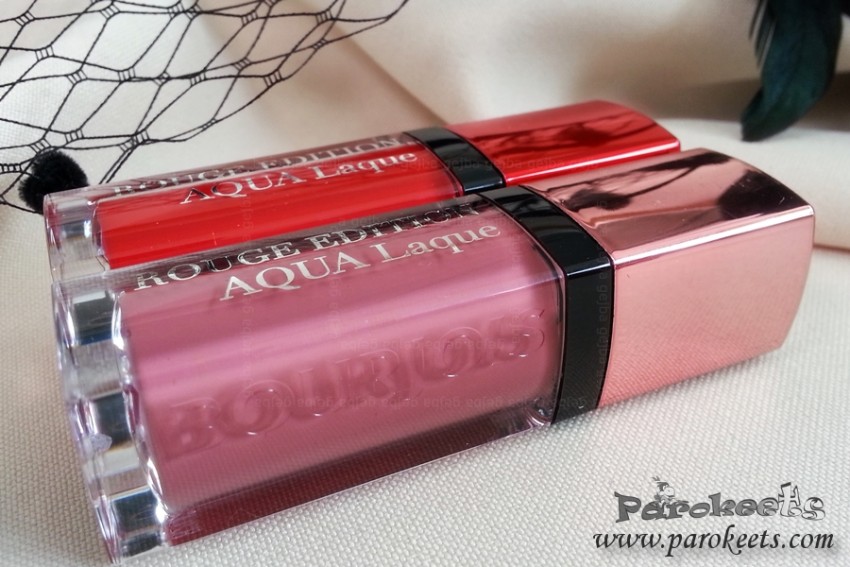 Last item is surprise gift from ličila.si store. They surprised me with something I had on my WL for a while now – Makeup Revolution highlighter palette called Radiance. And not only that, they gave blogger discount code we can share with out Slovenian readers – 15% discount on products with regular prices (does not apply for Sigma Beauty, Kardashian Beauty or Anastasia Beverly Hills). Just enter BRALKABLOGA15.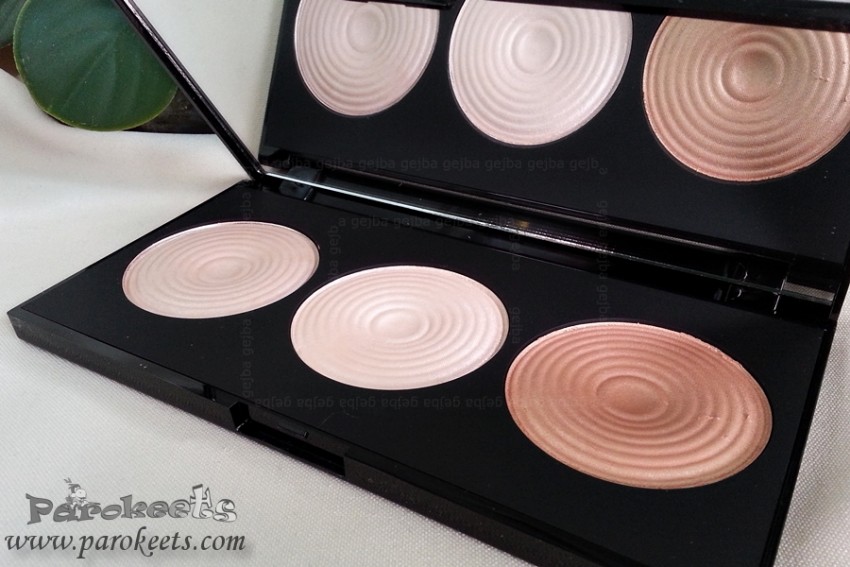 Which of my purchases do you think is the most "justified"?