I dedicated my free time in the last few months 2015 to my fellow Slovenian beauty bloggers (deserved and long overdue) and am announcing that whole January is now officially yours, dear readers.
But let us first end (for me horrible) 2015 with pretty nail polishes. I feel like wrapping up all the negative things in beautiful shades and finishes from some of my favourite polish brands.
This year I prepared few manicures for all of you who are wishing for more hours in a day and struggle to find time for simply manicure let alone anything more fancy aka time consuming.
Quick, but still pretty, manicures are starting in 3, 2, 1!
Classic: deep red
I am never short on my favourite shade, but in the last few month I managed to acquire almost 10 of them. Not really sure how that happened, but I am not really complaining. As majority of them are from Alessandro, I chose Velvet Red from Pret A Porter collection to represent my darling red.
Little black dress or any other kind of channelling "lady in black" + red lipstick + red nail polish and I feel stylish and glamorous.
But if I feel like I exaggerate with boringness, I reach for fun topper like Club Nights from Manhattan. I you use only thin layer it will add little bit of life to the party but thicker coat will bring much more attention to your hands and nails.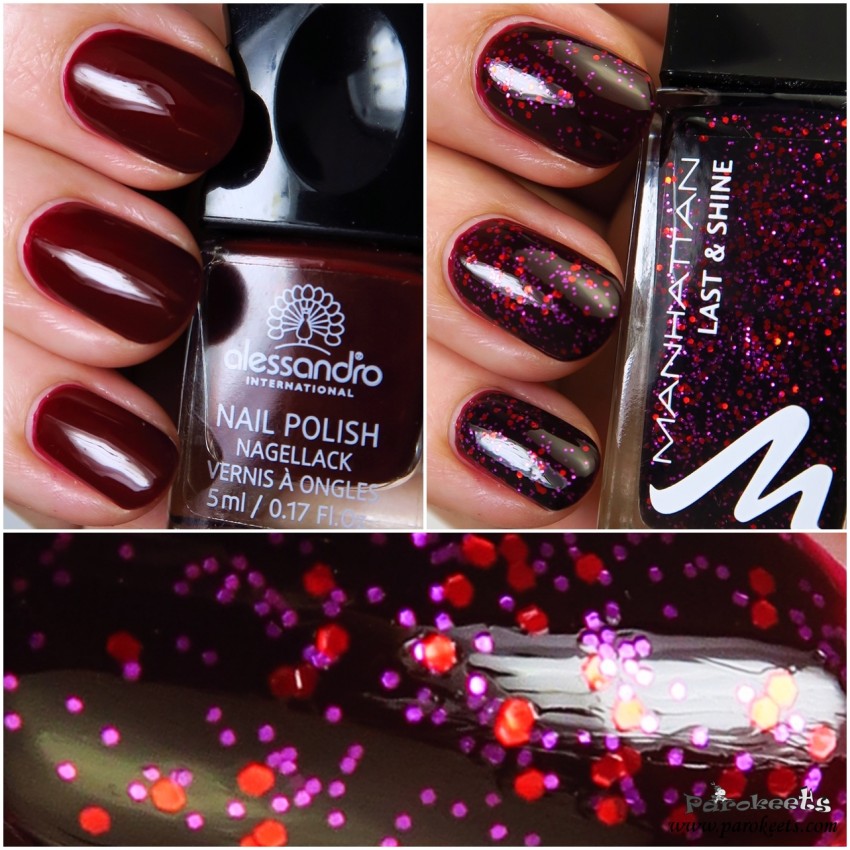 Eternal: gold
I chose gold, but I could have just as easily went with silver. Depending on your jewellery, either one is safe choice. The last shade in Alessandro Christmas Calender 2015 was this gorgeous gold nail polish (no. 99) that applies beautifully. That made me go with the gold theme.
To add little bit extra, I used Black Leather from Glam Rock collection. Satin black over metallic gold never gets old in my book.
P.S. But do not repeat my beginners mistake and remove stripping tape right away. Do not let the children sidetrack you. Even better – wait until they are sleeping.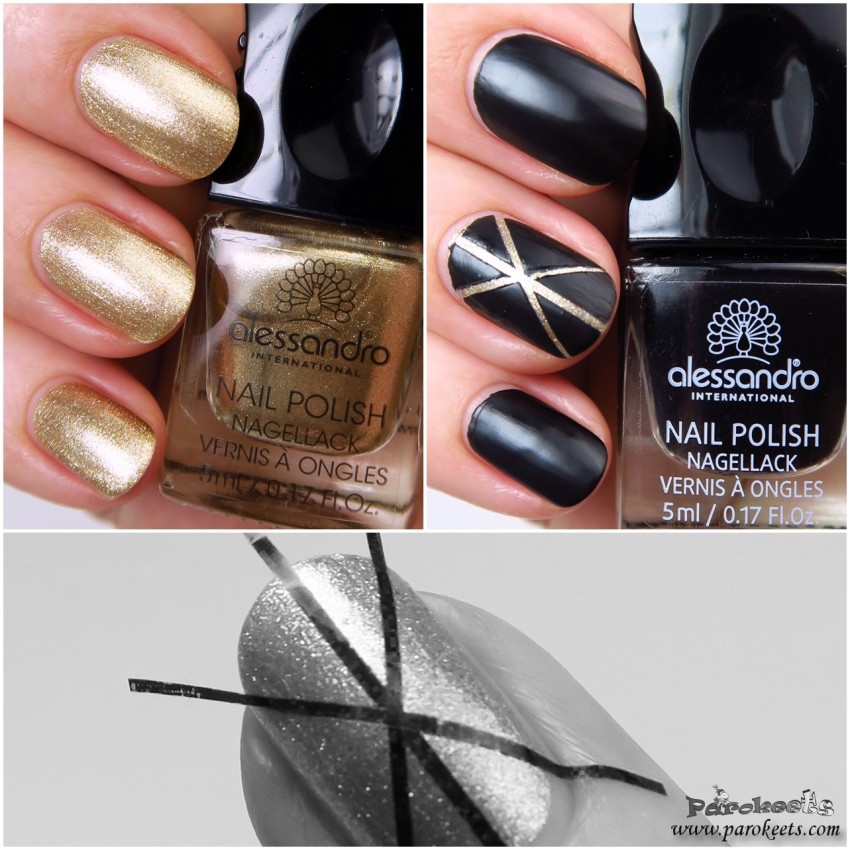 Mysterious: grey
I wanted something universal, but not boring and came up with hard to describe ArtDeco 794 shade. It is grey but with bluish purple undertones. Chic colour that should suit majority.
I played with it but was not prepared to throw away that classy feel, so I stamped discrete silver lights.
For those of you who wish to add sparkle to the greyness, I upgraded it with Jessica Platinum Wishes top coat filled with small glitter.
Quick and easy way to cover whole spectre of outfits: from buttoned up to romantic.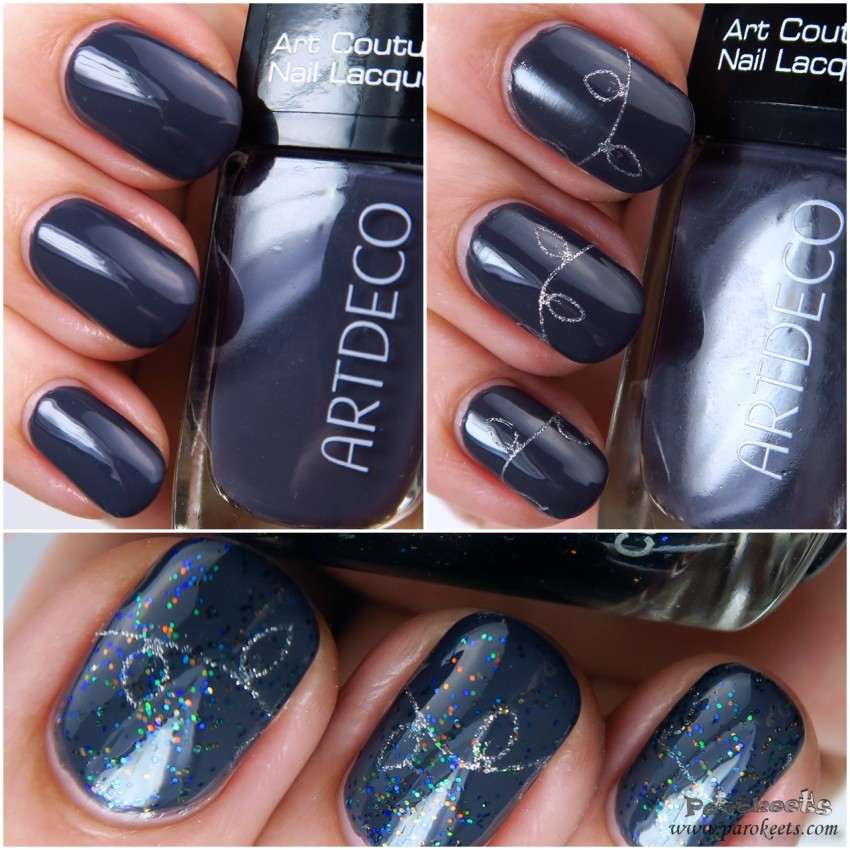 Vampy: bronze
Dark brown-bronze nail polish was my to go to shade for December parties. It is dark and smoky but not plain as darkest creme nail polishes tend to be. IsaDora Bronze Patina put a spell on me and after leaving it in the store first few times, I finally caved and bought it. Do I regret the purchase? Not even close. I love how this shades look with my more formal outfits and those more "party time" looks.
Gold glitter is perfect for spicing it up if you will pair with something darker and edgy. I tried to skip sponging and spreading the nail polish up with clean brush. I know how some of you hate mess and it can look decent with this method as long as you don't start out with too much of glitter topper.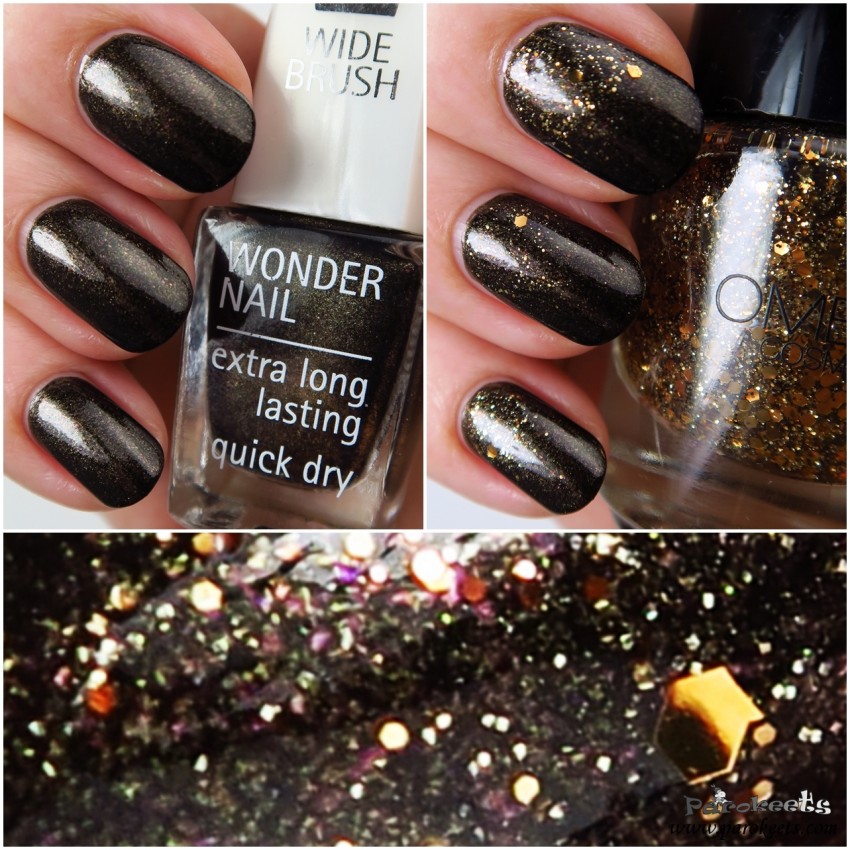 Quick: satin vs. glitter
Satin mat nail polishes my not be known for their staying power, but they do have one major redeeming quality – they dry super fast. Avon Magic Effects line Matte nail polishes are not difficult to apply and are hiding true gem – Inky Blue polish. Gorgeous deep purple blue shade to spice up you grey outfits or pair up with jeans.
For those looking for more "umph" effect, I layers it with Diamond Shatter from the same line to get the effect of glass particles floating in deep ocean waters.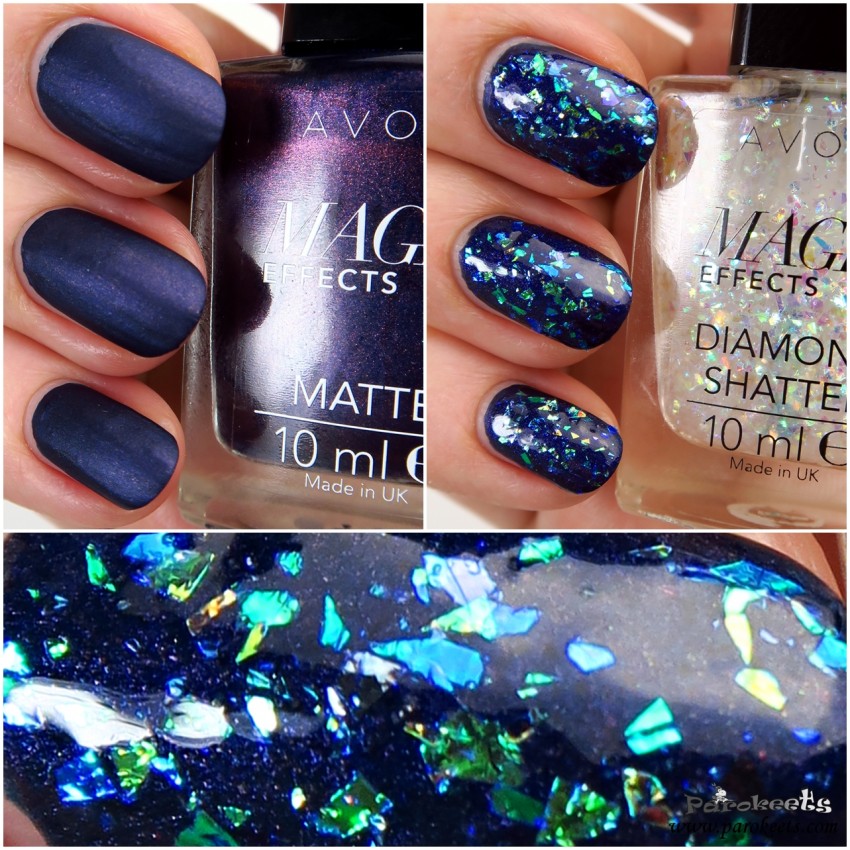 Which manicure will be on my nails tomorrow?
Simple, dark and elegant Alessandro Rock Star. Our plans were cancelled as half of my family is down with cold, but pretty manicure is bound to cheer me up.
Care to let me experience little of New Year's Eve spirit though you? What will you be wearing on your nails and which outfit will you pair it with?
Dear readers,
I wish you all healthy, successful and prosperous 2016.
Hope at least one of your heart wishes comes true for you.
Gejba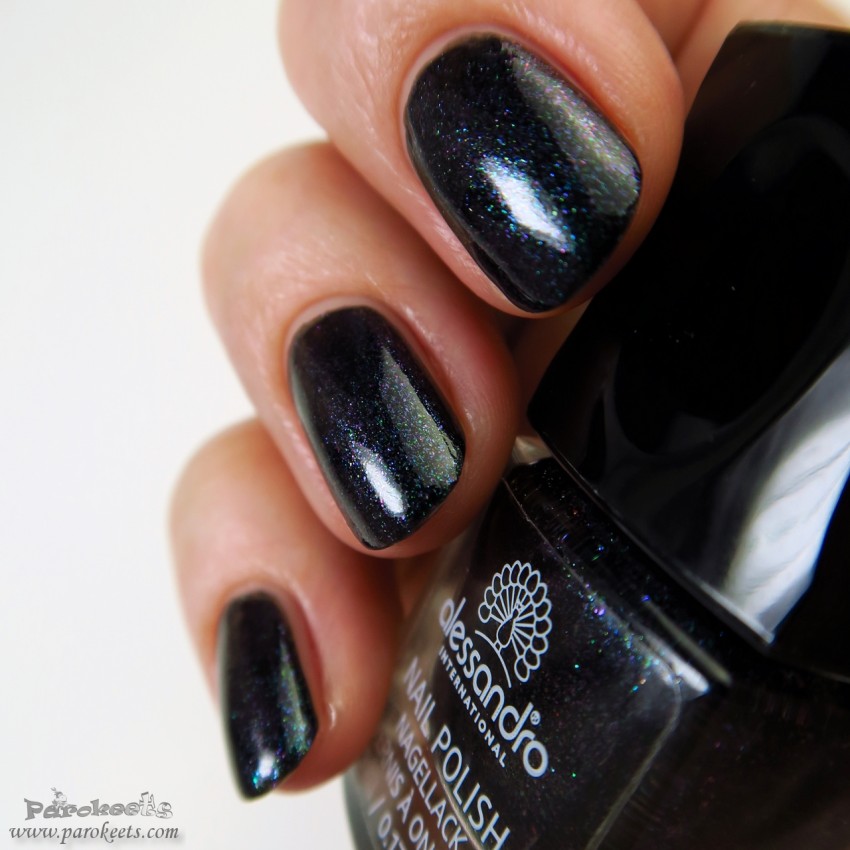 [td_smart_list_end]