Not so long ago we added new member to Parokeets team. Her hand are still tiny, but her dad tells me that her nails are already as long as her mothers. :cute: In short, I'm a mom! :wub:
I'm currently pretty emotional, hormones are definitively raging through my system and as expected, my baby girl turned my life upside down. :biggrin: I'm on a leave from blogging for the whole month of September as I dedicated it to my little girl. I did plan to prepare few posts in advance, but the last months of pregnancy were pretty rough, so I'm left with bunch of unfinished posts.  :roll: If time permits, I'll post at least few of the shorter posts.
But I still wanted to celebrate the birth of my precious little girl with all of our fantastic readers, so I decided to host a challenge. And this time you have my blessing to use as girly colors as possible. :biggrin:
Theme is as title says –  It's a baby girl! Manicures, eye/face makeup, outfits …
[box type="shadow" ]
Send us your photo of "It's a baby girl!" themed manicure, makeup or outfit by the end of 31.10.2013. You can send one photo or 2, but voting will be held for the specific person. You can also include shorter accompanying text. Example: one photo of makeup and one of outfit.

Photo size must be 600 x 800 or 800 x 600 pixels. If you don't know how to resize to exact number, HERE are the instructions.
Photos must have evident authorship, so your analog signature (your user name) should look something like THIS (click) at least on one photo. If you wish for non-analog signature photo to be published, please specify that in your email.
Send your photo to our email address blogparokeets.com. Subject should contain your nickname and name of the challenge.

If you have your own blog, forum, site (non commercial only) and would like to have a link included with your photo, please specify so in your email.
Photos may not contain any URL addressees, only your analog nickname is allowed.
All photos will be framed with Parokeets frame ("watermarked").
Part of the votes will come from our readers, and other from proud mom and dad. :angel:
[/box]
If I explain once again about analog signature – it is mandatory but you can send us photo with analog signature and one without it if you wish to see non-analog photo published. Some of you want photos with analog signature published as it is added security, while others find it ugly and don't wish to see it on published photos.
I apologizes to everybody for unanswered emails, messages … I felt really bad when I saw that all the inboxes were crammed. I'll do my best to answer to everybody. :rose:
Of course little something for winner is in order. This time winner will get:
Illamaqua lipstick in shade of her choice (it has to be available in Slovenia)
Kiko Blooming eyeshadow palette – Tender Corals
Golden Rose Jolly Jewels 113 nail polish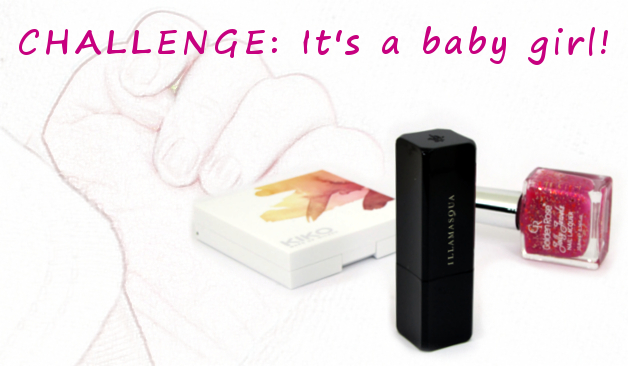 Our little family can hardly wait to see what will you come up with. :happy:
UPDATE: Challenge was canceled as nobody decided to join it. :unsure:
Pred kratkim se nam je pridružila nova Parokeetka. Rokice ima sicer še čisto majhne, vendar njen oče pravi, da ima že tako dolge nohte kot mami. :cute: Če povzamem, postala sem mamica. :wub:
Trenutno sem zelo čustvena, hormoni delajo na polno in kot se spodobi, je novorojenka postavila moje življenje na glavo. :biggrin: Vzela sem si cel september pavze od bloganja in ga posvečam samo princeski. Nameravala sem sicer vnaprej pripraviti vsaj eden post za vsak teden, vendar so bili zadnji meseci nosečnosti zelo naporni in mi ni uspelo dokončati septembrskega kompleta (posledično imam kup nedokončanih postov :roll: ). Če bo kaj časa, bom objavila vsaj swatche s krajšimi posti, ostali pa se bodo zvrstili oktobra.
Ker pa sem želela deliti in praznovati rojstvo moje miške z vami, je padla odločitev o izzivu. Naj bo za spremembo blog obarvan v punčkastih odtenkih – tokrat z mojim blagoslovom. :biggrin:
Rdeča nit oz. moto, ki naj vas vodi je – Punčka je! Manikure, naličen obraz/oči, outfiti … vse pride v poštev.
[box type="shadow" ]
Pošljite fotografijo "Punčka je!" manikure, make-upa ali outfita do 31.10.2013. Glasovalo se bo za osebo (za obe fotografiji skupaj), vendar lahko vsak pošlje do 2 fotografiji, ki bosta objavljeni (dodatno sta lahko še fotografiji z analognim podpisom, če ne želite, da objavim fotografije z analognim podpisom). Recimo eno manikure in drugo naličenega očesa/obraza ali outfit. Zraven lahko priložite krajši tekst.
Fotografije naj bodo velikosti 800 x 600 oz. 600 x 800 pixlov. Prispevek o tem, kako pomanjšati fotografije na želeno velikost, si lahko preberete TUKAJ.
Fotografije morajo biti vaše avtorsko delo, zato naj bo vsaj na eni fotografiji posameznega looka/manikure vaš podpis tudi v TAKŠNI obliki. Če ne želite, da se ta objavi, nam poleg nje pošljite še fotografijo za objavo in to pripišite.
Fotografije pošljite po elektronski pošti na blogparokeets.com. Zadeva naj vsebuje vaše ime/vzdevek IN ime izziva.

Če ste lastnik bloga ali kakšne nekomercialne spletne strani in bi želeli, da se objavi v prispevku link, mi to sporočite.
Na fotografije ne dajajte url poti do vaše spletne strani. Na fotografiji je lahko samo vaš "nick" v analogni obliki (v primeru, če želite, da se fotografija s podpisom objavi).
Na vse fotografije bom dodala Parokeets okvir.
Del glasov boste prispevale naše bralke, drugi del pa presrečna mamica in očka. :angel:
[/box]
Če še 1x napišem glede fotografij z analognimi podpisi – so obvezne, a ni potrebno, da se ravno te objavijo. Nekateri želite večjo zaščito in ste za objavo, spet drugim pa so grde in pošljete raje obe, s tem da tiste s podpisom ne objavimo.
Vnaprej se vsem opravičujem za neodgovorjene mejle, zasebna sporočila … Me je kar malo stisnilo, ko sem videla prepolne poštne predale. Upam, da uspem vsem odgovoriti v nekem doglednem času. :rose:
Seveda ne gre brez nagradice za zmagovalko izziva. Tokrat se bo lahko zmagovalka pocrkljala z naslednjimi dobrotami:
Illamaqua šminko v odtenku po njeni izbiri (pogoje je samo, da je dostopen pri nas)
Kiko Blooming paleto senčil za oči v odtenku Tender Corals
Golden Rose Jolly Jewels 113 lakom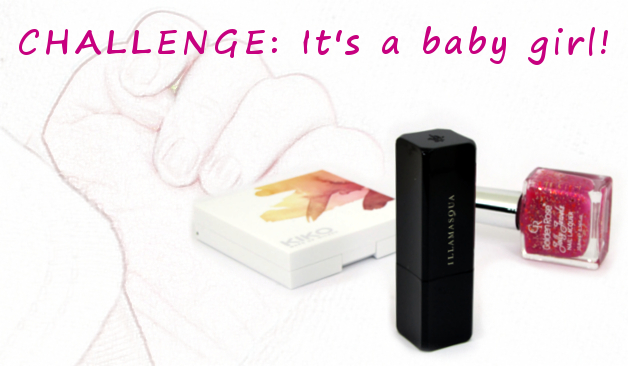 Naša družinica že z veseljem pričakuje vaše krasne fotografije. :happy:
UPDATE: Izziv je preklican, ker se kljub podaljšanju za katerega ste prosili, ni nihče odločil za sodelovanje. :unsure: