While reading Maestra's post on Gosh Rainbow polish, I decided to write about my own Gosh beauties. The products that impressed me the most are Gosh Velvet Touch Eyeliners. I own 7 of those babies. They are very soft, don't irritate my sensitive eyes, colors are fantastic and they don't smudge. If they just stayed put on the waterline, they would be perfect.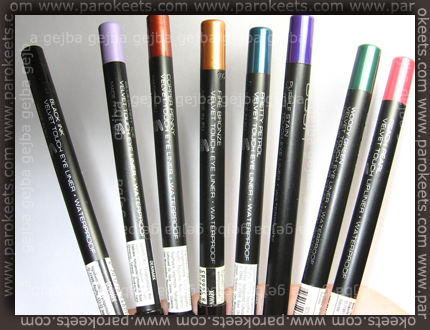 I really had to have black eyeliner, so I bought Black Ink. I don't use it much, since it's really black black and too harsh for everyday make-up. But I love it for smokey eyes look.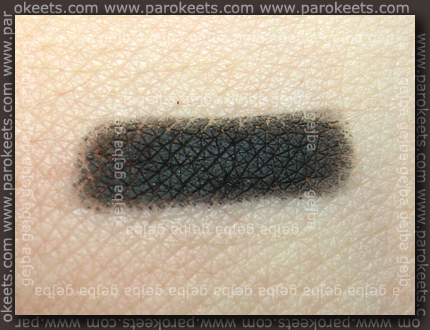 I have two violet Gosh liners – Blueberry Ice and Purple Stain. Blueberry is very bright violet shade, I mostly use to brighten inner eye corner. Purple Stain is little to cold shade so I use it in combination with blue eyeshadows. Both liners have shimmer. Real color look more like those from top of the pencil from first picture.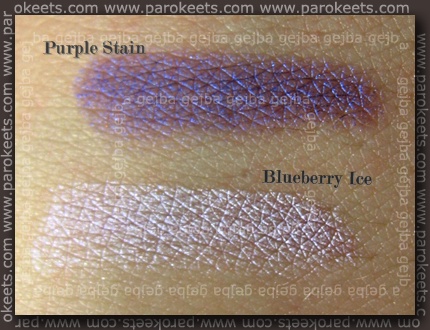 Fire Bronze is mixture of bronze and gold color. This shade is very similar to Sweetscents eyeshadow called Myst. Copper Penny is copper with silver shimmer. I must admit I don't like this combination much.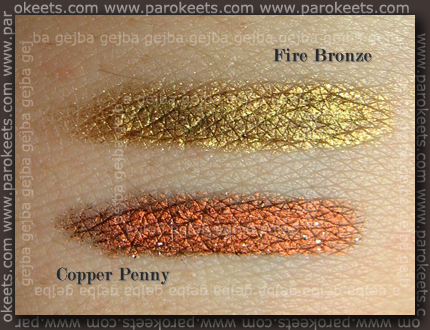 Last but not least – my favorite from this line – Woody Green. I just adore this dark green color. It's sprinkled with very fine green shimmer which gives depth to this eyeliner. I like Pretty Petrol too – it's really pretty grayish-blue.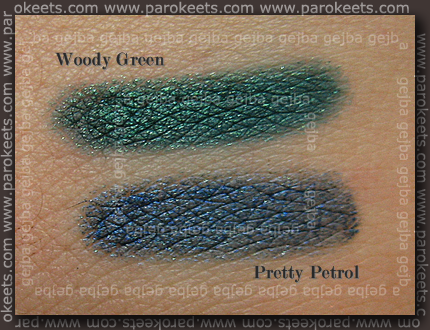 Goga is responsible for my next Gosh item. Couple of months ago she started to use Gosh Waterproof Eye Shadow as base for mineral eyeshadows.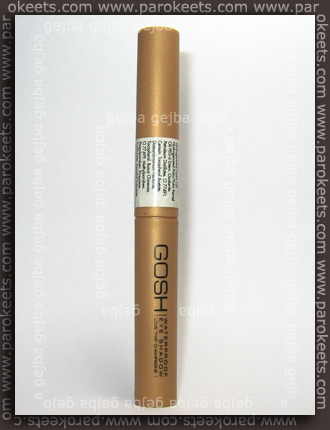 I bought goldish-beige shade called Love That Champagne. These creme eyeshadows are little to stiff for my taste, but I love the fact that they come in stick.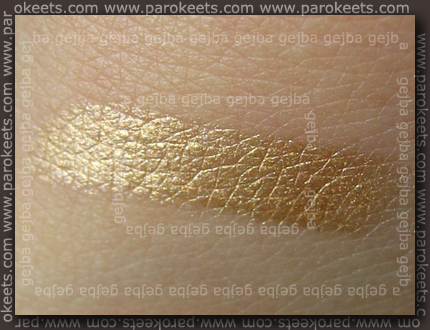 My only lip liner comes from Gosh Velvet Touch family. I have Peach Pearl shade. It's lovely peachy-pink shade, but I almost never use lip liners since I rarely use lipstick that calls for one.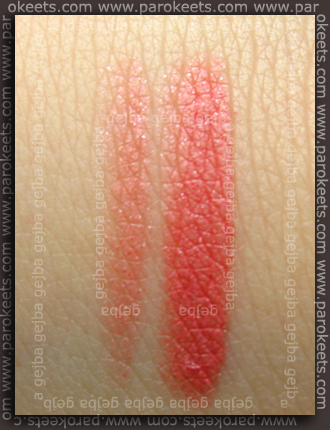 Well – this is it – my mini Gosh collection. :D I would love to have more of Velvet Touch eyeliner, but so far I managed to stop myself from buying more.