In April, Essence introduced some great new products. Above all, there are some really great new nail polishes. I was very excited about Show Your Feet collection and I wasn't disappointed. The collection is mainly for pedicure. The formula is antibacterial, long lasting and highly pigmented, so only one coat would be needed for full coverage and I fully agree with the high pigmentation. I didn't have any application issues at all. The brush is flat and I didn't have any problems with it.
Deep Blue Sea and Caribbean Sea are both pretty shades. There is only one thick coat pictured below.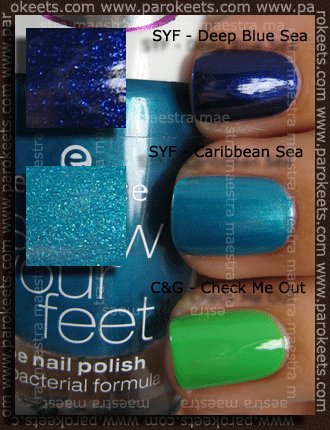 There are also some new shades in the Colour & Go collection. One of them is creme green shade Check Me Out, pictured above. There are three coats in the picture.
Essence upgraded the Multi Dimensional line into the XXXL Shine and with the upgrade came some great new shades.
So Wanted is a shade that will make a lot of people happy, because it's a dupe for Yummy Gummy from the Jelly Baby Trend Edition. Two coats pictured below.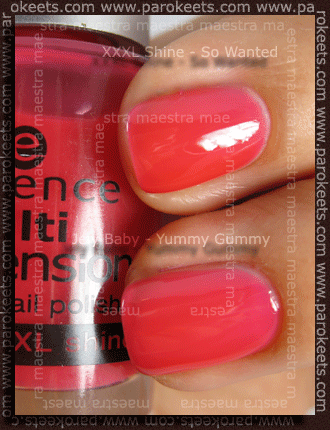 Next shade from the Show Your Feet collection is Flashy Pink., which is a creme pink shade. Two coats pictured below.
Object Of Desire (pictured below) is an orange shade with some red to it. It has silver shimmer. It is highly pigmented and I had no application issues with it. If you are careful enough, you'll only need one coat. Two coats pictured below.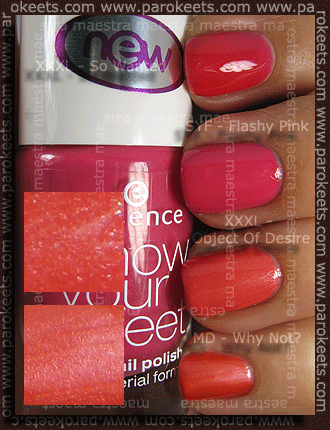 Object Of Desire reminded me of a discontinued shade from Essence, called Why Not? But I have to admit they are far from being dupes. Object Of Desire is more red. Why Not? is more orange and has a frost finish, which means that there are visible brush strokes.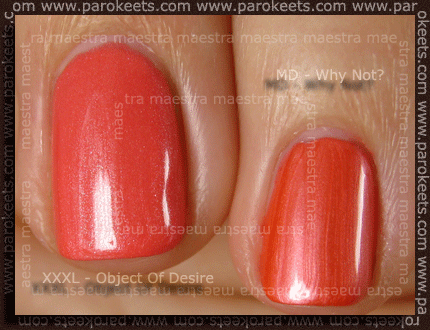 However, I found a dupe in the Show Your Feet line. I found out that Very Berry from SYF is a dupe for Very Berry shade from Jelly Baby TE. The only difference I see is the consistency. Very Berry from SYF is more pigmented, which is a good thing.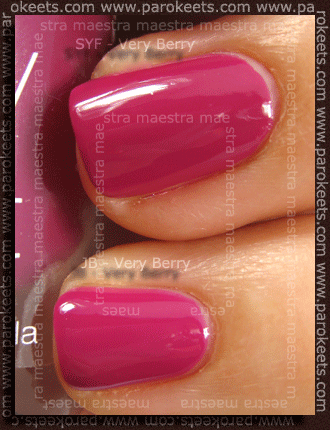 Next we have a wonderful purple shade from the Show Your Feet line. It's name is Purple Magic. It's purple with some blue tint to it.
Hotie from the XXXL Shine line looks identical to Purple Magic in the bottle. But when applied on the nail, there is a difference between the two of them. Purple Magic is more pigmented, that's why after two coats it looks darker that Hotie with two coats. Hotie has some frost finish which Purple Magic does not have. Both applied well. The difference in color is very subtle. Maybe it would be easier for you to decide between the two of them if you consider that SYF line has flat brush and the formula is more pigmented.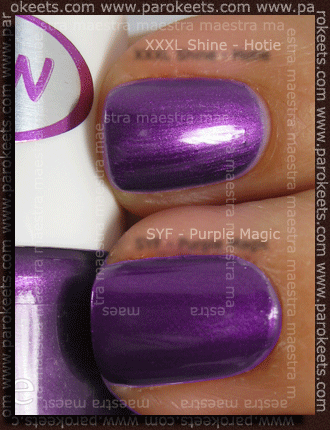 Below is a comparison between OPI – Purple With A Purpose and Jessica – Birds Of Paradise. Both are beautiful rich purples. Both are lighter purple than Hotie or Purple Magic.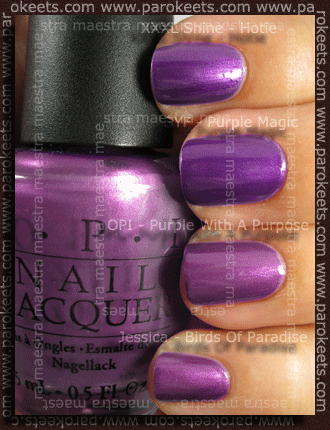 And some glitter for the end!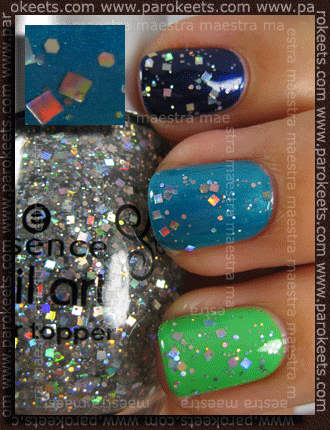 Nail Art Glitter Topper – Shiny Star is a top coat with different shaped glitter in clear base. This one is really pretty, but the glitter is hard to remove.