Not long ago mailman brought me four new Chez-Delaney plates.
H4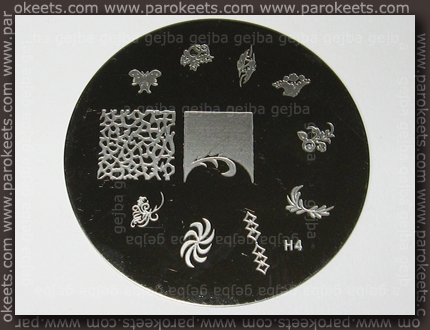 Some of the images have very interesting relief – I can hardly wait to try them out. The only image I'm not overly impressed with is middle one. It reminds me at problematic image from H 07 plate (I'll try to do tip from this one and post pictures if I succeed).
H11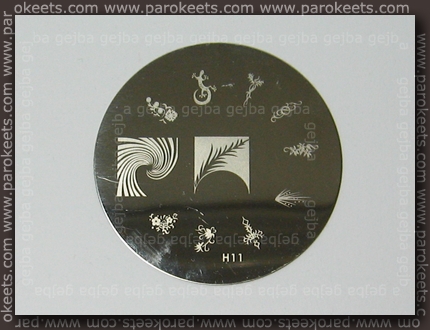 You already met the hypnotic image. Maybe not in the prettiest light, but you could see that it does work well with Essence All Access polish. Image that intrigued me the most was salamander (at least I think it is salamander). Maybe I should have used it with All Access and Golden Rose 207 polish … salamander wading through the mud.
You can never have to many flowers, but I'll probably be using grass more.
H17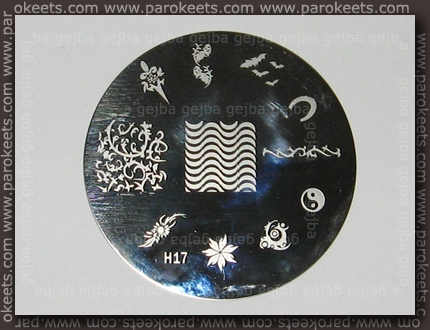 Another well put plate. Do you need bats, horseshoe for lucky, yin-yang for balance? I also like waves and branch with thorns.
H22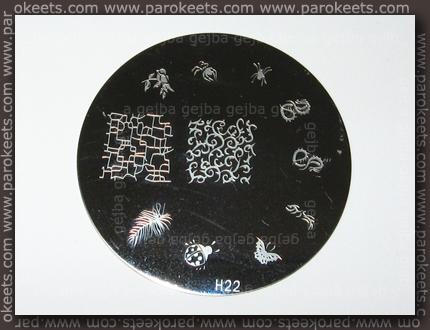 You already met all over image located on the edge of the plate in my happy-birthday manicure. Feather will join one of the more romantic manicures. I love dragon mirror images – I'll have to play around with them. Bird on the branch, ladybug, spider and crab are perfect for "Walk in the nature" manicure,
There is ongoing joke on Slovenian part of the blog that I'm in love with this plates.
I did find out that Chez-Delaney has new – lover – shipping prices. For 200 g package sent inside EU you'll pay 2.8 EUR. For example – one large plate (which costs 3.9 EUR=5.7 USD) weights 12g.