Essence is spoiling us right now with a new Trend Edition called Go Snow. Light pastel colors dominate in the collection. If you love blue, pink and lilac pastels, then Go Snow is just for you. I have some pictures of nail polishes to show to you.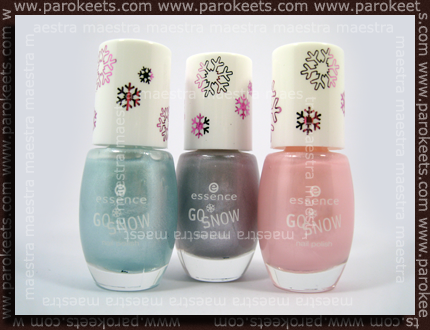 They've reused the bottle design again. We've seen the same bottles in the Summer Of Love Trend Edition.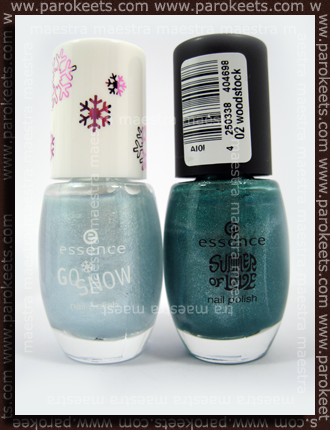 Frost and pearl finish. The addition of larger shimmer to frost finish. Not that good coverage. Meh … Not the best collection.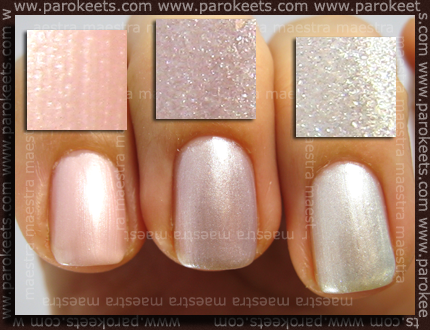 Snow Bunny is a pastel pink with frost and pearl finish.
Frostbite is a pastel lilac with shimmery frost finish, which don't look too good together. It's a bit sheer.
Alpine Snow is a pastel blue with the same properties as the Frostbite.
All are shown with three coats.
If I had to describe the collection in one word, it would be: "Boring!"
If I could use more than one word to describe it, than I'd say: The shades alone aren't that special, but not that wrong either. I'm sure that some of you are going to love the pastels. However, they didn't impress me. I mean, they are going to be great base colors for future konadicures, but that's all. I'm just not into frost and pearl finish and above all I'm not into semi sheer polishes. So, Go Snow is not my favourite collection. But if you are in such pastel colors … than Go Snow is just the right collection for you!