Today is very special day for us. On the last 4th of January we published our first post. That means today is our blogs first birthday.
I must admit I'm quite sentimental about it. Memories are rushing through my mind: last New Years eve we stayed up till 4am to get the blog running, all your comment that made me laugh and gave me will and energy to write new posts …
I'm just reviewing one year statistics and I get warm felling. We wanted to share our love towards make-up and few 100.000 page views, few 100 registered readers, almost 400 posts and few thousand comments make me believe we achieved our goal.
In the name of the whole Parokeets crew, I would like to thank our readers for all the comments, constructive criticisms and all the support you kindly offered to us. You gave us a lot, so we decided to dedicate whole month of January to birthday gifts … from us to you.
Like I already hinted – first condition is that you have to follow us in WordPress or with Google Friend Connect. This is the only rule that will always apply. Rest of the rules will be revealed for each game separately … or maybe not and gift will be total surprise.
And as is appropriate – I chose totally non-typical manicure for me on our birthday – Essence Metal Babe holographic polish.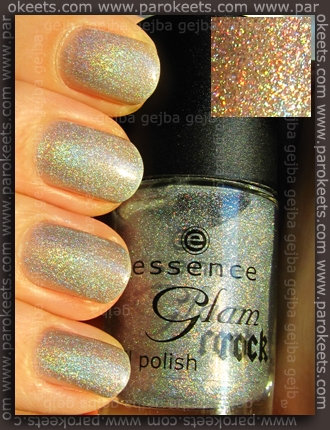 Colors are little bit of because picture was taken in yellow early morning sun.
Let the first game begin. Today you can get Essence Metal Babe and Gothic Girl + S-he 427 nail polishes. Polishes will go to the author of the no. x comment to this post. Exact number is known only to the Parokeets. We'll merge comments on Slovenian and English part of the blog and sort them by publish date. Post number x will be the winner. Game no. 1 does not have time limit. It will end when the no. of comments reaches the number we chose as the winning one. Winner will be announced in the first following post after the winner is known.