I wasn't really sure if I should write this post or not. Photos are not that good and colors are not very realistic. But since I was impressed by this polish I finally had to write everything down.
Meet OPI – Catch Me In Your Net.
As you know, I'm not OPI fan. I find their brushes to be too big and they usually start to chip really fast on my nails.
This time I was impressed with the brush, formula and staying power.
Glass flecked glitter in green and golden green colors + bluish shimmer all put into the blue base.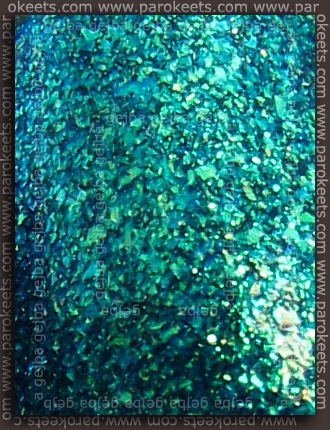 The polish is mostly blue-green on me. It looks like Maestra's Ivanka that crashed into the blue polish.
First day – two coats + top coat. Three coats on ring finger.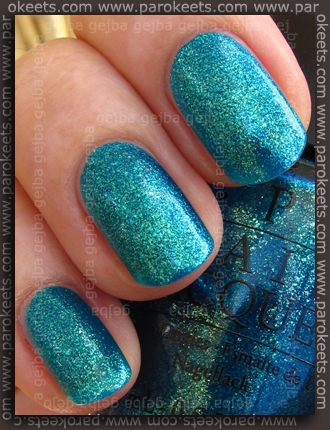 Fourth day. I added one more layers of OPI CMIYN to refresh manicure and to soften tip wear-a. Photo was taken later that day.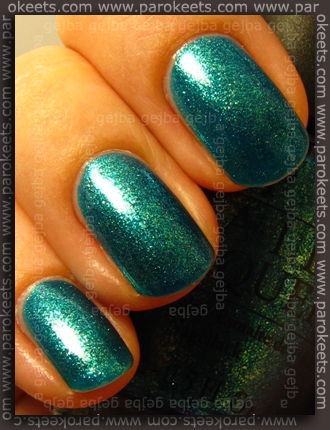 On the fifth day I added one layer of OPI CMIYN and one layer of Essie Matte About You.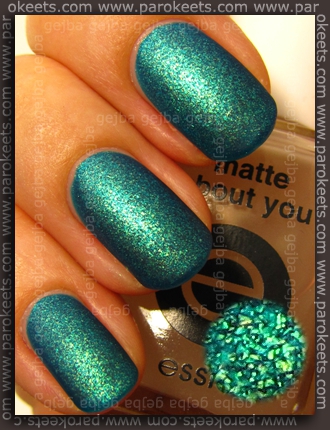 I have no clue whatsoever how many layers does that amount to. :D
I chose OPI Catch Me In Your Net because little "accident" with Zoya Mimi is still fresh in my mind, but I really wanted to have Zoya Charla polish. So I picked up OPI CMIYN instead. My reasoning was – if it's less opaque, maybe it 'll stain my nails less. :D
Today I finally removed the manicure. Two of the nails were stained a little bit, but no major damage was done. I used two coats of base polish.
Good thing I bought big bottle since I need at least 4 layers for full coverage. But for this shade, I can live with this minor detail.