Are you wondering what the heck does this title mean? I bet you are. Well, sometimes I just don't feel like the standard "NOTD: China Glaze – Classic Camel" types of titles. I think titles like that are boring. But I know that titles like that are reader-friendly, because they tell the reader exactly, what the article is about. I know all that and I try to title my posts with reader-friendly titles, but from time to time I like to make an exception. I hope you don't mind. Today's post could have had at least thousand of different titles and I tried to come up with a good one, but I just couldn't. So, it's "A giraffe of the day". LOL And the post actually has something to do with a giraffe and today, so it's kinda appropriate title. I guess. You'll be the judge of that.
My giraffe was actually "born" as a camel … a Classic Camel by China Glaze to be precise. It's a delicate shade from the Vintage Vixen collection. It's a shade that a lot of people don't like and it's a shade that won't look good with a lot of skin tones. I liked it since the first time I saw it, because I just like weird things and weird shades. And because my skin tone is kinda yellow, I hoped Classic Camel would look good on me. And I think it doesn't look bad. It's still a weird shade, but I like it. The gold shimmer makes it special for me. The shimmer looks like glass flecked micro glitter. The application was easy and in the photo below there's only one coat of polish.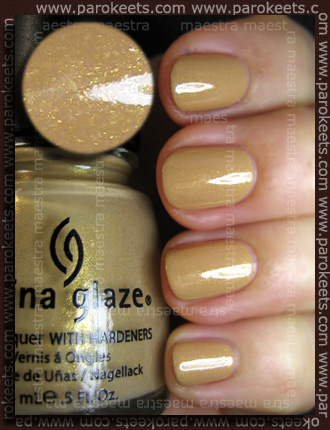 During the day my camel "magically" transformed into a giraffe. Are you curious how? Nail stamping is the answer to your question. I used the newest Essence image plate and a brown Essence – In Love nail polish for stamping.
Let me explain some more the photo above. The background is my beautiful new scarf. I love scarves and wear them all the time! The make up I've been wearing today is shown in the upper left corner. I've been wearing the combination of red or purple lipstick and nude eyeshadows lately. I don't know what's gotten into me and I have no idea, how long this phase is going to last, but I like the change. In the lower right you can see my helix piercing. I feel so funny showing you my ear. LOL I've had my ear pierced for years and I totally forgot about it, because I didn't have anything in my ear for a couple of years now. In the past couple of weeks I've been remembered of my piercing by tigica and her's little obsession with piercings. So tigica, the lower right corner photo is just for you. ;) I'll show you my other piercings for my helix piercing in another post. ;)
That's it. After a long time a personal post by me. Hope you liked it!