The first time I saw that The Ordinary came out with 30% AHA + 2% BHA Peeling Solution, I thought they lost it. Who in the world would use such a strong acid product at home. :O
But it wouldn't be the first time that they had huge amounts of actives inside when the effect wasn't as near strong as with products from other companies with a lot lesser percent of actives in them.
Our Maja ordered TO Peeling Solution and reported that it wasn't that bad, so I borrowed hers for a test run. I will leave below the video of that experience for my Slovenian readers as I speak in the Slovenian language.
Recap: my face was blood red. I misunderstood Maja and left it on for 10 min … talk about heavy tingling. Effects were nice – polished, less flaky skin, fewer impurities after just a few uses … Worth 7 EUR price tag for something I would use once a week.
To start with 2 minutes and build up your skin tolerance for the product. Better safe than sorry. :P
I do still buy Revolution products even though they copy everything worth copying. Quite frankly, they do such a poor job at copying + best thing about them is PRO range, where they don't do that much of that at all + collabs. I hope they will eventually get to the point where their own ideas will be the only thing left in the assortment.
So, Revolution Skincare blatantly copied The Ordinary and their Peeling Solution. You wanna hear the joke? They made a pricier product, with not as good ingredients as Ordinary's (in my eyes), and it doesn't do half as much as Ordinary in the first place. :P
The formula is a lot runnier and more watery, and I could leave it on for 10 minutes without any problem.
The effect was less than the one I get while using enzyme peelings, so I have no need for something that should be stronger and more effective jet it is not. I had soft skin, and that was pretty much it.
Price: 11 EUR.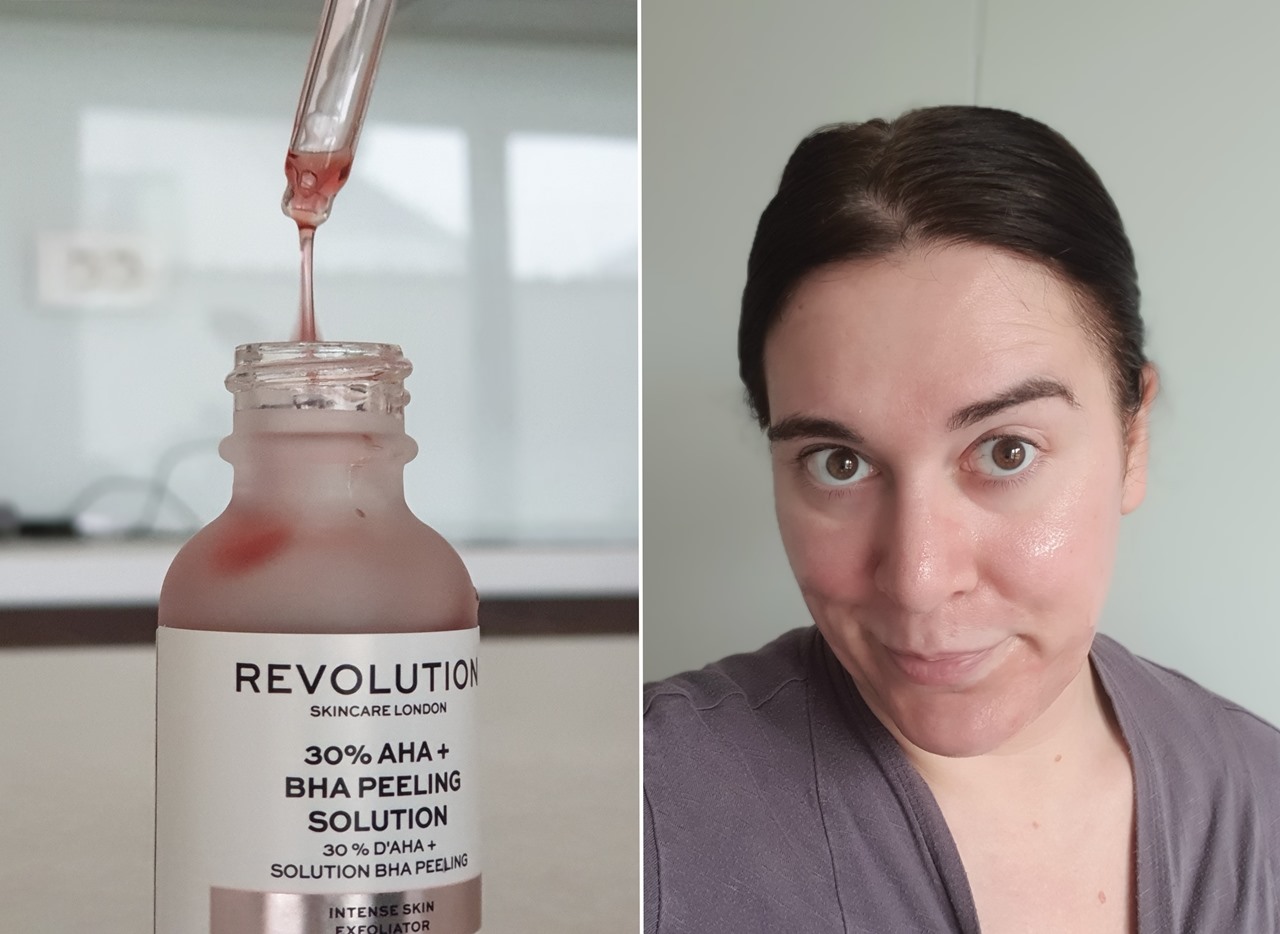 CONCLUSION: both bottles are glass ones with a dropper and 30ml of product. While Ordinary lists glycolic acid first and specifies 2% of BHA acids, Revolution says it contains BHA.
The Ordinary acid peel is stronger, with thicker formula, and a lot more effective.
SPF protection is needed after one or the other.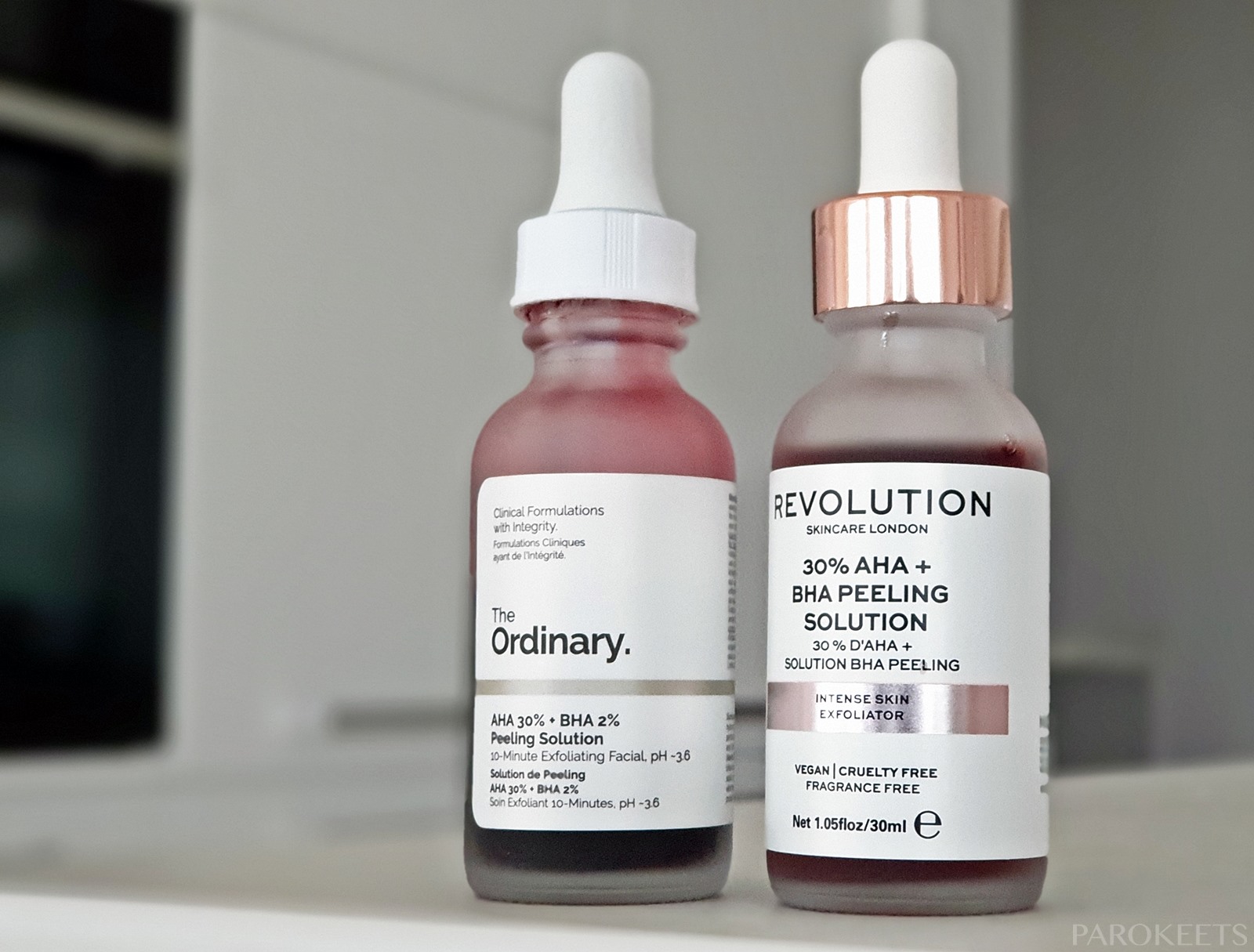 The Ordinary AHA 30% + BHA 2% Peeling Solution INCI:
Glycolic Acid, Aqua (Water), Aloe Barbadensis Leaf Water, Sodium Hydroxide, Daucus Carota Sativa Extract, Propanediol, Cocamidopropyl Dimethylamine, Salicylic Acid, Potassium Citrate, Lactic Acid, Tartaric Acid, Citric Acid, Panthenol, Sodium Hyaluronate Crosspolymer, Tasmannia Lanceolata Fruit/Leaf Extract, Glycerin, Pentylene Glycol, Xanthan gum, Polysorbate 20, Trisodium Ethylenediamine Disuccinate, Potassium Sorbate, Sodium Benzoate, Ethylhexylglycerin, 1,2-Hexanediol, Caprylyl Glycol.
Revolution Skincare Intense Skin Exfoliator – 30% AHA + BHA Peeling Solution INCI:
Aqua, Propanediol, Lactic Acid, Glycolic Acid, Citrus Limon (Lemon) Fruit Extract, Glycerin, Butylene Glycol, Passiflora Edulis (Passion Flower) Fruit Extract, Ananas Sativus (Pineapple) Fruit Extract, Vitis Vinifera (Grape) Fruit Extract, Salicylic Acid, Alcohol Denat., Daucus Carota Sativa (Carrot) Extract, Xanthan Gum, Sodium Benzoate, Potassium Sorbate, Disodium Edta, Tasmannia Lanceolata (Pepper Tree) Fruit/leaf Extract, Sodium Bisulfite.
*some of the links are an affiliate, and by using them, you support my work