From the first time I saw Chanel Graphite I was seriously lemming that shade. But the price of Chanel polishes is pretty high, so I was hesitating. Should I or should I not. Then all of the sudden I saw this perfect dupe for Graphite – Jessica Smoky Feather. And judging from the comparisons, Jessica is little bit more shimmery … and that makes it even prettier in my eyes. Not to mention that it's half the price of Chanel nail polish. :cute: I started to look all over for this polish and I even contacted our distributor to see if it would be available in Slovenia. I almost stared to hyperventilate when they said that Jessica Peacock Queen LE is already in the stores. :w00t: And Jessica didn't come out with the Graphite dupe only … they duped the whole Chanel 2011 fall nail polish collection. :silly: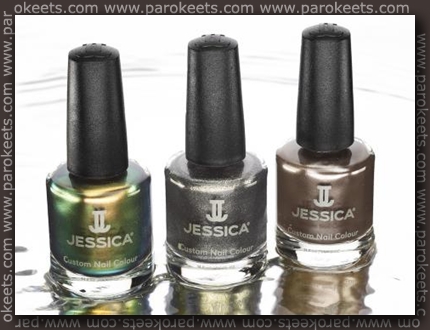 I got together with Maestra for lunch and started to rave about this polish and how we really have to go look for it, that I must have it … You know what she told me? "Oh great, so you're still hung up on this shade. Good thing as I intended to buy you Smoky Feather as a gift." :drop: One of the best presents ever! Thank you, Maestra! :ahug:
I was little bit afraid that this shade will let me down, but it is as gorgeous on nails as it is in the bottle. :drool: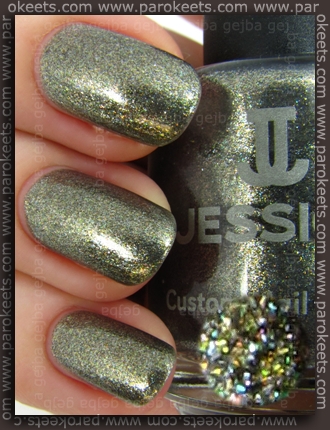 Application was fine, brush also, the only problem was little bit slower drying time. I guess Jessica does not like my INM top coat. :biggrin:
I wore this shade for almost a week, and I plan to wear it again really soon. :love:
I even dedicated short YT video to it. :biggrin:
Any other Chanel Graphite/Jessica Smoky Feather lovers out there? :silly:
This post is also available in SLO.