A couple of weeks ago Scrangie posted pics of random Jessica polishes and she wrote, that she has hard time deciding which ones to order next. So I thought I would swatch some of my Jessicas, as I have quite a lot of them. In general I love Jessica polishes. They have some great shades to choose from. The application is great on most of my collection. The brush is a regular round one, which I like. The bottles are nothing special, but not ugly either.
So let's move on to the pictures.
First, I'll show you two rather special polishes. You wonder why special? Because they darken, when you apply a top coat. Look for yourself.
Cheap Trick is a teal shade with metallic finish and minor visible brush strokes. For a metallic shade the application was pretty good. In fact, I didn't have any application issues at all. You just have to be a bit careful with brush strokes and I recommend you wait a bit between the coats. On my ring finger you can see how it darkened a bit, when I applied top coat.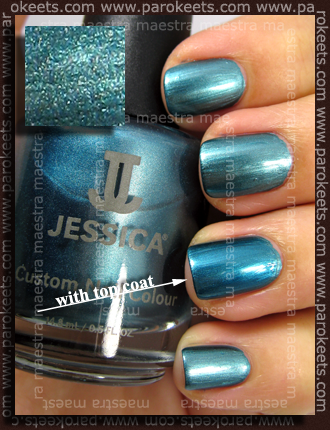 Fancy Fishnets is another one, that darkens when the top coat is applied. On this one the change is more visible! Otherwise, Fancy Fishnets is similar to Cheap Trick. The application and all …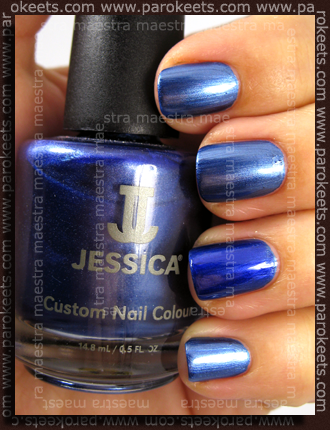 Constellation is a wonderful vampy shade. It's a dark maroon shade with red and/or bronze shimmer. I love it! The consistency on this one was thin, but not uncontrollable. I needed three coats for full opacity.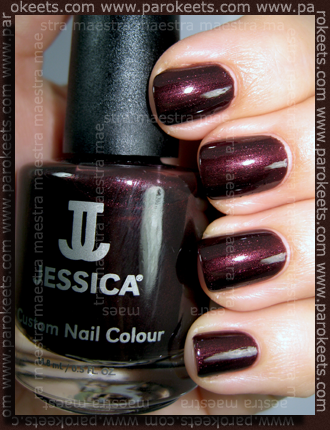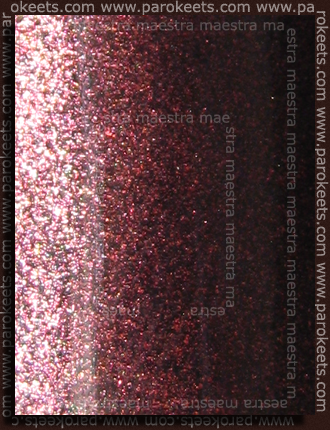 Glamorous Gladiator is probably my favourite brown so far. It's just the right shade and the shimmer makes it special. It has bronze shimmer and tiny gold flakes. Glamorous Gladiator isn't as bronze on me as it is on Scrangie's pictures. The application was great. Two coats in the picture.
Casablanca is a black shade with larger blue shimmer. It's very similar to China Glaze's Blk-Bila-Bong, but the shimmer in Casablanca is more visible on the nail than Blk-Bila-Bong's. Casablanca is easier to apply and more pigmented.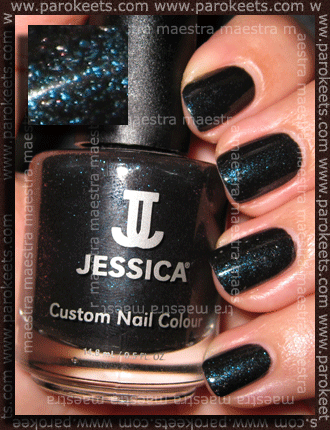 Palladium is a sparkly champagne shade. I love Palladium and I wore it a lot, which doesn't happen with a most of my polishes. It's a perfect everyday shade with a twist and because of all the sparkles, it's also perfect for special occasions. It's an elegant shade. There are two coats shown in the picture.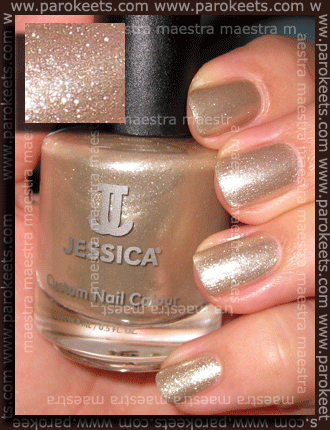 Downtown is a coral shade with gold shimmer and frost finish. It's a bit on the sheer side. Three coats in the picture.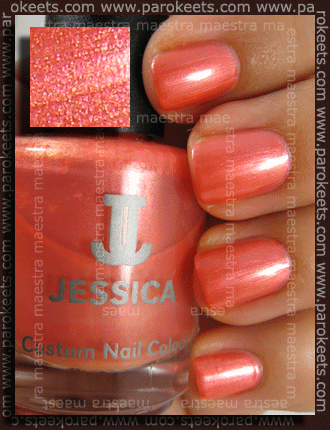 Sherbet is a lovely mauvey pink shade with a lot of gold shimmer. Two coats in the picture. Please, don't mind the bronze pointer finger.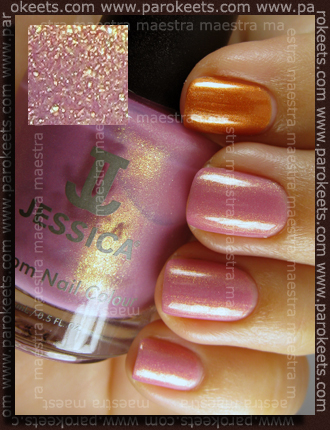 Garnet Glaze is a duchrome shade, but it looks more duochrome in the bottle than it does on the nails. I was a bit disappointed by it. I mean, you can see a lot of colors in the bottle and also on the nails, but the colors are similar and that's why it's not that multichrome-in-the-face thing. The colors I see in the bottle are: pink, mauve, light brown, grey, green and maybe I missed some, I don't know. I tried hard to capture all the colors in the pictures, but I failed completely. I took this pics moths ago. Maybe I'll try once again … but until then, all I have for you, is crapy pics of Garnet Glaze.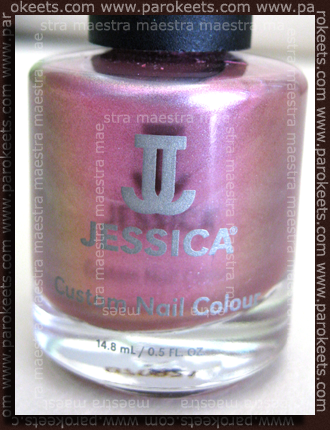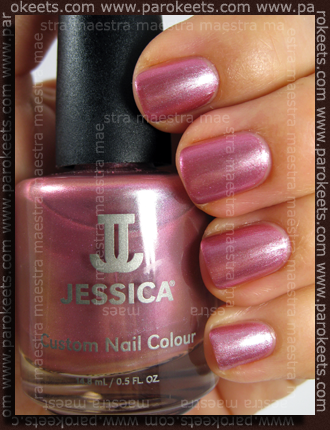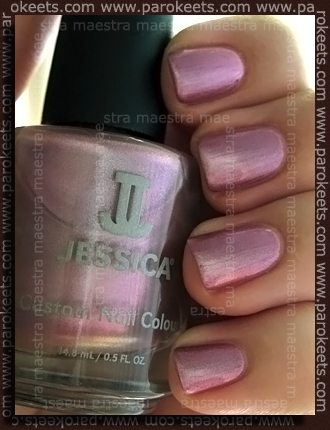 Bikini Blue. I already showed you Bikini Blue HERE. It's probably my favourite baby blue shade. There are two coats in the picture.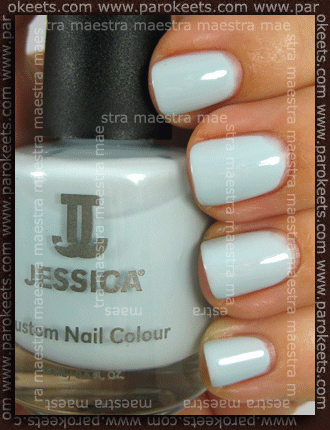 Butterfly Kisses is a metallic blue with metallic to foil like finish. It has tons of silver particles. I totally love it! Again, great application. Two coats shown in the picture.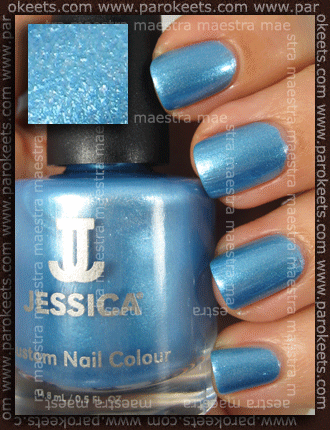 The last two shades are from the Baby It's Cold Outside collection and I reviewed them HERE.
Frost At All Cost is a very dark teal color. Two coats in the picture.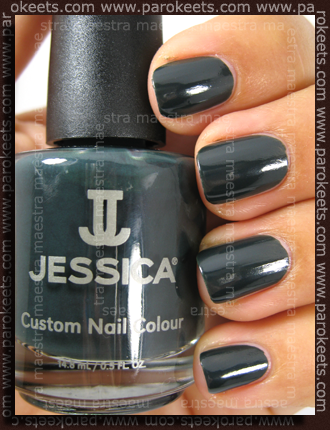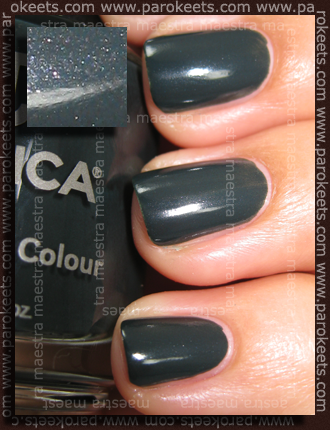 Divine Pine is a dark forest green. Two coats in the picture.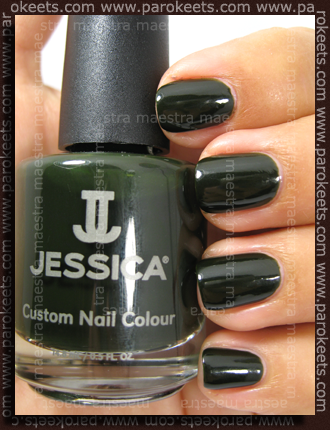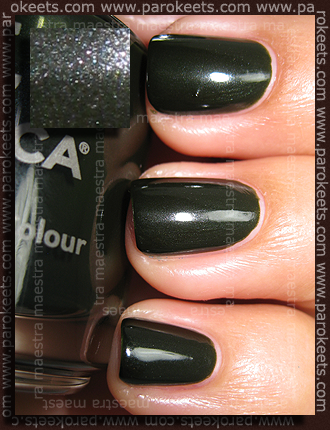 OK, that's it. I mean, these are not all of my Jessicas. I could make another long post with Jessica polishes to show all of them, but I think that won't happen in the near future as I get bored swatching the same brand for days. So, I hope you liked the once I showed you today.
Thanks for watching and commenting!