Couple of photos ended up in my "Hall of Shame" folder and were never published. I'm in good mood today so I'm going to show you one of them.
I can't say its ugly manicure, just unrefined … and I don't like French manicures that much.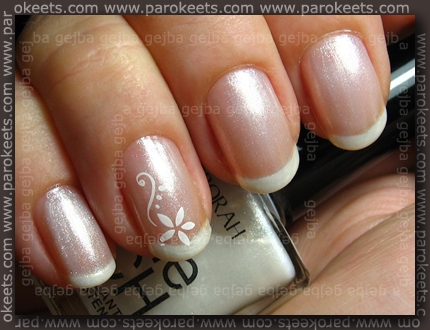 I used Deborah Shine Tech polish no. 02 for a base and Catrice Jewelled White (LE Haute Couleur) for tips.
Konad used is also one of my first ones so it's not really centered.
Would you like to know which no. was mysterious no. x from Our first birthday post? We randomly chose no. 12. After combining posts from Slovenian and English part of the blog and removing our comments we have a winner. So new proud owner of Essence Metal Babe and Gothic Girl + S-he 427 nail polishes is …
chocaddict
Congratulations!
Thank you for all your lovely comments.