What a beautiful shade! It looks stunning with darker skin. Although it's frosty and a bit sheer, I think it's divine. Love it!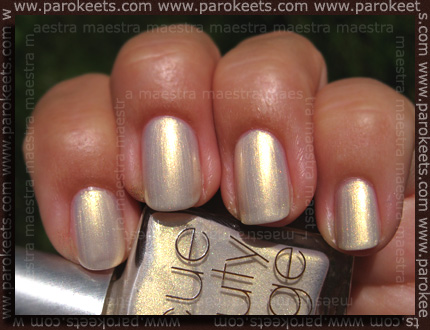 Two coats shown in the picture. I only have two RBL polishes (Moxie and Opaque Nude) and I have to say that I'm not that impressed (formula wise) by them. They dry too slowly and the application wasn't perfect either (very good but not perfect). It is possible that there's something wrong with my shades or that I just picked the shades that aren't perfect … If I judge according to the shades I have, these are too expensive for my taste. I mean $18?!? Quite a lot, don't you think? They have some great shades in their range. Maybe some shades are even worth the money … but otherwise …
A while ago I wrote about a cheaper alternative to Moxie. You can read my article HERE. It's not a dupe, but very close. But to me, Moxie still looks prettier. What do you think?
I would love to read your comments on RBL polishes. Are they really worth the $18 or are they too expensive? Consider quality and variety of shades and everything … What do you think?