Essence Choose me! beauty is dupe for Zoya Charla and OPI Catch Me In Your Net (=CMIYN) polishes.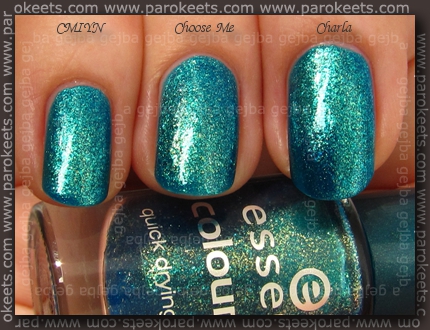 Photo is kind of funny, but unfortunately that is the only one I have where colors look very like those in real life … at least on me.
If I take a formula into consideration Choose Me! is more like CMIYN than Charla. Like OPI, it needs 3 layers to cover up nail line, while Charla achieves the same effect with only 2 layers.
Zoya is just a little bit more blue than other two polishes. Reason for that lies in more opaque base … which is blue.
I prefer CMIYN and Choose Me brush over Charla's.
Price: Essence is the winner. You have to take into consideration that you only get 5ml polish. But I think it would be still cheaper in you calculated price for 1 ml of each polish … at least in Europe.
As soon as this shade hits our stores I'll buy couple for backups and few for presents. :D
And one rose for Maestra who let me borrow her Charla for comparison.