I think somebody wanted to keep me from finishing swatches planed for todays post. I had to change my plan couple of times as phones kept ringing, emails that had to be responded right away came one after another … and here I was racing against the clock aka sun. In the end, I found it to be quite funny. :D
You already met Alessandro Effect Toppings in my spring collections preview post. Layering always brings back good memories – this was probably one of the first "techniques" I really liked and feel into it headfirst. And I still love it, unlike few of the others.
Alessandro launched 6 layering nail polishes in Effect Toppings LE and I got a chance to test ride 2 of them – Firebrick Sparkle and Royal Gold. This time bottles are 10ml and not 5ml ones as usually. I do adore minis, but toppers can be tricky to apply (especially those with more dense shimmer) with mini brush. Maybe it's just me and my clumsinesses though.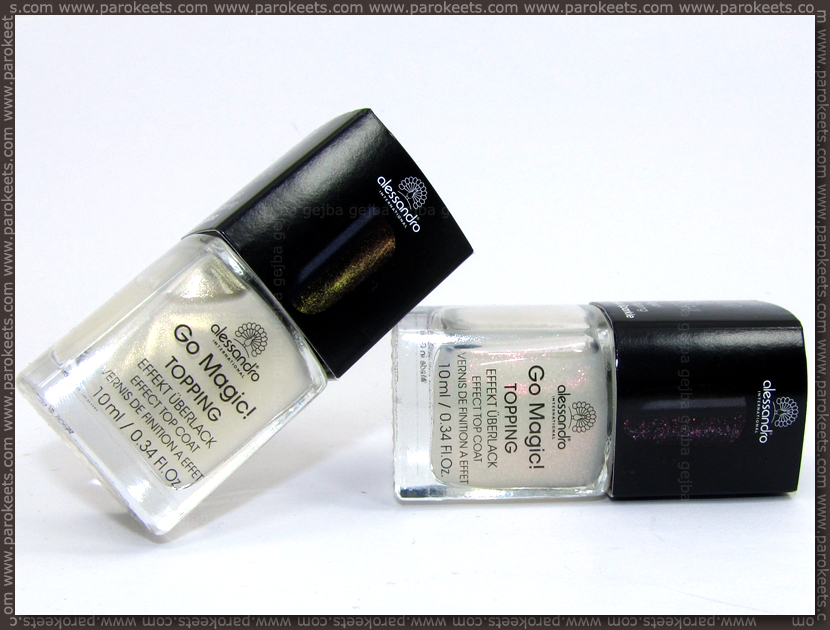 "Sparkle" type of toppers are more my taste – or should I say they're easier to work with and hard to misapply. With those base tends to be more sheer and shimmer/glitter larger in size. They're best seen if you apply them over darker base and are great for spiking up the manicure. I wanted to show you Alessandro Firebrick Sparkle over two different bases, but with everything happening, I just went for sponging one color over another and voila – 2 colors in one swatch is here. :D
Firebrick Sparkle is full of tiny duochrome flakes. Most of the time pink-purple sparkle is seen, but it can become green or yellow too.
Black base: black part of Crystal Punk duo.
Purple: Depend 202.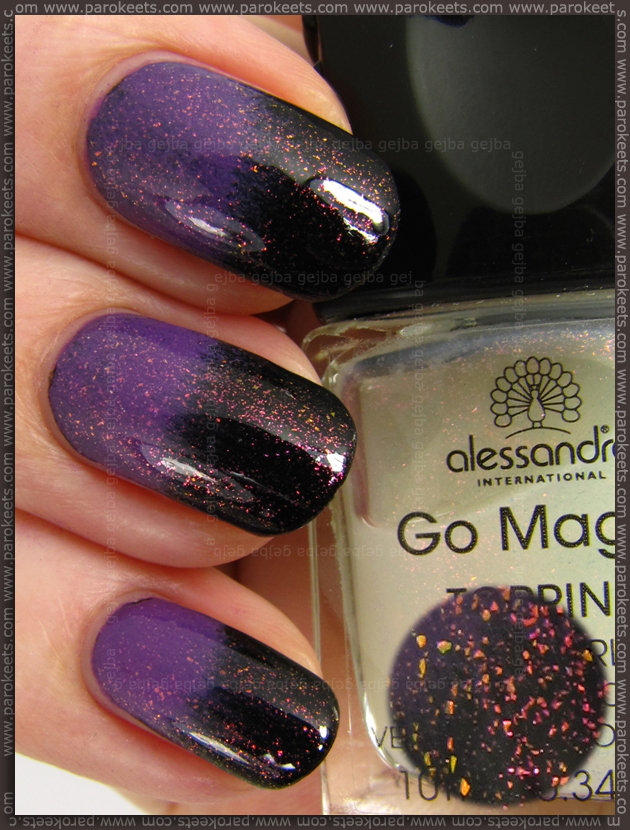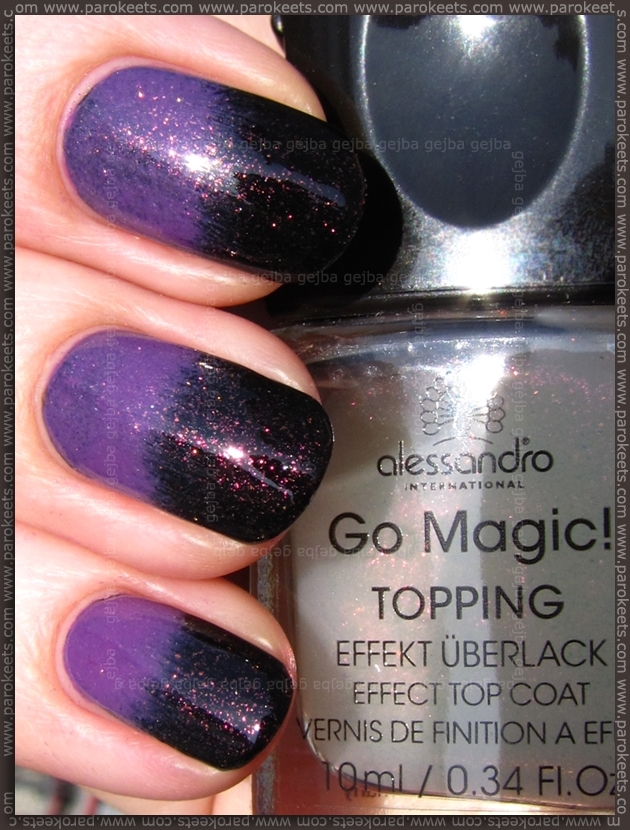 Alessandro Royal Gold is representative of the more dense toppers. They give more "in your eye" effect. Application by itself is not difficult, but it doesn't hurt to take extra minute to slowly apply it as streaks can happen if you're in a hurry.
These are great if you want to more dramatically change the color – scotch tape manicures without to harsh of a contrast, French manicure maybe …
Royal Gold looks like mostly green shimmer, but you can also see multicolored shimmer in brighter light.
Gray nail polish used is Alessandro Grey Sparkle and black one is again my current favorite.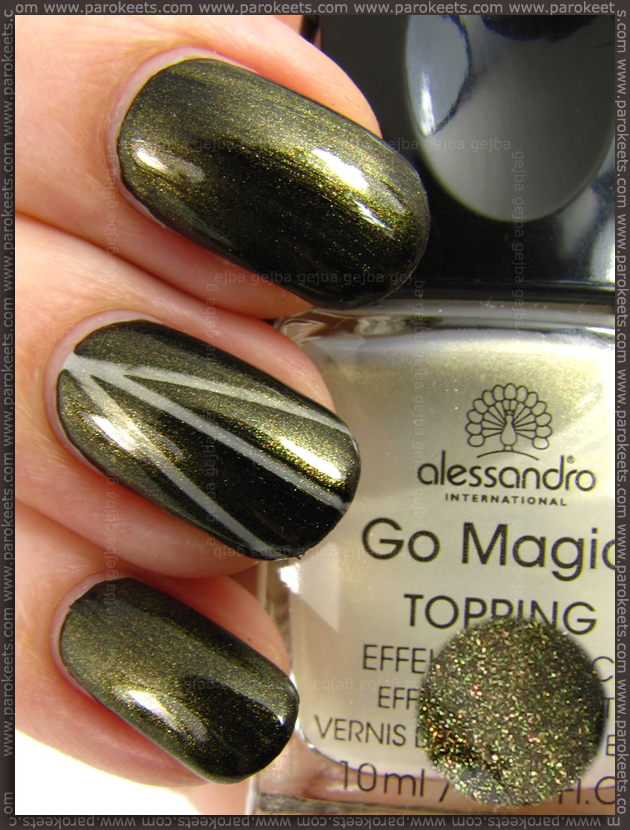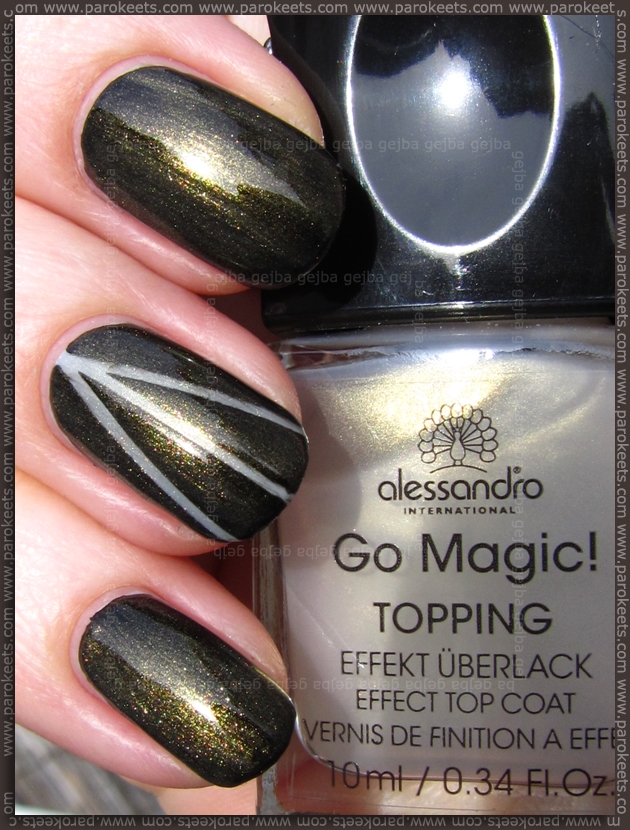 I still have Gold Sparkle on my WL – that one looks like something I might like … a lot.
Any other topper fans out there? With maybe one of the other Alessandro Effect Toppings to recommend?
*I received items for review from Alessandro Slovenija