I know I'm a bit late with my Halloween design. What can I say? Time flies. I can't believe it's almost Halloween and after Halloween it'll be Christmas in no time. :shock: OK, we're not there yet. Let's enjoy Halloween first. Yesterday I created a design that I like very much. Spider webs and spider. I admit I'm terribly afraid of spiders, but I can't imagine Halloween without spider webs and spiders. Fake ones of course! :whistle: Here's my design …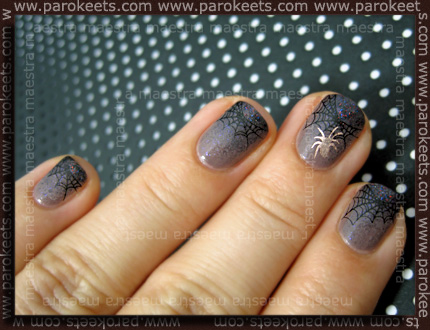 Products I've used:
Essence – Walk Of Fame (1 coat)
Alessandro – Dusty Purple (sponged)
Jessica – Venus Was Her Name (sponged)
Orly – Love Each Other (1 coat)
Bundle Monster IP BM13 with Essence – Stamp me! Black (spider webs)
Bundle Monster IP BM13 with China Glaze – Hi-Tek (spiders)
Stripe Rite – NPST 38 (blue, red glitter on the tips)
Essence – Matte Top Coat (sponged)
And here is the manicure with my new photo holder that my sweetheart bought me. :wub:
What do you think of my Halloween manicure? What will your Halloween manicure be?
OT: My nails are as short as possible. They are not nice to look at but I love how they feel when they are as short as they are now. Yay! :biggrin:
This post is also available in SLO.