Kelier Nail – Purple cracking nail polish. The name says it all. It's purple and it cracks while it dries. And here's how it looks like on top of a shimmery pink polish.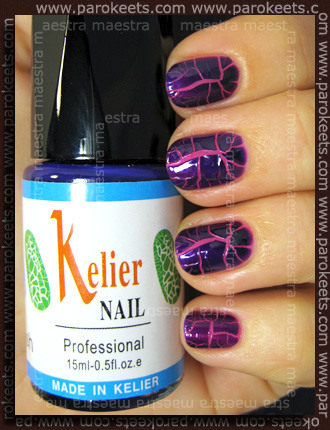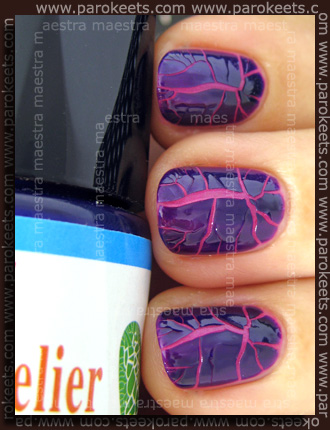 How it's done?
Prep your nails.
Apply regular nail polish in a shade you'd like the cracks to be.
Wait until your nail polish is dry.
Apply one thin coat of cracking polish on top.
Wait a few minutes for the cracks to appear.
After the cracking polish is dry, apply a top coat!
And you are done with your "nail art"!
As you can see from the photos above, it's not the same type of cracking polish as the Alessandro, OPI, Barry M, Isa Dora and China Glaze crackle polishes. I wrote down the differences (and similarities) in a table.
| Kelier cracking nail polish | Alessandro, OPI, Barry M, Isa Dora and China Glaze crackle polishes |
| --- | --- |
| Cracks look like glass cracks. | Cracks look like ground cracks. |
| Thinner texture and more even application. | Thicker texture and a bit bumpy application. |
| Dries slower. | Dries super fast. |
| Because of the dry time, I recommend thin coats. | If you like big cracks, apply thicker coat, if you like tiny cracks, apply thin coat. |
| Opaque in one coat. | Opaque in one coat. |
| Dries to a shiny finish. | Dries to a matte finish. |
| *It doesn't work with some polishes. | No problems. |
| Without a top coat it chips very easily! | No top coat needed. |
* I've had a problem with the Kelier nail polish, because it started to lift while it was drying. I suspected that the main reason for that was the fast drying top coat I put on top of my "base" color. The next time I tried the Kelier nail polish and left out the fast drying top coat it worked just fine. That's why I'm assuming that the top coat was the reason for lifting. So, if you have problems with Kelier nail polish and you think it doesn't work and you want to toss it in the garbage, try another brand of polish as a base polish. It worked for me.
If you liked the polish I showed you today and you'd like to buy it, you can find it HERE. It's not expensive. And if you use the promo code
PAROK31
you get 10% off your entire order. The promo code expires on 31st March 2011.
Products was sent to us for review.