Our Alessandro importer had good and bad news for us. Bad news is that Alessandro Go Magic! Twist LE is going to be late and good one that Denim Diva LE is already waiting in the stores.
When Parokeets ladies saw Denim Diva LE promo photos, it was agreed that this is totally "my" collection. :D You probably still remember how enthusiastic was I over Essence Denim Wanted! LE … what can I say – these kind of blue shades are my weak spot.
Denim Diva collection consists of four 10ml polishes + water decals (I guess – since they're stickers that you apply with water).
Bleached Blue is muted lighter blue shade with slight violet tone. Dark Denim is dark blue shade, but not black blue. Water decals come in jeans pattern.
I received from importer my favorite shades from this collection – Glamour Jeans and Stone Washed.
Stone Washed is also muted dark blue, but not as dark as Dark Denim. Application is great – if you're careful this can be "one coater". I used 2 layers + top coat. My camera is a lot like me – it loves blue way to much … so both polishes look to blue on the photos.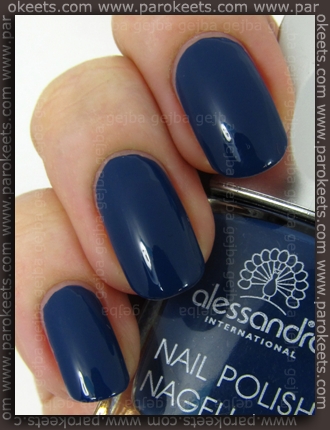 In real life this shade has more gray in it … like in the bellow photo.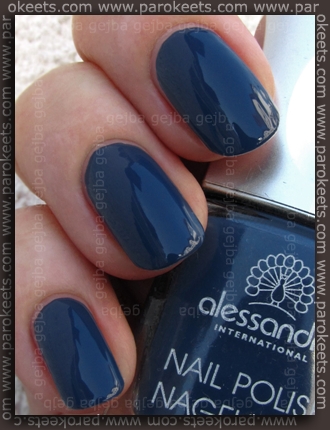 Stone Washed is very similar to Essence My Boyfriend's Jeans. The main difference is slightly darker and greenish undertone of My Boyfriend's Jeans. Photo looks horrible – I recommend you do not look at it for too long – exposure can be hurtful. :D I have absolutely no idea how did my nail manage to look so loooong on the photo.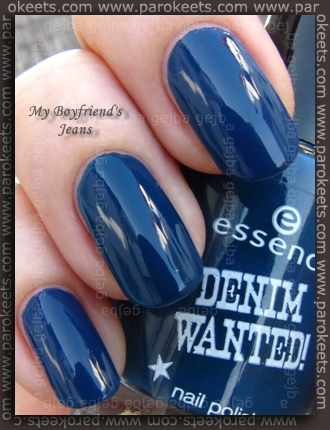 Glamour Jeans – striking blue shade with purple duochrome effect and almost turquoise shimmer. Do I need to say anything more? 
Application was not problematic, 2 layers are enough to cover up visible nail line.
Gorgeous polish, but impossible to take accurate photos of. The blue base itself is problematic, let alone purple duochrome …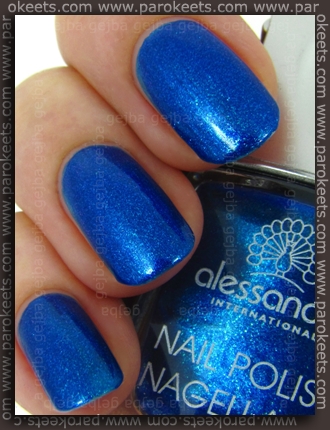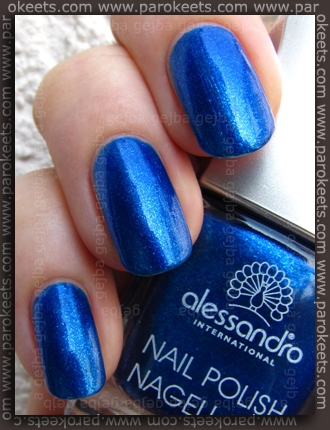 What a pretty combo.
Dark Denim seriously tempted me, but I haven't bought it (jet). It's a little bit darkish for this time of year.
Price: stickers – 5,95 EUR, 10ml polish – 9,95 EUR.
Any other jeans blue fan among us?