Today I have for you really quick comparison of three Essence creme gray polishes: Fivepocket Grey (Denim Wanted! LE), Pointbreak (Sufer Babe LE) and Movie Star (We Saw It First LE).
2 coats + top coat.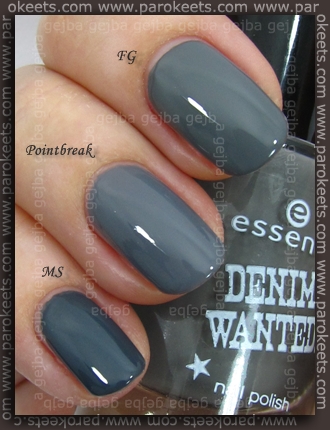 Fivepocket Grey has greenish undertone while Pointbreak leans a little bit to the blue side. And I primarily use gray polishes as base for konading (and undertone really can make all the difference) I need both. :D
Movie Star is so much darker that there really is no question whether we need it or not … or course we do.
HERE is another similar comparison I did upon readers request. The only difference is – this time I used Essence Fivepocket Grey instead of Catrice London's Weather Forecast.
What is your verdict – need all, just two, one or none?