So, which products made it into my top of the top selection. I could have easily selected at least 20 more, but then I would have never finished this post. :D I tried to limit myself to more affordable products, but some just don't have a drugstore competition in my eyes.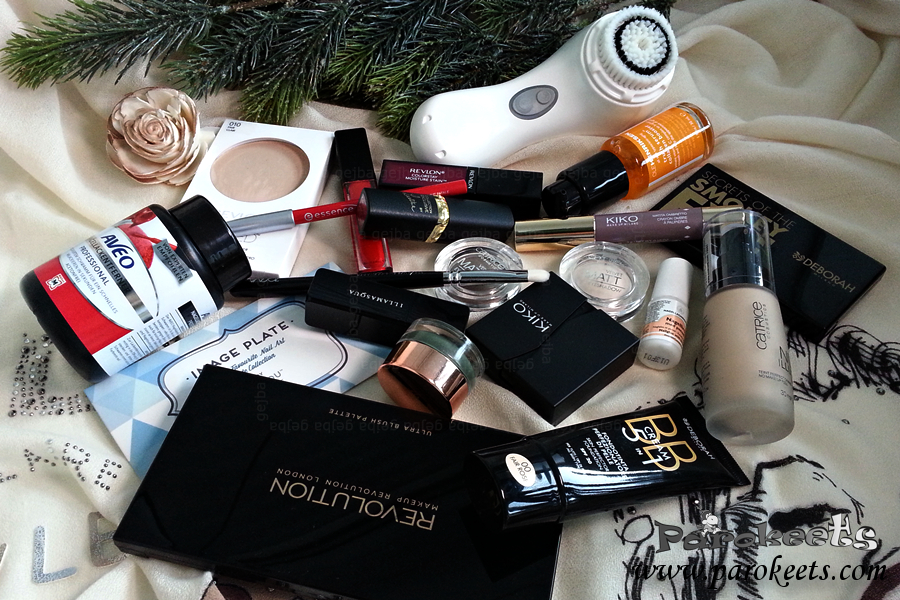 Best FACE products of 2014
Catrice Nude Illusion liquid foundation is so unique I had to add it to the list. Post + swatches of 3 lightest shades will be up soon, but I can tell you now this is one really interesting foundation. Nude Illusion has matte finish, but not dead kind of matte. I wouldn't call it glowy, but there is something fresh added to the formula. I wear the lightest 010 Nude Ivory. It slightly oxidizes on me and almost completely matches my neck color.
Deborah BB Cream 5 in 1 is my "to go to" face product when I'm in a rush. Quick to apply, light coverage, 00 Fair Rose is very light shade, which I mix with a lot darker 01 when needed. Even though coverage is not liquid foundation class, it covers up what needs to be covered (redness and impurities become less visible) and was no.1 combination together with Revlon Nearly Naked pressed powder (01 Fair Clair). In general I love Nearly Naked pressed powder for keeping foundation in place, not making me look like a had fight with flour and giving me that elegant polished look in photographs (I swear photographers are always trying to make me look oily, but I beat them with NN ).
Revolution Hot Spice already has a full review (CLICK). Highlighter from this blush palette was one of my favorites this year. I do like I ♥ Makeup one too, but Hot Spice one is just little bit more to my taste.
Best EYE products of 2014
My 2013 favorites are still in effect, but these are the finds of 2014. Illamasqua Bibelot from Once collection turned out to be my favorite dark eyeshadow base and Kiko Color-Up eyeshadow pen in no.10 my light base. Both boast with fantastic quality and are long lasting on my eyes.
New eyeshadows that blew me away are Catrice Velvet Matt ones. What a lovely collection of useful colors, great buttery formula and in my favorite finish too. Only downside is their unfortunate tendency to break. I would still buy them, so in they go into 2014 favorites post.
Deborah launched awesome collection called Secrets of the Smokey Eye. It is set of eyeshadow palettes with lovely color selection and decent quality. It is hard to find readily available palettes in drugstore range in my country, so I had to highlight Deborah's ones. I bought Nude Beige.
Kiko CLICS system caught my eye as soon as they launched it. I have palette of 4 eyeshadows (thank you, Tasha!) and now additional single one (no. 239). I like the quality, soft matte shades and good color selection. Hopefully full review will be soon finished.
Zoeva 234 brush I already raved about, so I'll just saw that my opinion is still same and I love it. I think one 234 is not enough though … I need at least 3. :D
Best LIP products of 2014
I finally have THE nude lipstick I've been craving for Illamasqua Starkers. Glamore Naked is probably my 2014 favorite from Illamasqua and as it seems we won't be getting it in Slovenia, I'll have to order 2 other shades from this collection. 
Sleek Matte Me is one of those lightweight formulas with perfect matte finish that last for a long time. Rioja Red will be getting at least one more to keep company from sister shades.
My newest lip craze are L'Oreal Pure Red lipsticks … namely Laetitia. Pigmentation, color, satin matte finish … everything mom needs to perk up after sleepless nigh. And my darling sister-in-law got me Blake shade so now I am officially starting to collect them (I also bought one of the polishes from this line). :D
Essence lip liner in Femme Fatale was a surprise find for me. Not only is it perfect color for me, but it last really long, seems to leave a stain and can be used on it's own. Good job, Essence!
Last but not least lip product if Revlon Colorstay Moisture Stain in Parisian Passion. Sometimes even I go for the glossy look. Good thing with Revlon Moisture Stay is, that I just blot the shine and have my precious velvety stain on the lips. 2 lip products in one … no wonder I love it.
Best NAIL products of 2014
I love pretty much all my color nail polishes, so it's no point taking that route, but I do have 3 other things I want to mention. Depend nail glue with brush is the only thing lately standing between broken thumb nail or completely massacred one. It drys quickly, is not too strong or stiff and removes easily enough with acetone nail polish remover.
And speaking of nail polish removers – I'm lately enjoying sponge type removers. Currently Aveo (Muller house brand) one is getting most workout, but I love Ebelin (DM drugstore brand) too. My cuticles are not overly exited, but I love quickens and convenience.
MoYou image plates … still adore them, need much more in my life and they well deserve the spot in this post. HERE is a review I wrote about these beauties.
Best SKINCARE products of 2014
This year only 3 not so affordable products made the cut. Sorry – but most of my drugstore purchases could be labeled as "not a chance I'm buying that again … or using it". Clarisonic Mia 2 is more and more loved. I wrote review in Slovenian language, but some things changed for the better and I'll be translating that post soon. My skin is pretty much reborn – pores look good as new, no skin flakes, glow without using cosmetics … I'm hooked.
Ole Henriksen Truth Serum collagen booster is money well spend as far as I'm concerned. I just wish I could use more of it without having break out as then my skin would be everything I want. In one word – this was the product that made my skin looking healthy before I bought Mia and now works beautifully in combination with Clarisonic to make me look little bit less old than I really am. :D
I can't find my Shiseido SPF 50+ lotion, but it worked fantastically for me and will be my summer companion next year too. It has downsides to, but it works right away and gives me great protection without chemical filters or nano particles.
[box type="shadow" ]Of course I'm curios – what are you favorites from 2014?
As this is last post for this year I would like to thank you for reading my ramblings in 2014 and I wish you FANTASTIC 2015![/box]