Can you believe it – it's already Parokeets fourth birthday aka blogoversary!
Like always a lot of things happened in the past year – we wrote few hundred posts, started new series, had lots of fun and great interaction with our fantastic readers, almost 1.000.000 of pages on our blog was read and nearly 500.000 of you visited us.
This year we'll be having little bit different giveaway than in the past as the only sponsors will be us. :D We would love to have similar giveaway as in the past years, but unfortunately we just did not have any extra time to organize it. But we hope that you like the products we chose for our fourth birthday giveaway just the same.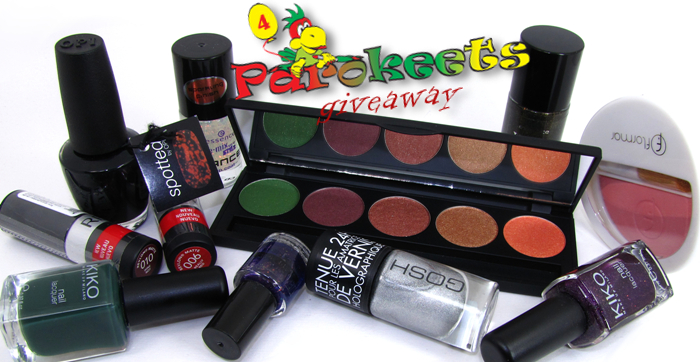 All of us adore Inglot eyeshadows, so those were a must. We chose more traveling friendly Inglot 5 Freedom palette with more or less neutral shades (and a pop of green), OPI Spotted will be representing "crackle" finish and Gosh Holographic Hero holo one.
Other goodies:
– Revlon Matte lipsticks in Really Red, Wine Not
– Kiko nail polishes: 347, 255
– Essence nail polishes: Waking Up In Vegas, Gold Old Buffy
– Glam Nail Larissa flakie
– Flormar blush 89
Good luck everybody and thank you for following Parokeets blog, all your comments and opinions – they matter A LOT.